Egyptomania three fold screen, Cairo, circa 1925
sothebys.com
With respect to ancient history and art colliding with a mass marketed contemporary aesthetic, the Egyptian Revival influence on the Art Deco design trends of the 1920's and 30's is probably unprecedented. The archaeological discoveries in Egypt in the late 19th century spawned a rich vein of artistic inspiration that fed both the Art Nouveau and subsequent Art Deco movements with distinctive style and ideas. The detailed documentation and publication of information about Egyptian artifacts and architecture provided a revealing source of wonder and admiration for the fascinating Egyptian arts over several decades. The Egytpomania evolved with the appearance of the monumental 20-volume Description de l'Égypte in 1827, which was the result of the large contingent of over 500 scholars including scientists and artists, which Napoleon organized to work in Egypt during his Egyptian campaign in (1798–1801).
The revelations of the awe inspiring hidden secrets of Egypt reverberated through the art world, inspiring everything from lamps with Pharaoh figure bases, sofas with Sphinxes for legs to Egyptian themed tea sets painted with the pyramids. This was further enhanced by the display of actual pieces of Egyptian art in the museums in Europe and the discovery of King Tuts tomb in 1922. It provoked a new wave of interest in the mysteries of rebirth and other Egyptian myths, leading to widespread exposure in the fine arts, literature, fashion and film  A highly stylized Egyptian aesthetic converged seamlessly with the Art Deco designs, adorning architecture, furniture and other decorative arts with depictions of spiritual, botanical and geometric motifs. Hieroglyphics, lotus flowers, papyrus blooms, scarab beetles, Egyptian Gods and Goddesses, winged disks and most of the popular ancient Egyptian symbols were represented. Objects such as clocks, cigarette and vanity cases, vases as well as jewelry were interpreted with the Egyptian Art Deco designs using colours that reflected the choices used during the Egyptian Pharaonic eras.
Reclining Egyptian revival bronze figurine
German Porcelain Art Deco Powder Box 'Egyptian Snake Charmer'
 Austrian Egyptian Revival Amphora attributed to Jules Dressler
1920s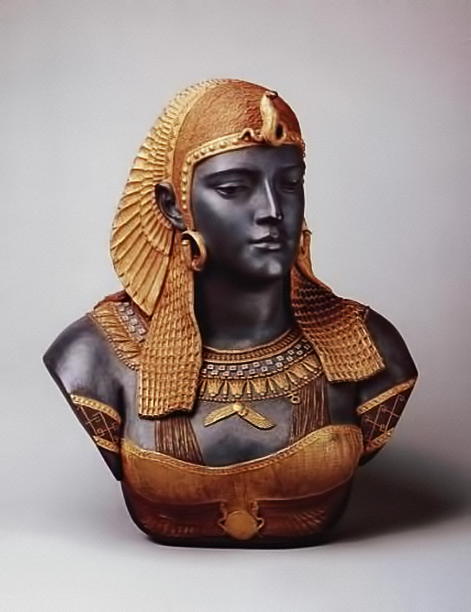 Bust of Egyptian woman – Ott & Brewer
'Nefertiti' – Egyptian Queens by Royal Doulton
Faience Sekhmet ( Lion Goddess ) brooch with diamonds, rubies, emeralds and gold – Cartier Paris
circa 1925
The lion goddess depicted in the fan brooch, dating to the 21st-22nd Dynasty 1075 BC. Original artifacts from Egypt were sometimes re-modeled into new pieces.
Ancient Egyptian jewelled scarab amulet with the cobras of protection on each side wearing the crown of Upper Egypt; the lotus & suns on bottom edge represent immortality
Scarabs ( symbol of rebirth ) were produced in vast numbers over many centuries and thousands have survived.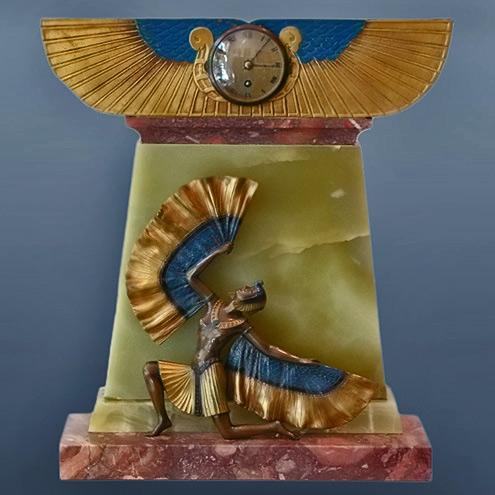 Egyptian revival mantle clock
Bronze vase with turquoise scarab motifs – Lucien Gaillard
1905
Demetre Chiparus – matching pair of Art Deco female dancing figures
Bronze statue of an Egyptian dancer – Gori
Scarab motif ovoid vase – Eric Olson
Common Ground Pottery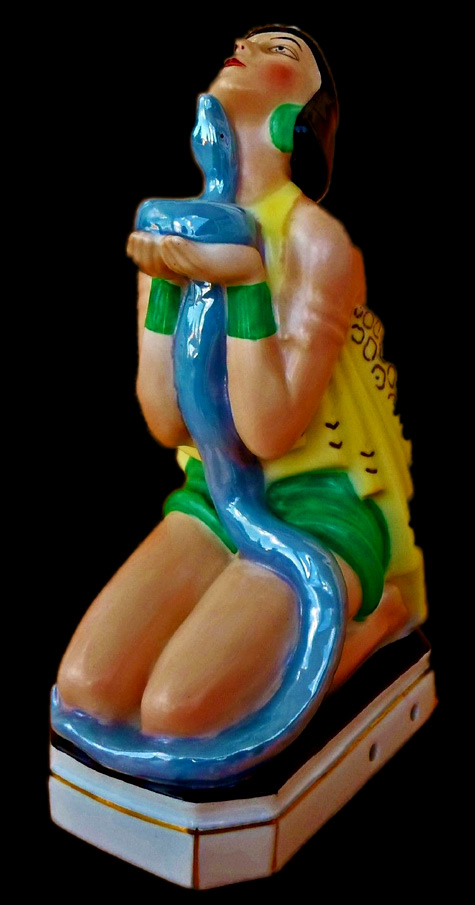 German boudoir porcelain Cleopatra Cobra lamp/perfume burner
1920's
Simon Monteneve Cleopatra bust with scarab inlays
Art Deco dancers – Marcel Guillard for Etling
circa 1920
Heritage Auctions, Tx
Egyptian Revival Amphora pitcher
Early 20th c. Czechoslovakia
NEWEL LLC NY
Boucheron corsage ornament – Lucien Hirtz
1925
Most of the influential Jewellers at this time were producing Egyptian inspired pieces including Mellerio, Boucheron, Lalique, Baugrand, Lemonnier, Cartier and Giuliano, quite often using Cloisonne enamels.
French Egyptian Revival canopic jar with Horus lid
1920's
'Egyptian Queen', gilt terracotta bust of a woman wearing an Egyptian nemes-style headdress, signed  G.Caspi, Belgium.
circa 1925
Bonhams
Egyptian Revival Carved and Inlaid Rosewood Seat
Egyptian Revival porcelain Tête-à-tête – Austria – Vienna – 1794-1809
Egyptian Revival round table with spinx legs
 19th-Century
Emile Gallé Vase Egyptian style
© 1900 Musee de l'Ecole de Nancy
Egyptian revival pendant – Erte
French Art Deco Porcelain Powder Box 'Kneeling Egyptian Lady' by Editions Etling
French Egyptian Revival vases – Charles Louchet
A pair of two patina bronze vases, of narrow gourd shape, decorated on each side, with low-relief Egyptian dancers holding a flower whose corolla shapes the neck of the vase, and accompanied by incised hieroglyphs. Heads of birds wearing nemes form the handles.
Height 17 inches
Antique French Egyptian Revival figural porcelain candlestick holder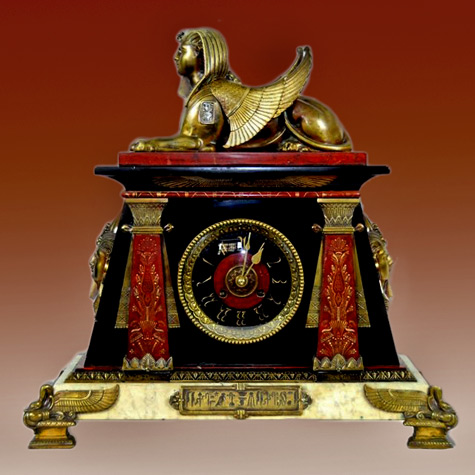 French Antique Egyptian Revival mantle clock made of bronze and marble adorned with winged sphinx
19th century
Antiquarian Traders – antiques.com
'Antinea,' a cold painted bronze and ivory figure of an Egyptian dancer- Demetre Chiparus
(circa 1928)
 Sphinx figurine –  Gulya Alexeyeva
Edward Onslow Ford – 'The Singer'
1889
Art Deco Egyptian Revival chrome lamp
Egyptian Revival Brooch – Neiger
Czech 1920's
Egyptian Revival ceramic lava vase bottle – Italo Casini
Monumental pharaoh statue
University of Chicago 1935.
Vintage Sunya Currie Egyptian Winged Scarab Beetle Pin with Art Glass Stone Body
Ruby Lane
Art Deco patinated and silvered bronze figure by Pierre Le Faguays, France circa 1920s.
Wedgwood Rosso Antico Egyptian Vase and Cover
Early 19th century, chocolate-brown ground with crocodile finial, applied black basalt hieroglyphs in relief to a bowl supported by three sphinx-topped legs set on a raised circular base.
Wedgwood Majolica Sphinx Candlesticks pair
England, c. 1867
Schafer Vater Egyptian bust match holder
Egyptian style lapis lazuli, gold and turquoise table clock – Philippe Patek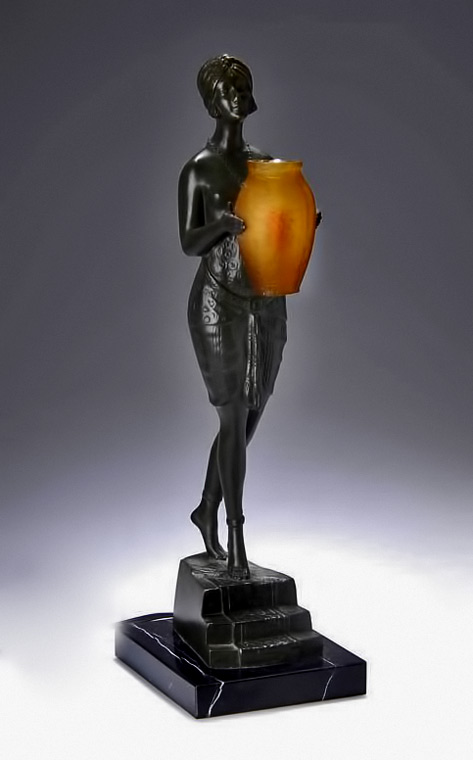 French Art Deco Egyptian Revival figure lamp – Pierre Le Faguays
circa 1925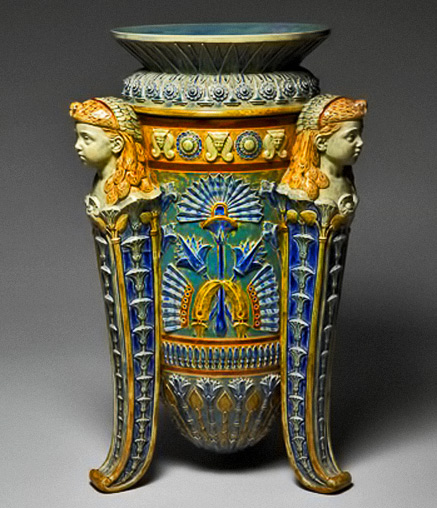 Majolica Egyptian Revival vase, 19th century
Blairma.co.uk
Emerald, gold scarab – R&Y Augousti
Egyptian Revival facade – Strasbourg Germany
Egyptian Revival pair of Limoges candlesticks, winged scarab decoration.
Egyptian Revival Polychrome Carved  Throne Chair, A replica of the original Tutankhamun's gold throne
Late 19th century.
Majolica Egyptian Garden Seat – Moore & Co
Pair of early 20th Century painted spelter candlesticks, Egyptian revival, male and female figures holding candle sconce
Cleopatra female figures flanking the entrance to the Egyptian Museum in Cairo
1902
Art Deco Egyptian Revival chinaware basket – Noritake
Egyptian Revival Sphinx garden statue
Parque del Capricho.- Madrid
Spain
Sphinx motif Art Deco beaded bag
Egyptomania squat porcelain jug – Pickard
1920's
Ruby lane
–