Art Deco exuberance
After the war, between the 20's and 30's, there was an exuberance of style and pursuit of luxury, fueled by woman entering the workforce and lines of credit being available for the first time with the marketing masterstroke in the form of the lay-by. For integration of style elements, there was probably never a more complete symbiosis then that which occurred between architecture, furniture, graphics, fashion and decorative objects in Art Deco. The expanding movie industry at this time also promoted Art Deco and the aspiration for elegance and the high life.
With the evolution of the Art Deco lifestyle and its accompanying fashion designs in the 30's, this coincided with an  increasing interest in international travel, sporting activities and greater leisure pursuits. This led to an increased demand for  more comfortable attire while simultaneously reflecting a streamlined chic that followed the emerging  trends in design. Freedom of movement in garments became a pivotal consideration, with ornate detail giving way to a more elegant simplicity which could be adapted to the willowy, lithesome lines of the more slender bodies. As women became more financially independent, they dressed with a more liberated style which was mirrored in outfits that were symbolically more flowing and less constricted. Floral fabric decorations were combined with dynamic geometric and abstract patterns highlighted with vivid colors.
Josef Lorenzl cubist/art deco lamp
The eclectic Art Deco designs successfully drew inspiration from the cubist, fauvist, futurist and surrealist movements including the Ballet Russes theater designs. Corsets had fallen out of favor along with the prudish, Victorian turn of century values. Cumbersome bustles had magically morphed into their opposite with revealing backless and sleek dresses. The rapidly developing consumerist society wanted style and quality and fabrics like soft crepe, chiffon and satin became desirable for their sleekness and elegance. Innovative seaming was utilized to allow for the appearance of more sensual body contours while adhering to a traditional allure of classical femininity, supporting this enormous upheaval of chic.
Demetre Chiparus – 'Fan Dancer'
Illustrators and artists such as Dorte Clara Wolff , Tamara de Lempicka, Gyula Batthyány, Maurice Picaud and Louis Icart all embraced this exhilarating shift in style. Sculptors and ceramicists like Franz Hagenauer, Lorfenzl, Dunand, Royal Dux, Wayland Gregory, Pierre le Faguays, Erte and Demetre Chipuly also had a critical influence in defining this exuberant era of fashion and design. Famous couturiers, such as Paul Poiret, Coco Channel, Sonia Delaunay and Henry Marque beautifully interpreted the mood and trends into stunning designs and original creations.
'Feathers Hair and White Peacock' by Barbier
Art Deco porcelain lithesome female figure
'Donna' — Sandro Vacchetti for Essevi
Torino, Italy
French La Vie Parisienne Magazine
1920's
 'Dancer with fan' — Alexandre Kelety — Bronze sculpture with golden and silver patina and chocolate brown.
Dorte Clara Wolff aka Dodo
Cubist Art Deco female auto hood statue made into paperweight
Art Deco mantle clock
Art Deco bronze nude sculpture –  J Garnier
1925
'Victoire (Luminaire)' – Erte etched glass
Lidel art deco poster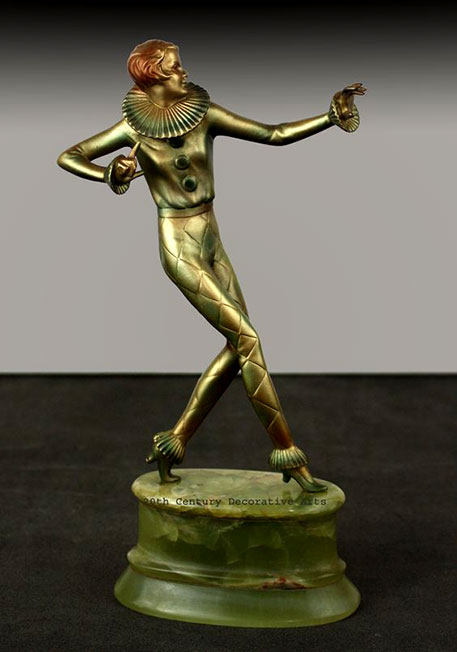 A Lorenzl Art Deco bronze harlequin dancer
1930
'Le signorine' – di Sandro Vacchetti
London Hotel Metropole menu cover
"Africa" Harlem Renaissance painting by Loïs Mailou Jones-(1905—1998)
1935
30's poster by Erte
Art Deco bronze and ivory figure by  J Ulrich
Austria 1930
Femme Danseus – L Gibert rare grd statue sculpture art deco
1920-1930
'La Mysterieuse' by Erte (Romain de Tirtoff)
Martin Lawrence galleries
Art Deco sculpture elegance – Lorenzl
The Women's Museum, Fair Park, Dallas, Texas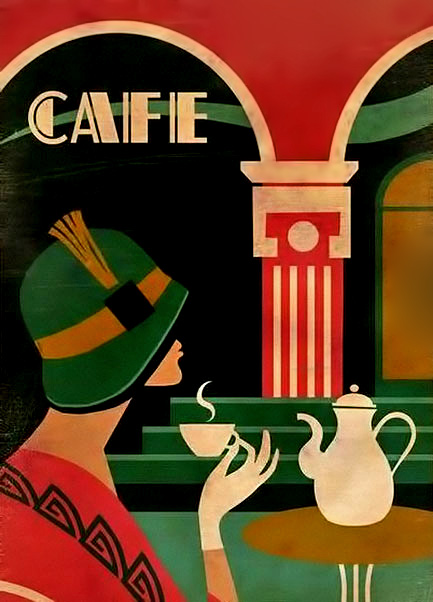 Art Deco Cafe, illustration by Martin Wickstrom.
Art Deco Silvered Bronze of 'Two Dancing Women' – Ignacio Gallo-(Spanish)
Art Deco bronze sculpture – Lorenzl
Art Deco Sculpture by Solon for Amer, Encaustic
A classic and rare example of Art Deco sculpture, this piece was designed by Leon Victor Solon, an important color theorist and designer who became the artistic director of the American Encaustic Tile Company (AETCO) in 1922
Art Deco Bronze Sculpture of a Nude by Lucien Alliot
1930, France 1stDibs
'Scarabee' – Art Deco Actinea Bronze and Ivory Figurine by Demetre H Chiparus
1925
Art Deco bronze Seated nude
Art Déco—Pot à Poudre 'Femme'—Céramique
Ovoid vase in polychrome sandstone Quimper, signed 'HB Quimper Odetta'
Erte 'Deco' bronze sculpture
 Martin Lawrence Galleries
Art Deco Austrian bronze figure by Josef Lorenzl
Copper and silver plated bronze figure by Joseph Lorenzl
Art Deco Enameled Silver Compact
1930
Skinner
Art Deco sculpture
Art Deco Red Spanish Shawl Dancer – Josef Lorenzl for  Goldscheider
Frankart style Art Deco lamp
Printemps Dept. Store poster – Erte
30's
Art Deco mantle clock with silver relief panel
Art Deco bronze figure Lamp
20th Century Decorative Arts
Rosenthal Art Deco Porcelain Figurine – 'Carmen'
Art Deco jar by Camille Faure
Paris 1930
Erte vase  –  'Oriental Mystery'
Art Deco print from — 'The romance of perfume', with drawings by George Barbier (1928)
Art Deco – clock 'Femme au Poudrier' – Ferdinand Preiss
1930.
Batthyány Gyula
'Wisdom' — Erte
'La loge à l'Opéra' – Jean Gabriel Domergue

 Domergue was recognized for landscape painting, but from the 1920's he concentrated on being the painter of the "Parisian lady".
Spanish artist Gaspar Camps
The Chicagoan magazine 1931
Reclining lady In Bronze Art Deco  —  Claude Mirval
Galerie Lauretta
Zinc art deco dancer sculpture
Dorte 'Dodo' Wolff Art Deco in Egypt watercolor painting
Lady walking two dogs Art Deco sculpture
Café by Gerda Wegener
Art Deco watercolor – Dorte Clara 'Dodo' Borgner
 Art Deco dancer – Demetre Chiparus
'Dodo' Dörte Clara Wolff
'Dodo' Dörte Clara Wolff
 Female silhouette poster –  Ombre et Lumiere
1928
'Pearls and Emeralds' porcelain figurine – Erte
Erte – – 'Ange Harpiste'
1926
Erte figurine 'Bal Tabarin'
Etling Art Deco opalescent sculpture dancer lamp
1930
Fayral French Art Deco Nude Sculpture 'Venus' Max Le Verrier Foundry
Ferdinand Preiss
La Vie Parisienne Magazine Illustration by Armand Vallee
French Art Deco cameo glass floor vase
circa 1925
Georges Lepape – 'L'eventail d'or' (The Fan of Gold)
 Gazette du Bon Ton
Gyula  Batthyany — 'Casino von Monte Carlo'
Icarus Bronze–Art Deco – Otto Schmidt Hofer
1920
Jean Gabriel Domergue
Joseph Csaky
La Parisienne 'Encore La Question D'Orient' — Armand Vallee
'Street Scene' -Dodo Dorte Burgner
Arnet
Maurice Picaud, Folies Bergere Poster
France, 1926
Magazine cover art by A Deiser
Pierre le Faguays – Art Deco spelter figure lamp – 'Farandole'
circa 1930
French Art Deco Burmese Cat & Nude Lady mantle clock by Marti
Rene Gurau Paris races
Art Deco spelter figure by A Leclerc,  France
ca. 1930 Height 37cm
Les petites femmes-d'Armand Vallée
Rene Lalique Color Enhanced Deep Amethyst Glass Cote d'Azur Statuette
Circa 1929
Art Deco Austrian bronze figure by Josef Lorenzl, depicting the Czech soprano singer Maria Jeritza
circa 1930s
Schneider Art Deco Vase
Demeter Chiparus art deco sculpture
–