'To Life' (chai)  land art – Andrew Rogers
Arava Desert, Israel
The concept of Rhythms Of Life has evolved to become a global phenomenon, with many countries embracing the idea of a universal, life affirming symbol, expressed as a monumental land art sculpture. Andrew Rogers decision to extend the original sculptural form of his 'Rhythms of Life' sculpture onto a global scale was a visionary and bold undertaking. His innate ability to adapt a broad scope of materials into graceful and enticing sculptures, with an appealing sense of balance, has bestowed him the ability to tackle the enormous challenges required by this huge project.
When I first saw Andrew Rogers 'Rhythms of Life' sculpture at the Victorian Art Centre, I was impressed with its vibrancy and expansiveness and in retrospect I can now see how it has fed the impetus for future geoglyphs. This project has now expanded, since 1999, to become the largest collective land art project in the world, where Andrew Rogers has traversed the globe, liaising with different countries, to create modern geoglyphs that resonate with the local landscapes, cultures and indigenous stones and rocks. Local customs and peoples have also been integrated into the process of constructing these land art creations.
Andrew Rogers Geoglyph of a horse from an ancient Celtic coin found in the region – Slovakia
Created with local granite
Most of the ancient traditions harbor a deep empathy with their lands along with sacred beliefs locked into the local terrains. A great deal of respect and sensitivity was required in the negotiations to introduce a contemporary land art sculpture into these diverse locations. In addition to installing recurring geoglyphs of the 'Rhythms of Life symbol', to reinforce the concept of a global universality, his team have worked with local elders, museums and other lore-keepers to design a symbol relevant to their area as a companion land art. To date, the project has involved over 7,500 people, in 16 countries across seven continents with the first one being constructed in the Arava Desert in Israel.
For Andrew, the Rhythms of Life sculpture encapsulates the continual evolution and restless dynamic of creation and the circular nature of the patterns of birth life and death and I would love to see more additions to this vast endeavour in the future.
'Rhythms of Life' bronze sculpture – Andrew Rogers
This sculpture became the catalyst for Andrew Roger's global Rhythms of Life land art project
Height 101 inches  – Victorian Arts Centre
This piece exemplified Rogers path towards a process of conceptualization, displaying his interest in creating abstract pieces that revealed transition, celebration, movement and expression.
Yucca Valley 'Rhythms of Life' land art project by Andrew Rogers
Mojave Desert, USA
Mojave Desert geoglyph 'Rhythms of Life'
Rhythms of Life – Antarctica Dakshin Gangotri – Andrew Rogers
Rhythms of Life Antarctica
Rhythms of Life Kenya
Rhythms of life – Cirque du Soleil art garden
Montréal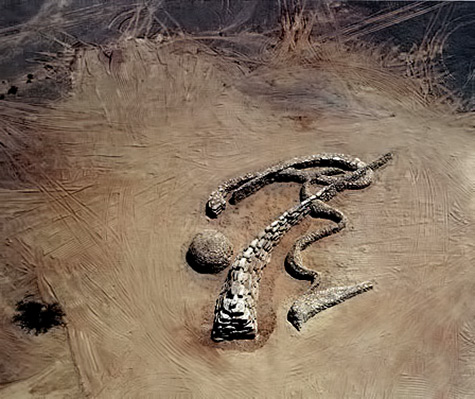 Andrew Rogers created the first 'Rhythms of Life' geoglyph in the Arava Desert
2006
Andrew Rogers-massive land sculpture 'Slice' in Israel's Arava desert
60 x 38 meters
Andrew Rogers Rhythms of Life land sculpture
Cappadocia, Turkey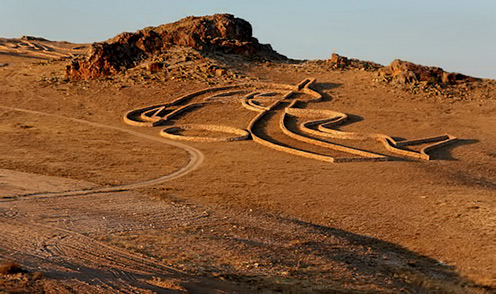 Cappadocia land art – Andrew Rogers
Andrew Rogers —'Shield' geoglyph
Chyulu Hills, Kenya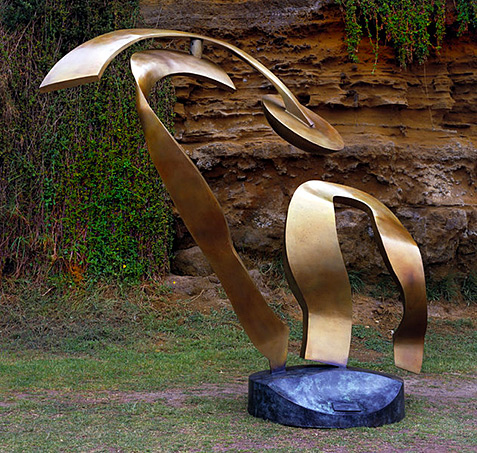 Bronze sculpture — 'Balance' – Andrew Rogers
Bolivian Shaman blessing the land for geoglyph Rhythym Of Life
Rhythym Of Life land art stone structure, Cerro Rico
Bolivia
Cerro Rico Rhythym Of Life geoglyph – Andrew Rogers
'Breaking Out'  – Andrew Rogers
'Coiled' — Andrew Rogers
'Come to the Edge'  — Andrew Rogers
'Come to the Edge'  — Andrew Rogers
'Sentinels' – Andrew Rogers
Yeryüzü Heykelleri Parkı, Turkey
'Evolution', Dallas Texas — Andrew Rogers
4m height
Australia`s largest cast bronze figurative sculpture, 'Perception and Reality' by Andrew Rogers
Canberra Airport`s Main Entrance.
'Evolving' — Andrew Rogers
Andrew Rogers geoglyph at Eastern Park Geelong
'Bunjil' rock carving by Andrew Rogers
Eastern Park, opposite You Yang mountains
'Yesterday Today Tomorrow' — Andrew Rogers
19.7ft high basalt columns, Turkey
'Ratio' – Andrew Rogers monumental sculpture
USA
'A Day On Earth' –Andrew Rogers
Turkey
'Growing' – Andrew Rogers
'I Am' — Andrew Rogers
Canberra Airport, AUS
'I Am Dance Red'  Sculpture – Andrew Rogers
Height 1 meter, 2014
'I Am Energy' — Andrew Rogers
Future Energy,Expo 2017 – Kazakhstan
'Flora exemplar ' – Andrew Rogers
'I Am III ' —  Andrew Rogers
'Individuals'  —  Andrew Rogers
Dag Hammarskjold Plaza, Gateway to the United Nations
"We are all individuals possessing the sanctity of a singular life."
'Individuals' comprises 15 bronze sculptures varying in height up to 3.5m (12ft).
'Labile' is part of the 'Weightless Series' – light, seemingly weightless forms made from heavy bronze.
Sculptor Andrew Rogers
'Leading' –bronze sculpture —Andrew Rogers
Height 2 meters
'Macrocosm' bronze sculpture by Andrew Rogers
Height 3 meters, Dallas Texas
'Many Lives YUM' — Andrew Rogers
2009
McClelland Labyrinth – 'The winding path, the search for truth'
Langwarrin, Australia, 2010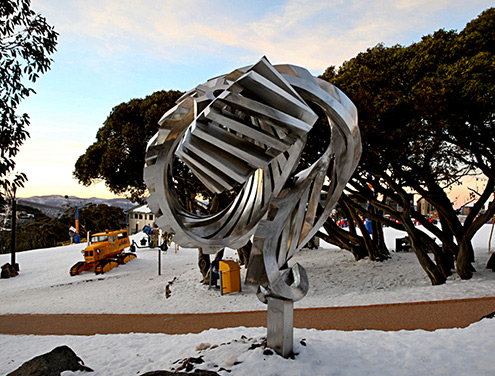 Stainless steel sculpture – 'Ode to Kairos'  —  Andrew Rogers
Mount Buller—-300H x 250W cm
Random 2 —  bronze sculpture Andrew Rogers
'Ratio'  —  Andrew Rogers
India
Rhythms of Life,  created in Namibia by Andrew Rogers with the nomadic Himba people
Rhythms of Life geoglyph -Andrew Rogers
Nepal, Jonsom, 2008
'Rise'  sculpture Andrew Rogers
7 meters height 2010
'Fire'  — Andrew Rogers
Turkey  — 2009
'Unfurling' – Andrew Rogers 2011
Villa Borghese Gardens, Rome, Italy
Sculptural gate, Andrew Rogers
Red Hill, VIC
Weightless 9 — Andrew Rogers
'Rise' stainless steel sculpture– Andrew Rogers
Height 7 meters
'Molten Concept 18'  Polyamide sculpture —  Andrew Rogers
2012
'Rhythm Of Life and Atlatl 'geoglyphs  —  Andrew Rogers
Yucca Valley in the Mojave Desert, USA
'Rhythm Of Life' Slovakia

Andrew Rogers stainless steel sculpture 'Embrace'
Art Gallery NSW Wynne Prize
2018
–