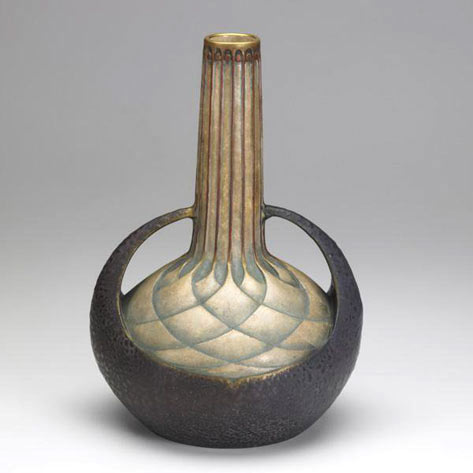 In some ways the Art Nouveau movement was one of the original environmental movements. Quite a few of the artists  around the 1900's reacted to the rapid spread of the Industrial Revolution by focusing on nature imagery and fantasy worlds which became  an ongoing theme with the Art Nouveau designers. Architects, ceramicists and painters seemed to be lamenting a lost idyllic era. This was exacerbated by the stepping up of the industrial machine during WW1. The literary works of  William Morris and JRR Tolkein, recreating legends and fantasy tales, were also inspired by similar motives.
Amphora Art Nouveau porcelain production
The Amphora porcelain works existed from 1892-1945 in the Teplitz-Turn area of Bohemia, a part of Austro-Hungary. In their half a century of production, Amphora became known as a fine art pottery manufacturer of exceptional quality. They produced a plethora of innovative designs and shapes with a high level of detail, and were considered by many to exemplify the Art Nouveau style. The designs were generally influenced by Art Nouveau and Jugensdtil, as well as Grueby and Rockwood. Their creations were graced with hand-painted mythical creatures, ethereal maidens, beautiful nature scenes with birds, bats, plum trees, insects, clover, roses and  forests all entwined with  sweeping lines and flowing details. This was the contemporary design of the day, leaving the more staid Victorian era in its wake. A  never ending array of forms, glazes and decorations typified the Amphora ceramic designs. Cinema was still in its infancy and print publications didn't have the glossy quality we see now, so the visual impact of  high quality, colour enriched ceramics with stunning imagery and designs would have been considerable.
Pterodactyls Vase by Amphora
circa 1897
A re-appreciation of individual craftsmanship, under threat from industrial manufacturing, also emerged at this time, and the intricate detail of the designs supported this ideal. In 1896, Amphora were made court supplier to the Imperial court in Vienna, and these pieces were identified with the name 'Imperial Amphora', and the Austro-Hungarian eagle trademark. Also the additional mark PD indicates it was designed by Paul Dachsel, one of their earliest and finest designers, who helped define the distinctive Amphora style. Another early Amphora art pottery designer who enjoyed success beyond the confines of Europe was Ernst Wahliss of Turn-Wein, Austria. He produced  some of the most beautiful female Art Nouveau busts between 1897 and 1906, which are highly sought by collectors today given their beauty and technical complexity. Wahliss was somewhat unique among the Amphora manufacturers for having established his own retail shops in London and Vienna. Another well known, high quality Amphora manufacturer was the firm of Julius Dressler whose manufacturing operation was founded in Belia, Bohemia in 1883 and operated until 1944. Amphora was sold in the United States by finer decorating shops including Louis Comfort Tiffany of New York, who appreciated the innovative, hand crafted designs, vibrant colors, and unique glazes used by the Amphora manufacturers from Turn-Teplitz, Bohemia. Amphora works from this period were extraordinarily complex in manufacturing technique, often requiring as many as 10 firings, a series of decorators, and finishers to add the final style flourishes like gilding.
The Amphora era was truly a remarkable phase for Art Nouveau. Their imaginative aesthetic reflected both Celtic and Bohemian folklore, merged with the classical influences of Greek and Roman legends and the Arthurian tales. One can't help but be filled with a reverence for the beauty they expressed.
 Amphora Vase
circa 1903
( Amphora Pottery – Facebook )
Chalice by Paul Dachsel ( he left Amphora in 1905 )- 8.5″ high
Bohemia, circa 1906
Auktionshaus Mehlis, Germany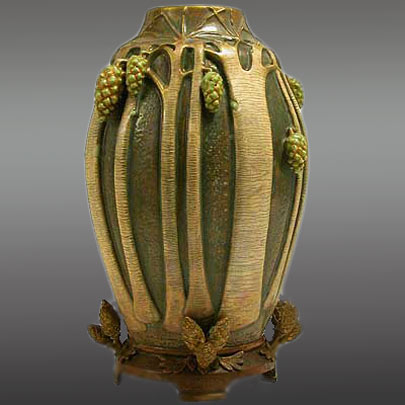 Art Nouveau pottery vase with bronze mount by Paul Dachsel for Amphora
( Image used through courtesy of Morgan Strickland Antiques: link here )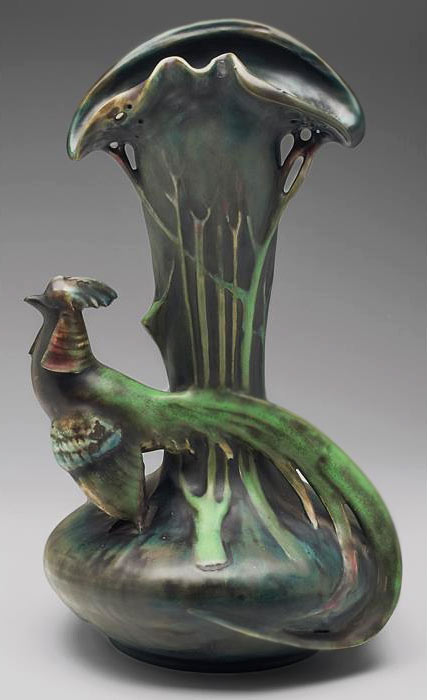 Oriental Pheasant –  Amphora 1904
( Treadways Auctions )
The Artichoke by Paul Dachsel
Bohemia ( post Amphora ), circa 1906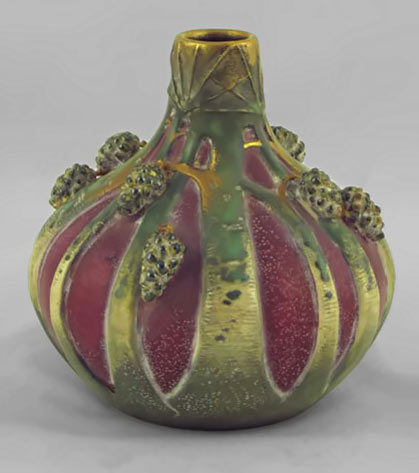 Paul Dachsel Purple Pine Cone Vase
Teplitz, Austria, 1906
Pair of Ernst Wahliss designed  Maidens with Water Lily Candlesticks
Lady with Lilies by Amphora
Amphora Vase
Bohemia, circa 1902
( Blanchards Auctions )
Dragonflies by Paul Dachsel ( post Amphora )
Bohemia, circa 1906
Secessionist Vase by Amphora
Bohemia, circa 1901
( Treadways )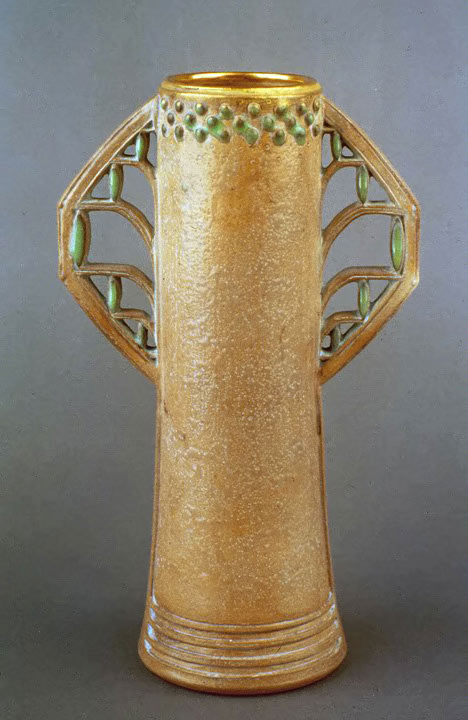 Paul Dachsel Vase
Amphora Vase
circa 1900
Water Lily Figural Vase by Amphora
Bohemia, circa 1900
( Treadways Auctions )
Klimt Series by Amphora
Bohemia, circa 1904
10 3/4″ high
( Sloans & Kenyon )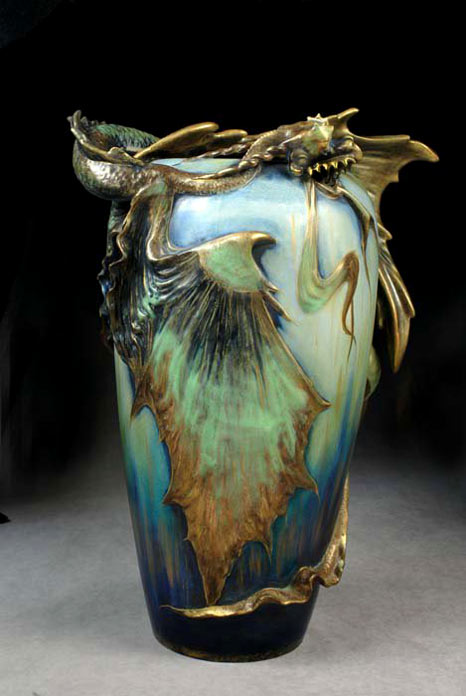 Eastern Dragon vase by Amphora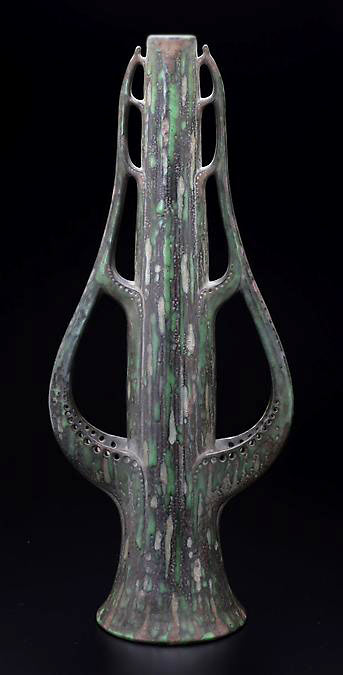 Art Nouveau vase
Amphora Klimt Jeweled Vase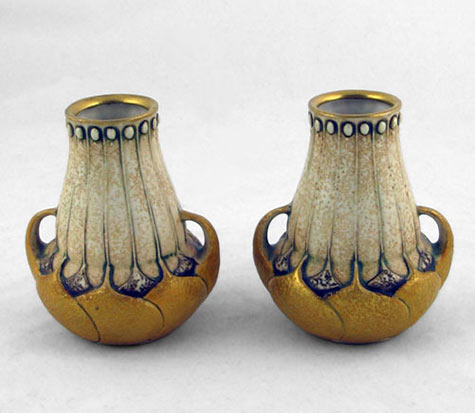 Pair of  Paul Dachsel two handled vases.
( Amphora Ceramics )
Mushroom Vase by Paul Dachsel
Bohemia, circa 1906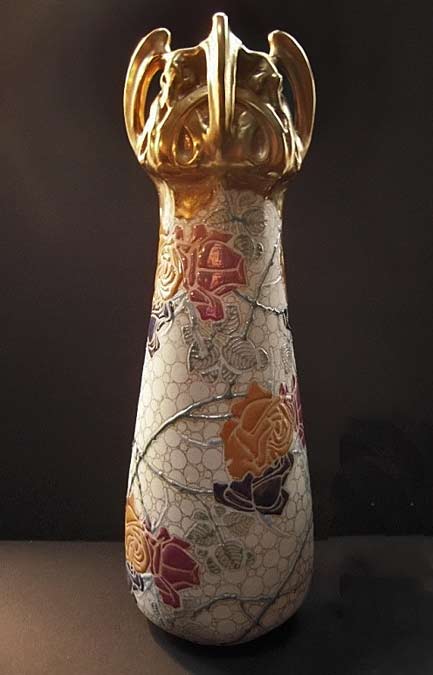 Teplitz Turn Amphora vase
Amphora Lioness Vase – 1900
Spiderweb and Butterfly – " Semiramis " three handled vase
Paul Dachsel Amphora 1905
( Christies )
Japanese Inspired Plum Blossoms Vase by Amphora
circa 1897
( Amphora Pottery – Facebook )
Pine cone by Paul Dachsel
Bohemia, circa 1906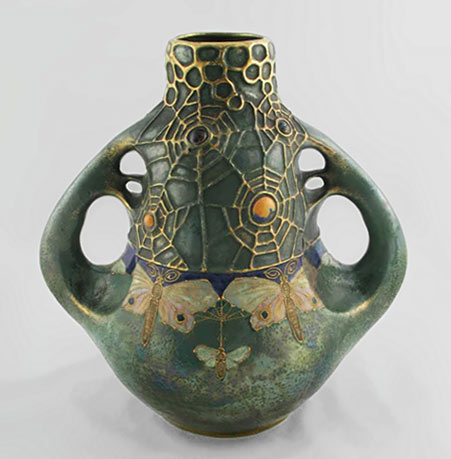 Amphora Two Handled butterfly and spiderweb vase
( Amphora Ceramics )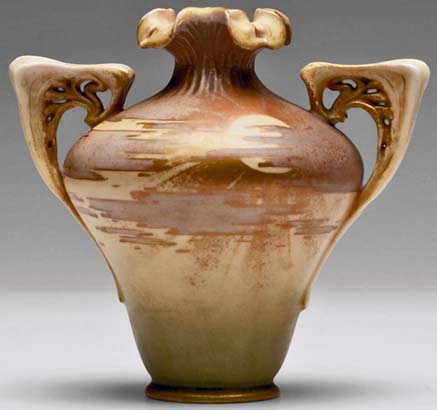 Paul Dachsel large handled vase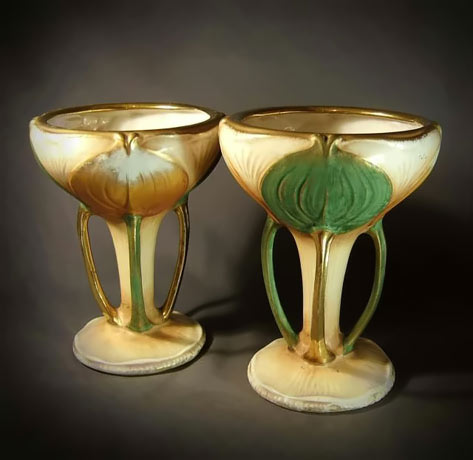 Two Amphora goblets
The Princess by Amphora
Bohemia, circa 1896
( Rago Auctions )
Amphora Pitcher
Bohemia, circa 1900
Owl and Eagle Vase by Amphora
Bohemia, circa 1904
Paul Dachsel One Handled Ewer
Teplitz, Bohemia, 1906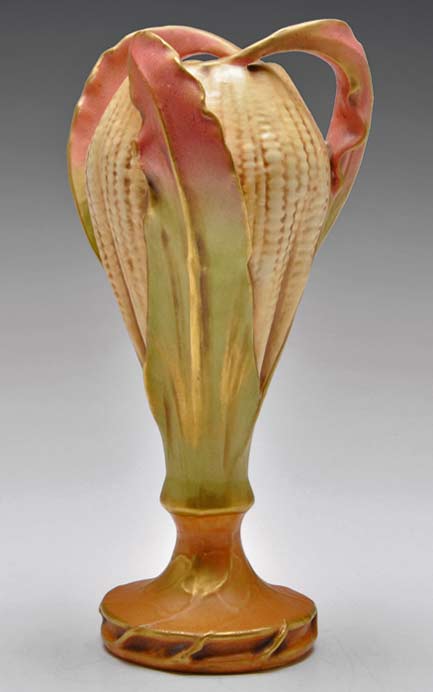 Amphora vase, Paris Exposition 1900, colorful corncob texture with gold accents
Paul Dachsel Four Handled Raindrop Vase
Art Nouveau poster – 'Fisherman Goes To Sea'
Loie Fuller by Amphora
Sainsbury Centre for Visual Arts
Norwich, UK
Permanant Collection
Water Lilies by Paul Dachsel
Bohemia, circa 1906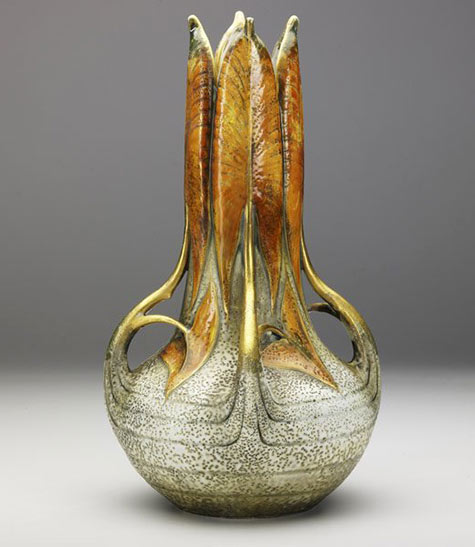 Vase with closed water lily leafs – Paul Dachsel/Ernst Wahliss ca 1911
( Rago Arts & Auctions )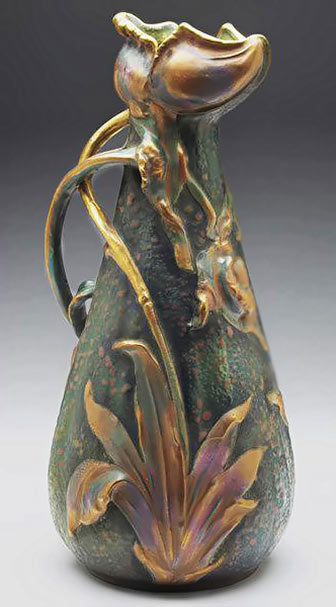 Amphora handled vessel, large organic shape, with gold accents
( Treadway and Toomey Gallery)
Twin handled Amphora vase
Art Nouveau Amphora
Amphora Werke Reissner, pastel toned matt glaze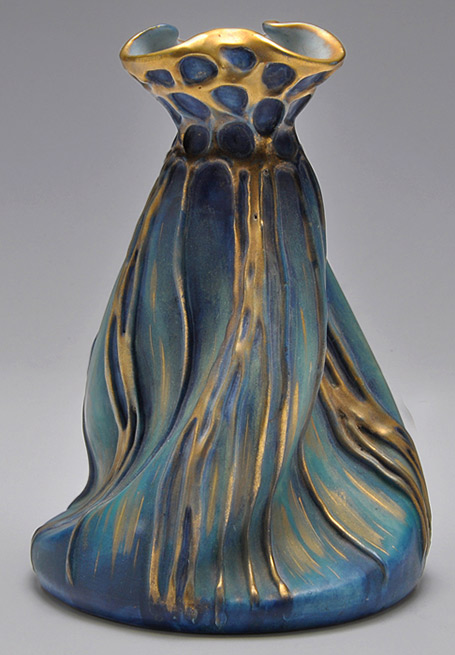 Art  Nouveau creased Amphora vase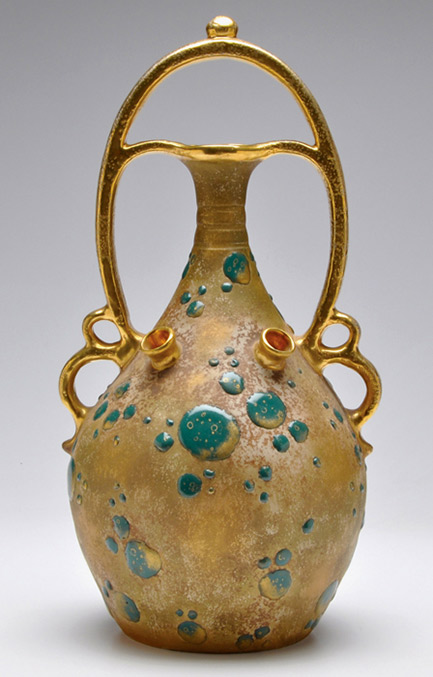 Amphora
Amphora Art Nouveau
Amphora figural candle holder
See another Veniceclayaartstis article on Art Nouveau here
–