A collection of female ceramicists, all with an interest in exploring  African themes in their creation of figurines and sculptures.
Michele Ludwiczak :
Fascinated by working with clay, French ceramicist Michele Ludwiczak  trained with various potters including Marc Uzan, Gilles Acker ( raku ), pursued the construction of ovens and the cooking of primitive home ceramics  with Thiebaut Dietrich ( founder of the European Institute of Ceramic Arts in Mulhouse) and studied art history at the University of Strasbourg.
" I am a dreamer, an idealist and my art allows me to transcend my contemporary world  and explore other cultures and traditions, where people live to a different rhythm with nature and time. Their endurance and maintenance of beauty, grace and dignity, despite their numerous hardships, is worthy of artistic representation. "
Thursday, February 25, 2016 

vernissage at the Galerie Brûlée in Strasbourg from 18.30

concert at 19:30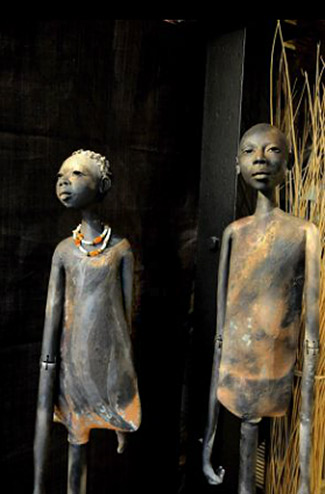 Michele Ludwiczak – Galle, France
Michele Ludwiczak ceramic sculpture
Michele Ludwiczak, France
Michele Ludwiczak
Water bearer figurine – Michele Ludwiczak
 Michele Ludwiczak
Michele Ludwiczak
Michele Ludwiczak
Michele Ludwiczak
Michele Ludwiczak
Michele Ludwiczak
Michele Ludwiczak African child figurine
Michele Ludwiczak
Michele Ludwiczak
Michele Ludwiczak painting
Michele Ludwiczak
…
Lindy Lawler :
Lindy  started working with clay 15  years ago and now works mainly in oil based clay and ceramic clay. Her handmade sculptures all have colours, shapes, glazes and symbols inspired by her memories of South Africa. She works from her home studio in Sydney, Australia.  " All my work is inspired by cultures of the world and their traditional practices. I have great respect for past and living cultures, of past and living traditions. My sculptures are completely handmade and many of them are made to be held in the hand, and some are created to look like they are old with colours muted through years of antiquity. "
Lindy Lawler
 African female bust – Lindy Lawler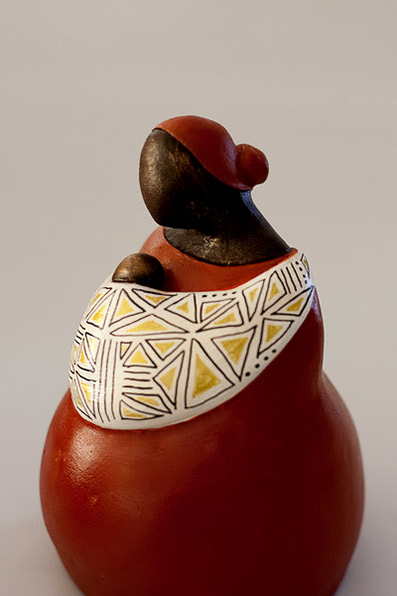 Mini Zulu Mamma – 'Protecting'
Lindy Lawler
Lindy Lawler African figurine
Lindy Lawler
Lindy Lawler   " Ayan "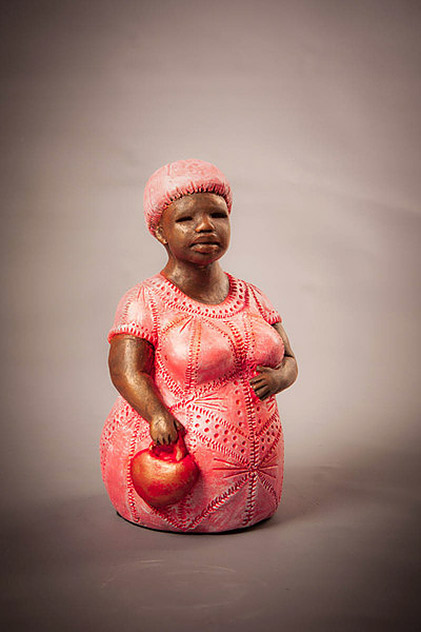 'Zulu Mama' – Lindy Lawler
Contact Lindy here
…
 Annie Peaker :
Inspired by her love for African culture, UK ceramicist Annie Peaker captures the beauty of African women in ceramic sculptures. Some of her figures are slightly elongated to emphasise the grace and elegance of the African female form. " My work is a response to my fascination with the power of body language and movement. Each piece of work is a unique composition with striking features and fluid lines. Surface texture plays an important part and l enjoy exploring the huge potential of the clay and the firing process to deliver new finishes."
'Ruby' – AnniePeaker
Tall Figures in honey & blue glaze.
Height 40cm
African figurine – Annie Peaker
Annie Peaker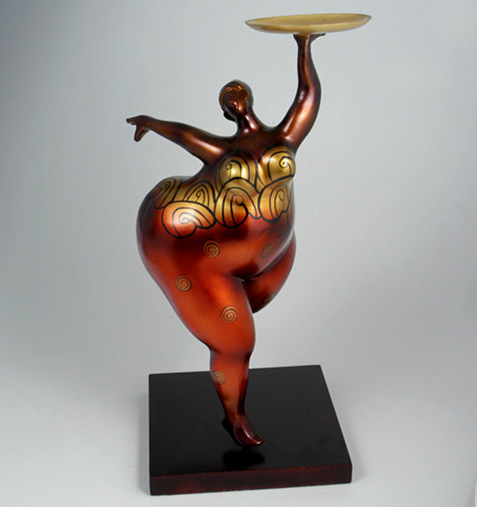 Dancing Belle Sculpture – VoluptuArt
…
 Etiye Dimma Poulsen :
Etiyé Dimma Poulsen was born in 1968 in the rural areas of Ethiopia, became an orphan at the age of two and went on to grow up in Denmark. She studied art and art history for two years.  At 22, she moved to France, where her early work was in ceramics. In 1993, she moved to Belgium, where she now lives and works. " This very traditional approach of art as craft, is also present in the form of my art. Not that I really copy traditional statues or tribal styles, but I reinvent 'archetypes' of 'primitive art', totems if you want, from my own processing of matter, from my memory, my vague nostalgia, my longing for a continent that I left ages ago. The soil of Africa…. But my work is not just African; there are some elements from ancient Greek art (Mycenaean), prehistoric Venuses, oriental art etc." " I always try to make primordial figures, humans in their most naked, primitive being, as tokens of some basic existential condition: loneliness, fear, desire. But most of all: being there. Being part of. Going towards. A primordial presence, a trace of human culture on the face of planet earth. "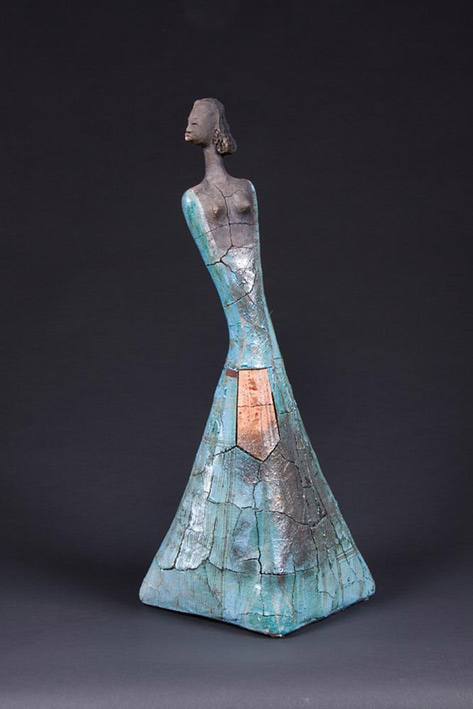 'Blue Dancer'  – Etiye Poulson
Etiye Dimma Poulson at gallery.
Etiya Dimma Poulson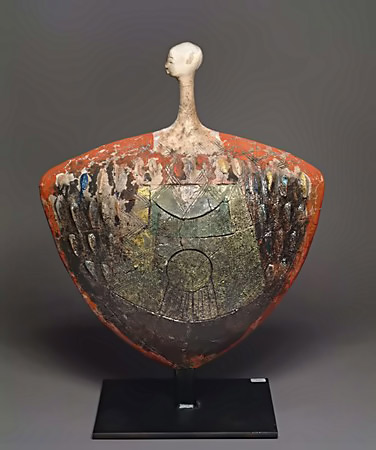 Etiya Dimma Poulson
Etiya Dimma Poulson
Etiya Dimma Poulson
Etiya Dimma Poulson
Etiya Dimma Poulson
…
Margit Hohenberger :
Margit is inspired and respects the works of art from global cultures. You will recognize some African influences; along with historical and modern aestheics being honoured and integrated into her work,  leading to elegant shapes and styles. She lives and works in Germany in an area which is called "Upper Franconia". This area was (and still is) very famous for porcelain-production. "  I have to draw my work first and then create the art in clay. An idea is born on paper and then I go into my studio and transform it into shape."
'Flashdance'  – Margit Hohenberger
Raku figurine  'In the storm'  – Margit Hohenberger
.
'Venus' –  Margit Hohenberger
Raku figurine.
Marianne Houtkamp :
Marianne Houtkamp
Marianne Houtkamp – 'Reveille'
'Searching for food' –  Marianne Houtkamp
The shy bride'  – Marianne Houtkamp
Marianne Houtkamp
Beruk Mamo
–