Local women selling pottery in a  a colorful rural, open pottery market in Lalibela area, Northern Ethiopia. ( Tam's Blog )
◊
Despite the proliferation of many options for potters to market their wares online such as etsy,ebay,blogs and affiliate sites, a  lot of potters still choose to use street markets and the like for selling their products.I would venture to say that one of the original domestic products that was ever sold at markets would be pottery due to their necessity for the transport of water. Throughout the ages potters have served their communities by transforming clay into beautiful and functional wares. Potters, working in their home studios, would bring their pots to town on market day. These days the green movement has also encouraged some people to seek out homewares of a more durable, organic quality.From the travelling kitchen wallas of India, the Baazzars of Morrocco, the weekend farmers markets and antique street stalls the world over, you will still find pottery being well represented. Below is a collection of some of those markets.
Mobile pottery market, Cambodia-Phnom Penh-Battambang
Leanne Blake Pizio is a local potter who sells her wares at the  Pottery Festival at the Greensboro Farmers' Curb Market at 501 Yanceyville Street.
From -Greensboro Daily Photo
Freewheeling! Studio Potters' Market ( Studio Karva )

 Man selling pottery at  Niamey on the Niger river
Knoxville artist Bill Lee and some of his pottery. At the Market Square Farm Market ( Image-the Blue Streak )
That's what you call a pottery sales pitch !
Raja Ampat Papua Indonesia ( Image AFP )
 1908: pottery for sale at Chamberlain Bridge, Bridgetown, Barbados
Potter Manolo Rodriguez is famous for his effigies and Escher-like painting style.  He says "I never have an idea when I start painting a piece.  It just comes as I paint or may have come to me in a dream."
( Ron's Log )
Kala Ghoda Arts Festival, Mumbai India . Image from ceramic(some)times 
Bob and Nancy Bumgardner selling pottery on the roadside.
McCoy Pottery Collectors Society
Annual Fall Pottery Show, London
 Panjshir Valley Afghanistan
 Buddha Statue Market ( Cepolina Photo )
Ceramic stall, Texcoco Mexico
Pottery vendors at the limani of Chania, Crete ( Karahaz Flikr )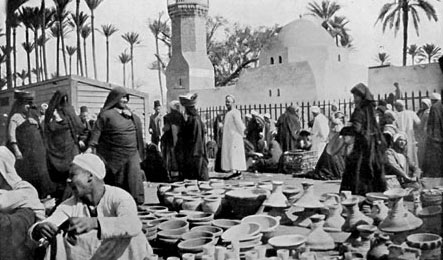 Cario Pottery market
Dongtai Lu Antique Market, Shanghai ( with lifesize Mao porcelain statue )
Image-The Macomb Daily. Teapots destined for the Annual Potters Market , Madison Heights
Charlie Tefft,Yanceyville Farmers' Market
Greensboro Daily Photo
Algerian Pottery Market
Shrosha Georgia
Nizwa Artisanat, Oman
–