James Whiting  lived in Japan for many years and his passion for ceramics developed there; the Japanese aesthetic has greatly influenced his work. This is apparent with the innate balance and harmony that is revealed in his pieces. Viewing his ceramics is a journey through landscapes of textural diversity, favouring earthy tones with the occasional splash of colour. His current work is predominately hand-built and functional.. Over the years he has worked with a wide variety of techniques: coils, slabs, nerikomi (layering colored clays), scraffito, inlay, pinch pots, wax resist and slip/underglaze painting, embossing, burnishing, sculpting/hollowing-out/re-assembling, and others, and is always exploring new ideas and techniques.
He presently resides in the  San Francisco Bay Area where he also pursues photography and teaching. James Whiting's website is HERE
Platter -Soda-fired –  James Whiting
James Whiting cup
 Porcelain cups in Lavender and White – USA ceramicist James Whiting
James Whiting  porcelain vase – Height – 28 "
Cups, Porcelain with Soda Ash and Shino Glaze On Inside
James Whiting asymmetrical cup – porcelain with blue clay inlay
James Whiting cup
Platter with Cat In The Rain inlay –  James Whiting
James Whiting with the Loch Ness Swan vessel
 James Whiting ceramic cup – a snakeskin texture with orange surface.
Platter with textured back –  James Whiting
James Whiting – Sake cup No.2  with tripod base
James Whiting, –  Cups with  Shino inside.
James Whiting. Vase – 40cm Height
James Whiting – Cups with mauve and pink inlay
James Whiting – stacked bowls with lid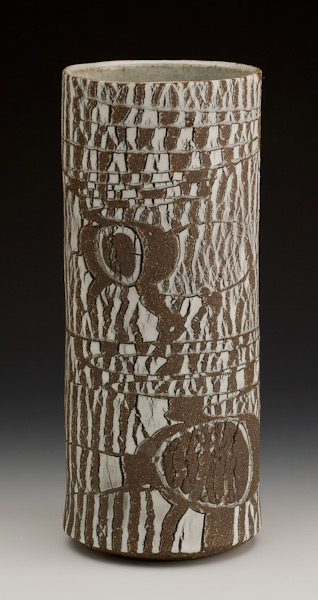 James Whiting – Brown and White vase
James-Whiting – vase
Cup No. 3 – white, black & blue
James Whiting vase
James Whiting  –  cylindrical vase
James Whiting –  Bowl, Porcelain with Soda Ash and Shino Glaze,
James Whiting – Large Blue Jar With Lid, 43cm/17″ tall
James Whiting cups
 James Whiting, modern ceramic Pitcher
James Whiting  – Platter
James Whiting – Black Teapot
James Whiting — Urn for Zippy the cat
James Whiting vase.- height, 32 inches
Platter – 3 Legs, With Cut Out
James Whiting – turquoise teapot
–