The Valencia contemporary design company Vondom predominantly uses recycled materials and rotational moulding in their manufacturing, which allows them the scope to create large scale planter products and unique furniture. I am featuring a few of their designs here because of the interesting contemporary results they are achieving and also the fact they use models in their marketing of contemporary decor, which is a rarity these days. Maybe I'm slightly biased because I have worked in advertising as a photographer but its good to see a bit of life added into the set. I always thought it was a slight disconnect to see the trend of interior design layouts for people without any occupants. I've also added a few other retro images where design marketing and models had a more regular convergence.. Also some other ceramic innovations minus the models.
 Ribbed ceramic lamp base – Roger Capron
 Jug on wall highlighted by frame
casa.abril.com.br
Carved and folded ceramic vase
tisaneinfusion.blog58.fc2.com
 Eva Zeisel Coffee Table
A new offerings from Design Within Reach Its curvy base hints at Baroque styling and the classic Noguchi table.
 The Seasonal Living Provencal bistro table is hand-made with a mixture of natural sands and a hemp-like grass that produces a very durable but light-weight concrete, then waxed for protection and matched with ceramic seating cubes
 A porcelain blue and white cockatoo with a bit of competition from the curtains.
 ( photographer Cindy Sherman's  apartment )
Vondoms Bones Maceteros huge planters
Vondom Bye Bye planter, designed by Harry & Camila
( The fascination of Byebye is harbored in this contrast between simultaneous unity and inner conflict – catalog description :))  )
 Original design sun lounger—FAZ by Ramon Esteve for Vondom
 VLEK Garden pot by Karim Rashid
Circolo Dell'Ostrica by interior designer Claudia Pelizzari, Venice-Italy
'Moonbeam' contemporary rug –  A Cero for VONDOM
Wing stool and table by Vondom—this is the virtual 3D modelling using Sketchup
( Sketchup is a free 3D software )
VERTEX Contemporary garden table by Karim Rashid for Vondom
 Contemporary luminous garden coffee table—SABINAS by Javier Mariscal
Contemporary vase — CHEMISTUBES by Teresa Sapey
'Faz Daybed' by Ramón Esteve for Vondom
Drip Drip Tea Set by Finding Cheska
Garden-pot— ADAN by Teresa Sapey for Vondom
 Garden pot — ALMA by A cero
Vondom Vlek illuminated large outdoor planter using Led Lights by Karim Rashid
Twin Garden Pots in black and white — MOMA by Javier Mariscal
Garden Planters — JM Ferrero, Vondom
Photo by Kristian Schuller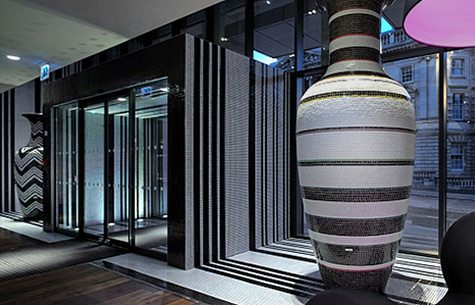 Large  pots at the entrance of the Hotel Missoni, Italy
Photo by Martine Franck
Magnum Photos
Designer Jacques Fath robe de cocktail
Photo Willy Maywald, 1951
Evelyn Tripp in Mainbocher by Richard Avedon – June 1953
Outfit designed by Jacques Fath 1951
Photo Willy Maywald
Bettina Graziani, at the Joan Miro Show, pour ELLE, Summer Collection, Jacques Fath, Paris, 1953
Photo by Georges Dambier
Nemo is a chair with a face designed by Fabio Novembre
One Kiln by Threetone cup and saucer
Original white bone china porcelain vases—Adelaide by Xie Dong
Tulip House – ceramic vase is handmade by Cor unum.
( http://www.archiexpo.com/ )
Monumental Planter—FAZ by Ramon Esteve
French artist Jean François Fourtou
 Photographer Mario Testino's home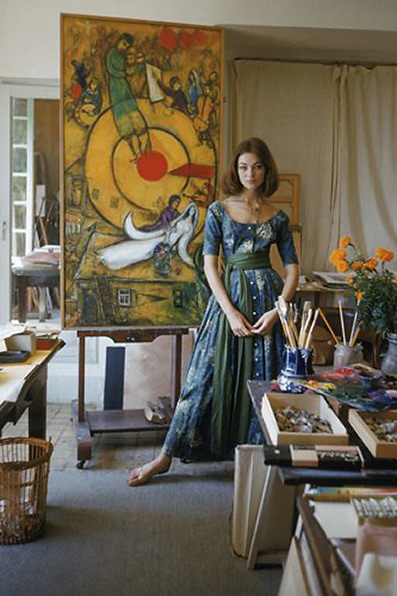 Model in studio of Marc Chagall
Photo Mark Shaw
Thom Felicia interior design
Most of the design blogs were in raptures over the hooded chairs, what caught my eye was the impressive modernist sculpture at the window.
Planter/seating  collection by Jangir Maddadi Design Bureau
Pots by Valencian designer JM Ferrero
A room at the Hotel Belsito, Venice
VONDOM—mobiliario exterior Vases Isla by JM Ferrero
 Bettina Graziani and Pablo Picasso in his Cannes Villa, La Californie 1955
Photo Mark Shaw
 Fernand  Leger at his studio in Paris 1955, with British model Anne Gunning, wearing a dress based on his art.
Photo Mark Shaw
'Faceture' ceramic vases by Phil Cuttance — Moa Room
Contemporary black and white ceramic vases – Francois Azambourg for Cappellini
Illuminated garden planters – Viljas, Vondom
 Joan Miro and model Margaret Philipps in Barcelona, 1955
Photo Mark Shaw
AND Collection by Fabio Novembre for VONDOM
Retro style Ad for Mid Century Palm Springs home
'Feel Seating System Deluxe' – Animi Causa
KOHLER Canada  Magazine  – photo by Sanjay Kothari  in As I See It campaign
Simone D'Aillencourt is wearing dress and tunic by Jean Dèsses, hat by Claude St.Cyr,
photo by Pottier, L'Officiel 1957
Steven Klein paid homage to photogapher Julius Shulman by recreating his Case Study House #21 photo with Angelina Jolie and Brad Pitt in 2005.
See the original Shulman photo here
50's Mid Century advertising ( Alexander Calder immobile mobile ) ?
Vondom 'Biophilia Sofa' designed by Ross Lovegrove
Vondom Milano-2010
Monumental wavy lines, hand polished concrete planter
Saveri, Singapore
  'Rockley' by George J. Sowden, Driade
Elle decor purple
'Arctic Rock' bone china vase by Jasper van Grootel
Studio JSPR
Contemporary Biophilia white table and chairs – Ross Lovegrove for Vondom
–