Modernist magnificence
A new radical era of design evolved during the turn of the century which moved away from the excessive ornamental tradition which had dominated decor trends for decades to a streamlined, accessible functional design for a more minimalist aesthetic. The original designs of this modernist movement, regarded by some as non-conformist and even viewed by other contemporaries as audacious and scandalous, gradually gained wider acceptance and captivated the mainstream market when post war production got moving.
Marcel Breuer, the Bauhaus furniture designer and architect, began working with lightweight tubular steel in 1925, which together with flexible plywood had opened up a myriad of design possibilities to support the modernist design philosophy of clean lines and geometry. The new materials and production techniques were quickly adopted by the design greats of this era such as Alvar Aalto and his Finnish firm Artek, Americans Charles and Ray Eames, Le Corbusier from France, Swedish Bruno Mathsson and Gio Ponti and Carlo Mollino from Italy. Their styles were like a breath of fresh air, offering a radically different alternative to the cluttered, busy decorating ideals that were ready for an overhaul.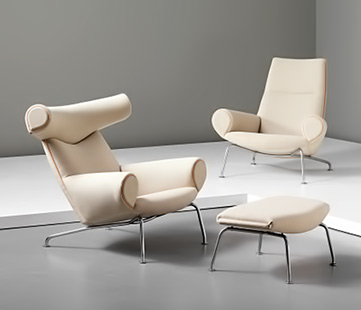 Molding techniques, especially with the new plastics, allowed the design elements to be pushed even further, while still adhering to simple lines, and the decorative pieces were also adapted to this modern aesthetic to compliment these innovative styles.
Most of the 20th Centuries art movements: futurism, cubism, constructivism, surrealism, abstract expressionism, art deco all contributed to the evoltution of modernistic design. Manufacturers took iconic elements from these styles and simplified them for mass production.Their influence is detectable and contributes to their subtle attraction.
The modernist simplicity, timeless elegance and high craftmanship has led to a longevity that has preserved its contemporary and compelling appeal, which is reflected in the values being fetched today in the market place.
Featured below is a collection of modernist furniture and decorative pieces from 1905 to 1976
Georges Jouve  –  Three ceramic bottles
1957
( Phillips, London )
Alexandre Noll  abstract sculpture 1950
( Phillips, New York )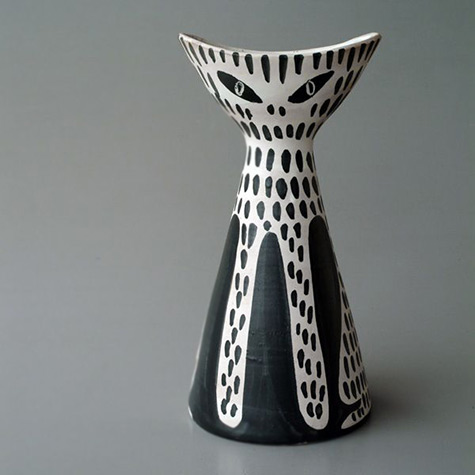 Abstract Ca t- André Freymond,-23cm
1950's
( ceramic-signatures.com )
André Masson modernist jug
Arabesque – Carlo Mollino 1950, Turin
( architetto-contemporaneo.it )
Axel Johann Salto -ceramic lamp base 1968
( Phillips, London )
Casa Orengo  lounge chair — Carlo Mollino
( italiaspeed.com )
Stilnovo – atomic ceiling light, circa 1957
( Phillips, London )
 Charlotte Perriand –Tunisie bookcase
1952
( Phillips, New York )
Claudia Australia – mid century jug
( Bemboka Gallery )
Constructivism sculpture  – Naum Gabo
http://theflyingmallet.wordpress.com/
Cosmic Bowl  – May Hamilton, USA  1936
Photo – Peter Brenner
( MOCAD )
Display at Ghent Design Market
( thegoodolddayz.wordpress.com )
Ettore Sottsass Jr  – ' Ho' vase, 1968
( Phillips, London )
Lucie Rie – Flattened ovoid vase,- ca 1965
( Phillips, London )
Gabriella Crespi- " z " desk -Italy, 1973
Brass covered wood
( A classic piece but talk about modernist madness – the estimate was $10,000 t0 $15,000, it fetched $220,000  )
 Phillips, London
Georges Jouve -lime green vase
1947
( Phillips, New York )
Georges Jouve – lidded box
1955
( Phillips, London )
Georges Jouve- stoneware " lyre " wall lights
1956
( Phillips, New York )
Gio Ponti  "Il Circo" circus themed porcelain vase, Italy
1920
( therepublicofless.wordpress.com )
Gordon B. Newell  USA 1958
I've seen this labelled as Anteater and  Polar Bear, take your pick.
( Artprice )
Ovoid form vase, circa 1913  – Jean Dunand, France
( Phillips, New York )
Henri Simmen and Eugene O'Kin Pear shaped bottle – 1920
 Andre Gigon  mid-century ceramic bottle
1951
This Nordic vase in the 'budding' style certainly got them ' bidding '  – Alex Johhan Salto for Royal Copenhagen, 1944
Height 16 inch
( realized $603,000 at a 273.25% increase on the valuation at Phillips,London )
Jacques Innocenti (1926-1958) – large earthenware baluster vase, decorated with two large birds, green slip on black and turquoise enamel highlights
1954
Jaques and Dani Ruelland lamp base 1960
( Phillips, London )
Jeroen Verhoeven- cinderella table
Karl-Scheid  – stoneware footed bowl 1973
Waylande Gregory Phoenix Lamp Base – 1940's
(  Renaissance Man Antiques -1stdibs )
Large 'Seed pod' vase, 1949 – Alex Johhan Salto  for Royal Copenhagen
( Phillips, London )
Le Corbusier abstract sculpture – 1957
( http://mondo-blogo.blogspot.com.au/ )
Marcello Fantoni glazed earthenware sculpture 1976
( Phillips, London )
Maria Pergay – Ring Chair 1968
'Miranda' vase, designed for Rorstrand, Sweden
1938
PAOLO DE POLI ceramic bottles 50's
 Created by Jayme Odgers for the 1972 catalog of Architectural Pottery's Pro Artisan Collection
( MOCAD )
Pierced porcelain modernist vase – Rosenthal, Germany
Preben Fabricius and Jorgen Kastholme Early 'Grasshopper' chaise longue, designed  1968
( Phillips, London )
Glazed Toucan by Waylande Gregory – 1950's
(  Renaissance Man Antiques -1stdibs )
 Roberto Pennetta mid-century chair
Lampe Morille –Maison Charles -circa-1970
 DAniel Derock and LOïc de Bailliencourt ( DALO ), and ceramic top table by Roger Capron
Serge Mouille –Monotype sculpture 1955
( Phillips, New York )
STIG LINDBERG-1950's Egg sculpture
( Phillips, London )
Tapio Wirkkala bird sculpture
1951
( Phillips, London )
Toni Muona  for Arabia, Finland 1940's ceramic vase
 Marcello Fantoni sculpture – 1973
( Phillips, London )
Constellation with Two Pins – Alexander Calder
1943
( calder-foundation )
 CARSTENS – giant fat lava floor vase
' La Biche  No. 37 '   – Le Corbusier
Theodore Roszak – Bi Polar in Red 1940
( MondoBlogo )
Hourglass Planter by LaGardo Tackett
1950
( MOCAD )
…
Unless stated otherwise all the above images were sourced from Phillips de Pury & Company, see here 
–