Greg Johns sculpture –  Palmer
Photo – Bill Doyle
Palmer Sculpture Biennial
Windswept, undulating plains saturated with lucid light and the occasional rocky outcrops with smooth erosion, dotted with solitary trees of tenacity making a statement of survival. A perfect location for creating the powerful dichotomy of modern contemporary sculptures against an ancient landscape. The entrancing Aussie landscapes on their own wrench deep chords from the soul, so having a sculpture to study in this setting under pristine skies is a pure bonus.
Palmer is situated 70km East of Adelaide in the state of South Australia on the Murray Plains and sculptor Greg Johns has a property nearby on the eastern escarpment of the Mount Lofty ranges. which is the location for the Palmer Sculpture Biennial. His objective for this land is to display a collection of his own works and a range of other contemporary sculptures, along with ecological rehabilitation. The range of work included involves symbolic reading of the landscape, responding not only to the physical but also the mythical and the spiritual senses of the Australian landscape. Sculptures are placed in relationship to the whole landscape; it is not a 'sculpture park' as such.
A biennial sculpture exhibition was established in 2004 which includes emerging, mid career and established artists, with diverse styles of practice represented. A distinguished artist is also invited to participate. The Indigenous people and traditional custodians of this location are the Peramangk and the area has a rich Indigenous history.
 'Returning to Whole' – Astra Parker
2010
Ancient She-oak tree – photo Bill Doyle
 'Hearth (Resting Place)' – Andre Lloyd Lawrence
2014
Astra Parker – 'Migration Sero'
2016
Photo – Bill Doyle
Karl Meyer – 'Substance'
2016
Astra Parker – 'Rhythm Underground'
2014
Photo – Bill Doyle
Bert Flugelman – 'Serpent II'
2008
Photo – Bill Doyle
Nicholas Uhlmann – 'The Hood III'
2016
Erwin Fabian – 'Palinode'
( Centenarian still sculpting)
2016
Chris Ormerod,  sculpture– 'The Vital Arc'
2012
Clancy Warner – 'Whitewashing History'
2016
Photo – Bill Doyle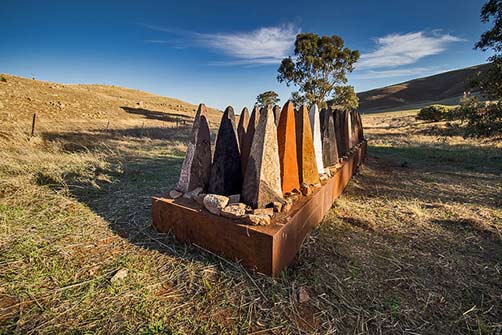 Dianne Coulter – 'Earth Force, Series 3′
7th Palmer Sculpture Biennial – 2016
Egbert Wellmann – 'Ambiguous' 
Nicholas Uhlmann – 'Rock Bottom Riser'
2008
 Palmer Sculpture Biennial
'Merging – Emerging figure'  –  Corten Steel – Greg Johns
George Andric – 'Everything Changes Everything Returns'
2012
'Guardian Figures' – Greg Johns
Permanent installation   Photo – Bill Doyle
'Horizon Figure V' – Greg Johns
2014
Permanent installation   Photo – Bill Doyle
'Seeing The Land'  – Greg Johns
2012
Stephen Lloyd,  – 'Heatwave'
2012
caroline lloyd-flickr
Ian Hamilton and John Hayward –  'The Bower Tower Project'
2012
'Bird Spirit Vessel' – Nicholas Uhlmann
'Return Voyager' – Nick Uhlmann
2014
Photo – Bill Doyle
John Blines – 'Displaced 1′
Lorry Wedding-Marchioro – 'Entanglement'
2016
McClelland Gallery Sculpture Park
McClelland Gallery & Sculpture Park showcases over 100 permanent outdoor sculptures, mainly of contemporary style, set within a diverse landscape of natural Australian bush plants, bracken paths, heathlands, landscaped gardens, sweeping lawns and lakes. The 16 hectares park is situated in Langwarrin on the Mornington Peninsula and includes a cafe. McClelland is a not-for-profit organisation committed to the presentation and promotion of sculpture in Australia and runs the Biennial McClelland Sculpture Survey which selects a new sculpture for the park.
McClelland Gallery & Sculpture Park
390 McClelland Drive
Langwarrin, Victoria
3910 Australia
Admission by donation
Opening hours:
Tues to Sun : 10am – 5pm
Closed on Mondays and
some Public Holidays
'Alexander The Great' by Dean Colls
Karl Duldig – Myth of Echo
Dean Bowen – 'Echinda'
2013
'Fell for Silo' – Robbie Rowlands
2010
'A Backwards Attitude' – Louis Pratt
'Anno Domino' – Geoffrey Ricardo
2009
'Tara' – Lenton Parr
'Snuffle' –  Sebastian Di Mauro
2002-03
'Metamorph' – Erwin Fabian
'Alien' by John Kelly
'Landing Object II ' by Vincas Jomantas
McClelland Gallery – Permanent Collection. 'Waterhole' –  Sergio Hernandez Merchan
'Rise of the Flowering Plant' (Lower cretacious)  by Geoffrey Bartlett
Disco yowie 'Golden Beast' – Troy Emery
  'At the Centre There is Nothing' – Greg Johns
'Twisters'  Phil Price, New Zealand
2006
Photo Adrienne Rewi
'Polaroid'  Lea Williams
James Parrett – 'M Fifteen'
'ReGeneration' –  Sonia Payes
2014
Greg Johns – 'To the Centre II'
2007 – photographs © Marcus Bunyan
Windchime Sculpture
Wanda Gillespie
Adrian Mauriks – 'Strange Fruit'
2010
photograph © Marcus Bunyan
Contemporary stainless steel sculpture
McCelland Gallery Sculpture Park
Other Australian landscape sculptures
'The Rain Dragon' by Andrew Whitehead
Lockhart, NSW
'Swagman and Dog' scrap metal sculpture by Andrew Whitehead
 2012
Andrew Whitehead Horse and Rider
Shepparton Pony Club, VIC
Andrew Whitehead  scrap metal Boxing Kangaroo sculpture
'L'Artiste', by Frederic Berjot
Swell Sculpture Festival, Gold Coast, QLD
2010
'Spirit House' – Craig Medson, QLD
2005
This sculpture by Milynda Rogers has been nicknamed 'Barb' because of  approx. 3km of barbed wire that went into its construction.
Muttaburra, Queensland
The William Ricketts Sanctuary sculpture garden in Mt Dandenong, Melbourne
photo by Trish Hunter
Stephen King – 'Fallout'
S x S Bondi 2013 – photo Clyde Yee
Tim Macfarlane Reid, 'Still Connected'
Sculpture by the Sea, Bondi 2015
Jeramie Carter – 'The Dancer' 
Photo – Sergio Dionisio: AAP
'Venus' – Duncan Stemler
1997
Clyde Yee photo
Byung Chul Ahn
 'Sculpture by the Sea' at Bondi to Bronte coastal walk
'Australia Garden', Cranbourne
see more of the Australia Garden on veniceclayartists article –  Mystical gardens and sculpture tour
–