Sylvian Meschia céramiques

Sgraffito Vessel by lessgreedcompany, Etsy

Sgraf-trio tumblers – Demon Potters
'My sgraffito pots use one of the darkest black slips I have found. I enjoy the challenge of getting the pots to just the right dryness – not too dry so that the cuts are clean but not so wet that the slip is marked by the handling. My designs originate from sources as diverse as an African drum to a stand of bamboo (but not a printed circuit board, as my brother suggested!)'

Italian sgraffito stoneware vase

Stacy Stanhope – ' what are ewe '

Sylvian Meschia sgraffito vessel
Scratching and carving clay
The word "sgraffito" is Italian, its meaning being to "scratch, write or to mark ".  Sgraffito is the technique of scratching an image through a coloured slip to reveal the body beneath. Sgraffito Pottery was once considered to be the vessels of kings. From the Byzantine emperors to the Russian czars, Sgraffito has been the earthenware for the "blue-bloods" of Europe's finest houses. Although the technique is relatively simple , the process is time consuming and painstaking.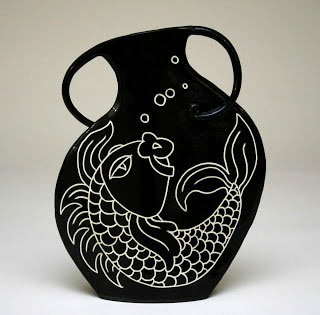 Sgraffito Dancing Vase – Jane Cartwright
During the 16th century renaissance  in Italy,  Sgraffito was utilised in wall art,  pottery decoration and canvas paintings. Sgraffito on walls has been used in Europe since classical times and its origins go back to Africa and Japan. It came to Europe through the Middle East. Because the Muslims were forbidden to eat from any metal wares, they had developed the decorative side of pottery to high degree. This also included the use of a sgraffito decoration. Both the North African potters and Spanish potters were imported into Italy to share their skills and techniques.  During the Reconquista of Spain, Spanish Muslim potters fled to North Africa, and to Italy and Byzantium, where their knowledge merged with the techniques of local potters to create new and exciting styles of pottery for Renaissance patrons of art. The Muslim, or Moorish, artistic styles of Spain are  described as Hispano-Moresque.
Hispano Moresque Brasero (Deep Dish) from Valencia, Spain 1400 CE
This bowl is 18″ in diameter and was thrown from a terra cotta clay. A white slip was then applied and designs carved using the sgraffito technique, the brown and white part of this design being the sgraffito portion. Then  overglazes of cobalt and lusters were applied to complete the design.
Sgrafitto reached its height of perfection in the 17th century at the potteries of Beauvais in France. Its use for ornamental decoration was eventually superseded by the use of the slip trailer, although in the south-west of England, the tradition of sgraffito continued well into the 19th century in the potteries of North Devon. The popular harvest Jugs quite often featured sgraffito in their rich decorative styles.
One of the reasons the Italian potters used sgraffito was that they wanted a nice white surface to decorate, just like porcelain, but the only white clay they had wasn't strong enough to produce ceramics. So they made their plates and bowls from the readily available red clay, and coated it with white slip (liquid clay) to get the prized white surface to decorate. Sgraffito was a logical extension to this practice.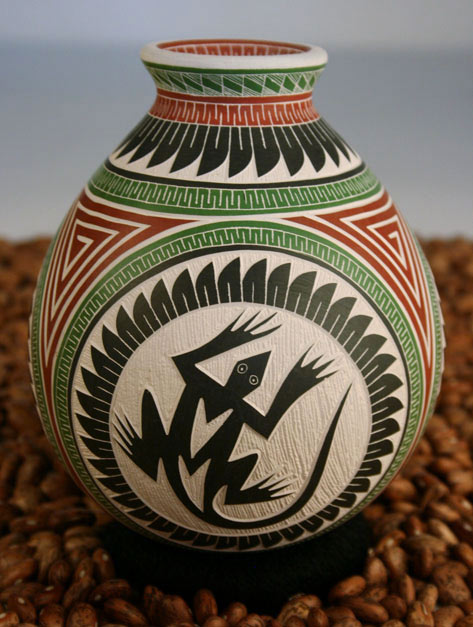 Small Sgraffito Pot Lizard Design   –  Mata Ortiz Pottery – Martin Olivas Quintana
Topham porcelain sgraffito vessel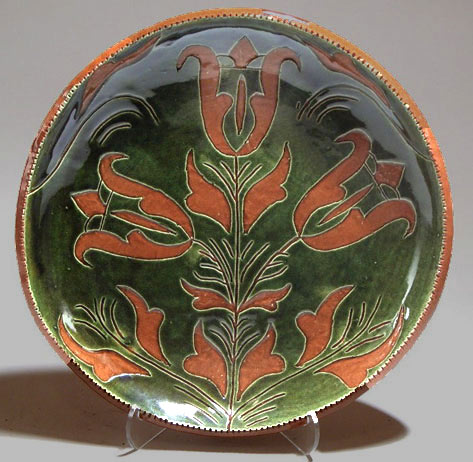 Sgraffito Plate – Westmoore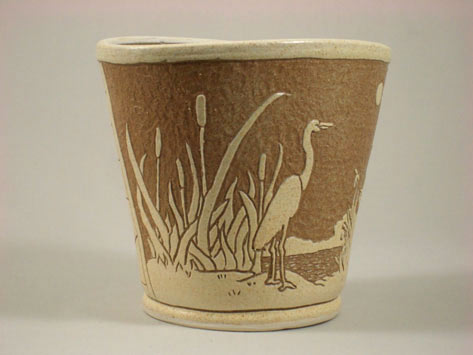 White sgraffito design on dark clay – Crystal Nolfo Brown
Vase by Insomnia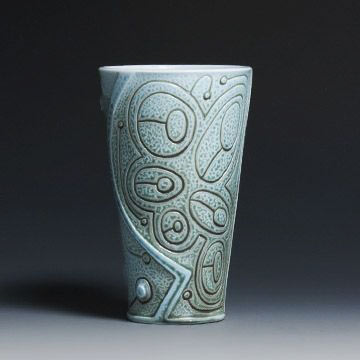 Large Tumbler – Ryan Mckerley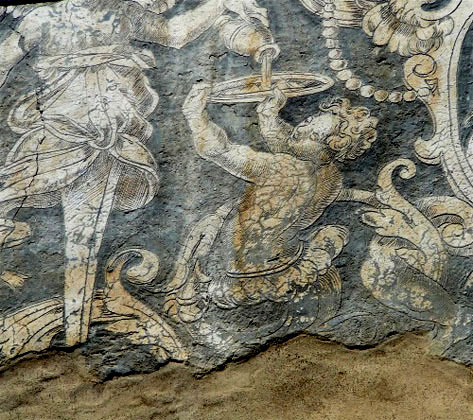 Sgraffito decoration on the façade of the late Renaissance palace Ramirez de Montalvo, which was built around 1568.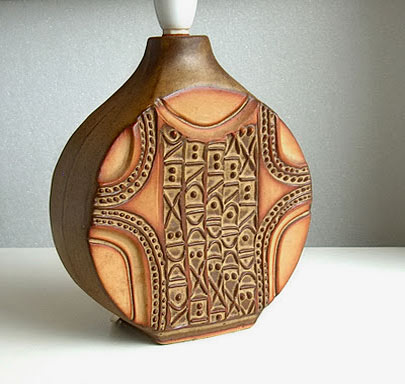 Ceramic LampBase – Louis Hudson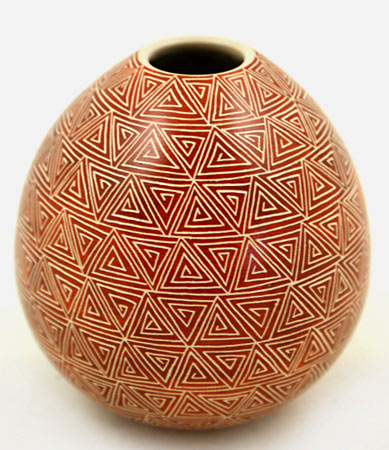 Mata Ortiz Pottery, sgraffito ovoid pot – Leonel Lopez Jr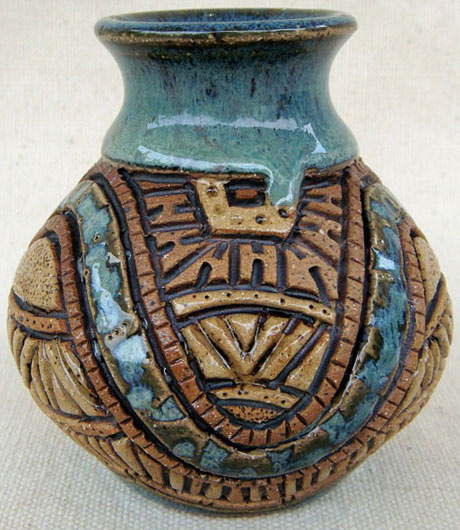 Hand carved stoneware vase – Janet Kitenger
 This vase wasn't created using a sgraffito technique.  The vase was wheel thrown and then hand carved followed by glazing. The design is a original and has a unique flowing geometric wave all around. Iron oxide was applied for depth. Clear glaze was applied to some parts of the carving for highlight. The inside and rims are Kiwi glaze which fires as a blue green and turquoise-ish.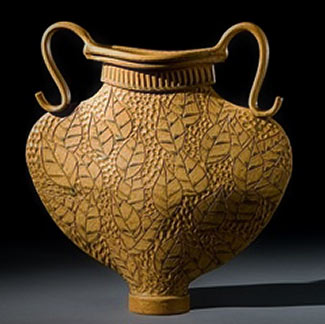 Jim and Shirl Parmentier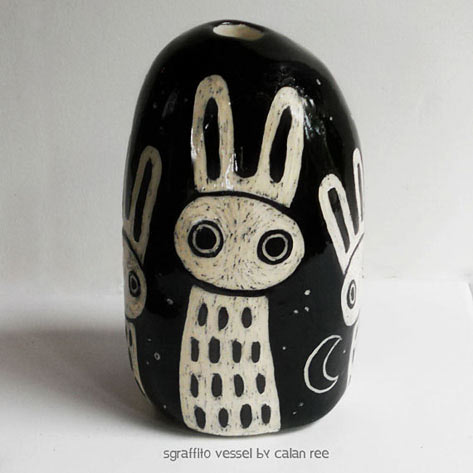 Ceramic Vase Bunny Rabbit Lepus Design – Hand Built Pottery by Calan Ree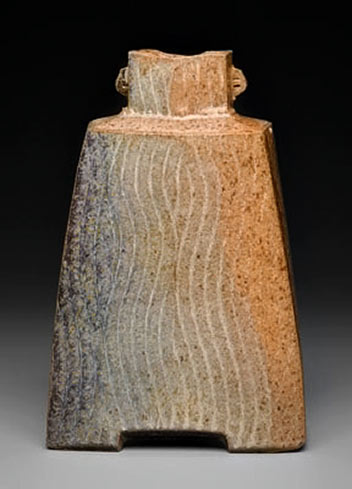 Faceted Bottle – Bruno Kark
Debra LeAir Vase
Vase with sgraffito leaf surface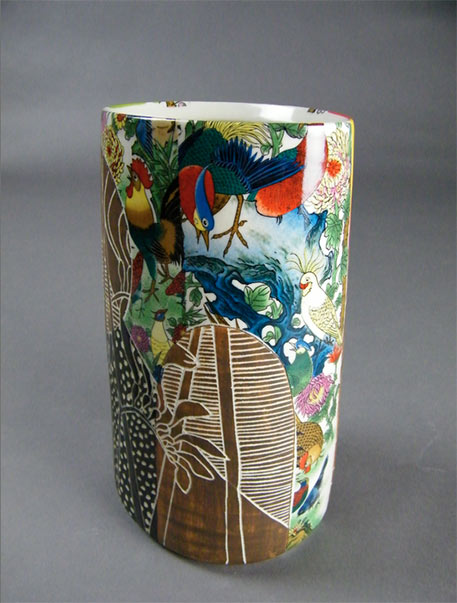 'Peacock Grevillia Vase', 2012. Janet De Boos
Thrown porcelaineous stoneware, black underglaze, terra sigillata, sgraffito, clear glaze, overglaze decals.
Ceramic vessel –  Ivone Shirahata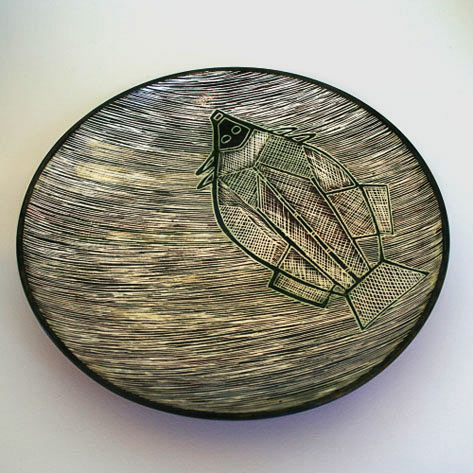 Carl Cooper – Bemboka Gallery
Dish with sgraffito fish.
This is an illustration achieved using multiple layers of crayons with a sgraffito appplication on top by Dawn Catherine Llanera.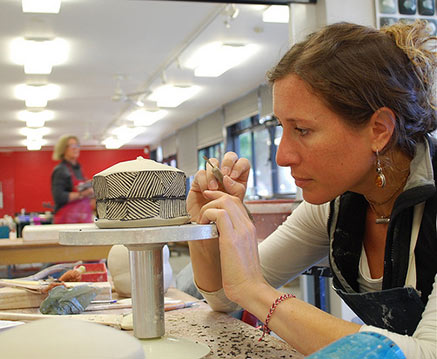 Hillary Kane demonstrating sgraffito decoration – flickr
" I added texture to the walls by rolling the clay onto a car floor mat and I cut the darts with bevels on each edge to make a better surface for joining. "
( from The Mud Room )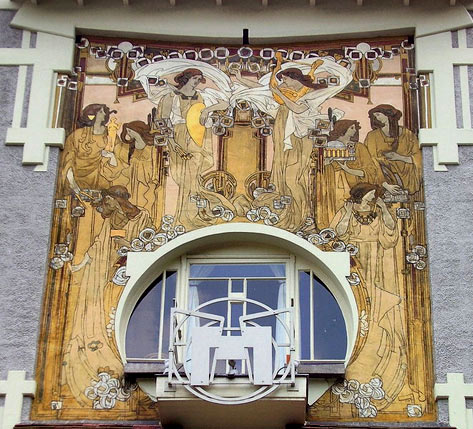 Art Nouveau sgraffito wall mural – Cauchie House,Brussels
Incised turquoise vessel
'UFO Invasion' – Tim Christensen
Sgraffito porcelain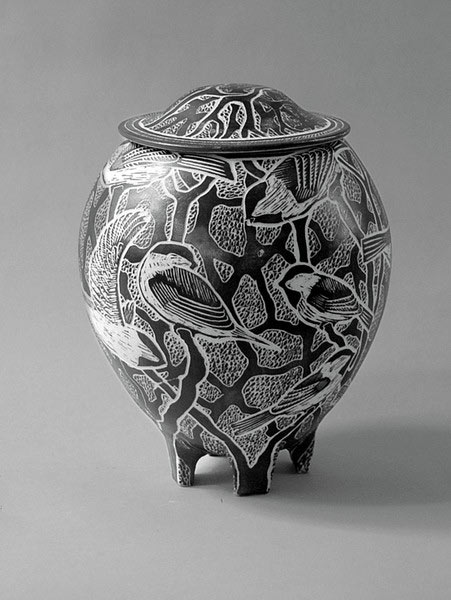 'Chickadee Flock' – Tim Christensen
( Gleeson Fine Art Gallery )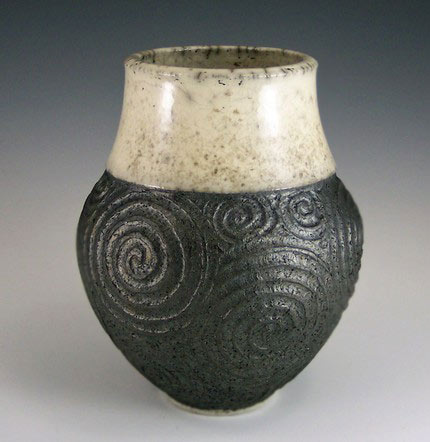 Raku Carved Vase – Anne Webb
This raku vase has been formed on the potter's wheel, skillfully carved with a free-form spiral design, glazed, then fired using an American variation of the Japanese technique of raku.
Vase with incised patterning   – Alan Wallwork , 1970
UK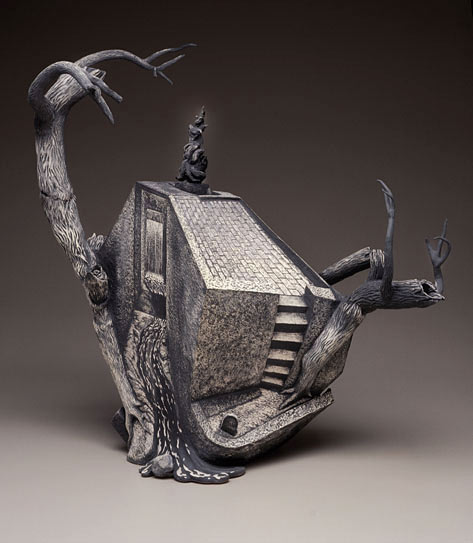 'On The Bridge' – Chris Theiss 1989
Slab and coil built earthenware with sgraffito.
 
 Fishwife and Bird Sgraffito Plate
( R.Geering Pottery )
 Leonel Lopez sgraffito nativity
Mata Ortiz pottery
Ernabella Ceramics,–Carlene Thompson—'Tjulpu Putitja I', 2016,
stoneware with sgraffito, H 51cm
Ernabella Ceramics
Amazing Buffalo Shield—signed by Norman Lansing-UTE Native American Indian hand carved seed SGRAFFITO
MaysFineAntiques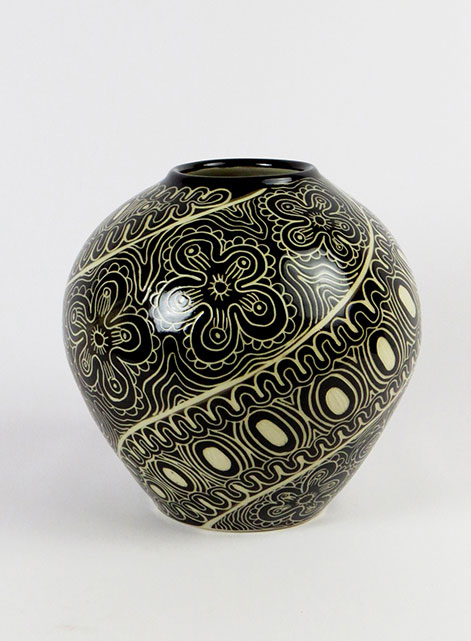 Tjimpuna Williams—'Ngayuku Walka IV', 2014,  stoneware with sgraffito
Ernabella Ceramics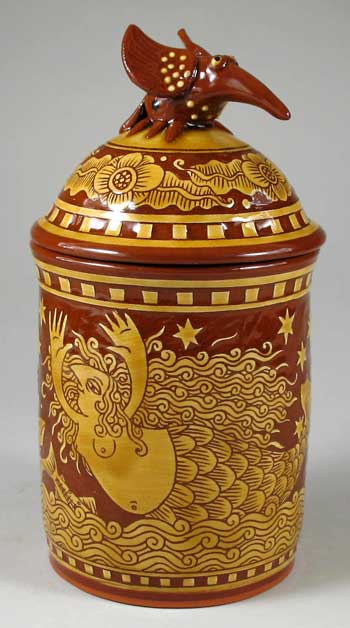 'Cape Cod Girl'  lidded storage jar – R.Geering
A lidded storage jar with a bird finial. The mermaid, whale, moon and fish pattern in sgraffito into a traditional red clay body is a contemporary design inspired by the old whaling song "Cape Cod Girls".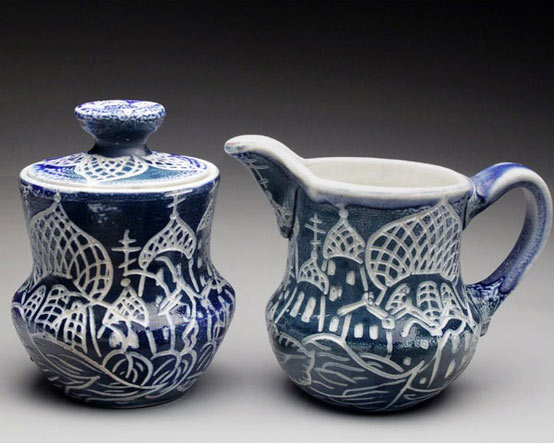 Becky Strickland Sgraffito Salt Fired Cream and Sugar Set Cup (  MudFire Gallery )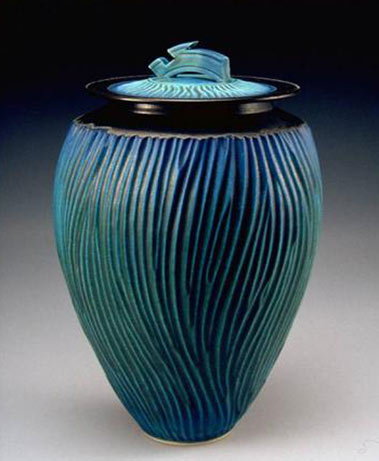 Paul Jeselskis
Textured stoneware bottles – English potter Caroline Airey
Bowl – Curtis Benzle  1975
Benzle's work is made with colored vitreous translucent porcelain. Much of the nonfigural imagery of his bowls is constructed from repeat patterning. Creating complexity out of essential simplicity is at the core of all his work.
( Met Museum )
Carrie Doman Jug – exploring natures textures through clay.
Debra LeAir sgraffito ceramic panel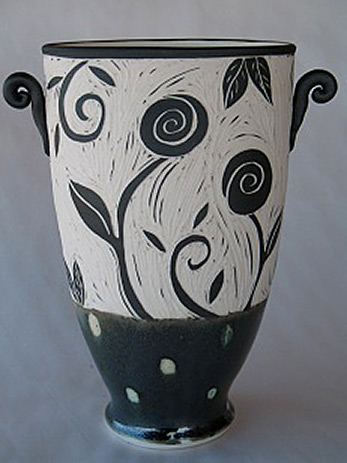 Off the Wheel Pottery
Sylvian Meschia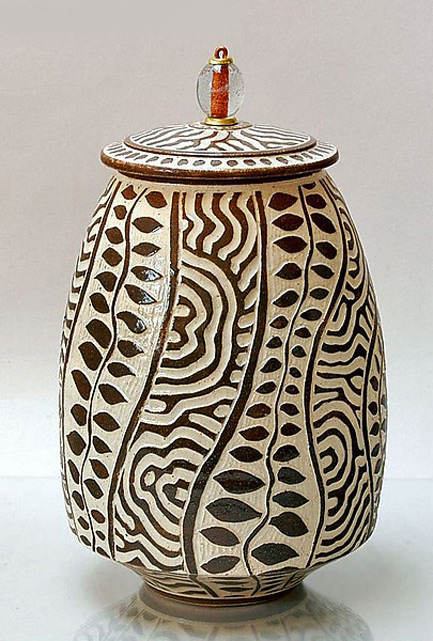 Ron Mello
Rebecca A. Grant Ceramics: Sgraffito Flower Mug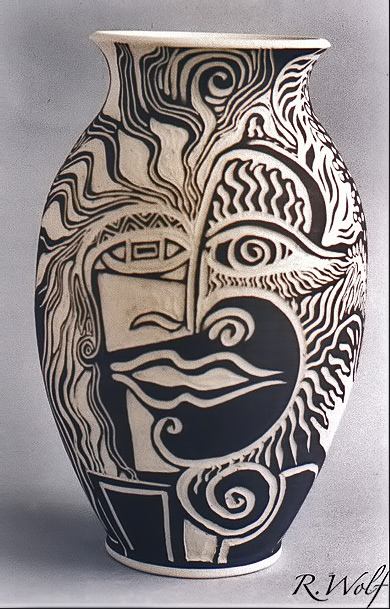 Baluster sgraffito vase –  Rachel Wolf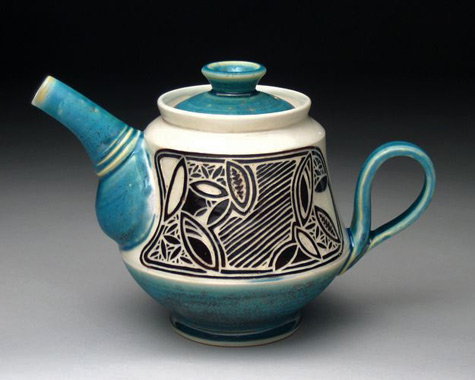 Rachel De Pauw
Elaine Hind vase
Eduardo Perez Rodriguez Mata ortiz pot
…
[divider type="plain" width="thirdwidth" align="aligncenter"]
Sources Cited :- http://www.joannturner.ca/sgraffito.html
–