'Regardez' – Sally Hook
The following two busts are from Sally Hook's current series 'Hairdo Cult'
'We are strange creatures and our heads can be reminiscent of sprouting potatoes, aliens, animals or transcendent god-like beings.  Our personalities are the motivating energies that squash our eyes, pout our mouths and arrange the planes of our faces to express ourselves, our life's paths.  It is an unending feast of diversity and our hair – those who have it –  is our crowning glory.' –  Sally Hook
Sally's website here
'Debutant' – Sally Hook
 'Highness' – Sally Hook
For the majority of Sally Hook's 34 year artistic career she has worked in the field of the clay arts. This included a stint for over a decade in manufacturing molds for the ceramics industry, specializing in Australian themes. Her journey has covered a versatile range of designs including utility ware, abstract, representative and figurative in both hand built and wheel thrown pottery. Most of her current narratives are created with hand built forms, which she is the most comfortable with, and her inspirations are drawn form a combination of the classical arts and the long history of human expression depicted in ceramics.
Sally's studio is in an idyllic location half way up the East Coast of Australia in a native sub tropical bush forest near Nambucca, surrounded by multi level gardens, stone stairways, pools, organic vegetable plots and forest views. Numerous windows in her studio bring this lush vista inside. Her present studio has been recreated from the ashes of her previous gallery/studio which was destroyed in a fire in early 2014. Thankfully, she has embraced the challenge of regeneration, and feels her art has been stimulated by the upheaval.
Her love of the craft of ceramics has taken her to Bali, Italy, France and China with international residencies and workshops, to evolve her knowledge and skills. Despite her interest in the approach of different cultures to the art of pottery, and doing numerous workshops with a diverse range of artists, her primary artistic motivation is still drawn from her own inner instincts and originality.
Birthright – The recognition of inevitable renewal 'Cycle' – Sally Hook
'Butterfly Catchers'   – Sally Hook
Made from white earthenware clay.Coiled,scratched design, black stain, burnished.Fired to 1080 degrees C.
Height 50cm
Doovas – Sally Hook
Sally Hook studio gallery
'Illusionists' – Sally Hook
'Jongleur en Jeune' – Sally Hook
'Merging with the Goddess' – Sally Hook
Acrylic on canvas
'Myths, Memories, Moments in Time' by Sally Hook
'Nefertiti Amenhotep and me' by Sally Hook
Sally Hook
'Noir et Blanche Jongleur' – Sally Hook
'Orange et blanc Jongleur'   – Sally Hook
'Potentate' by Sally Hook
Ceramic bust – Sally Hook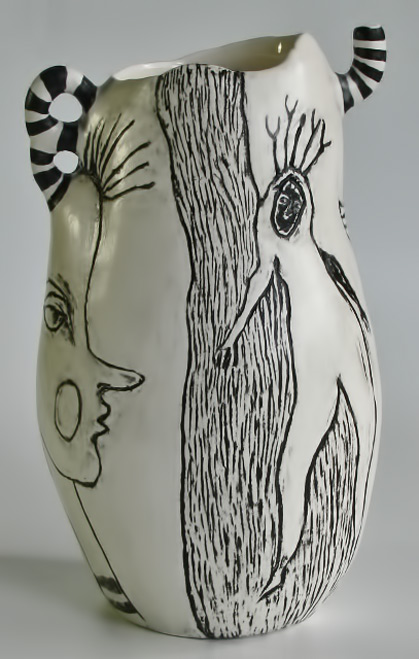 Vase with hand drawn figures – Sally Hook
Sally Hook ceramic figurine
'My Garden is in Me' by Sally Hook
Vessel with striped handles – Sally Hook
Tripod vase – Sally Hook
'Simpatico Goats small'  by Sally Hook
White Earthenware Coiled, scratched design, black stain, burnished.
50cm tall
'Strange Fruit' – Sally Hook
Sally Hook
'Tanned couple in bathers' by Sally Hook
Height 30cm
'The Jest' – Sally Hook
'Totem Vases 1 2 3'  – Sally Hook
Height –  69  64  63 cm
Tri legged vessels – Sally Hook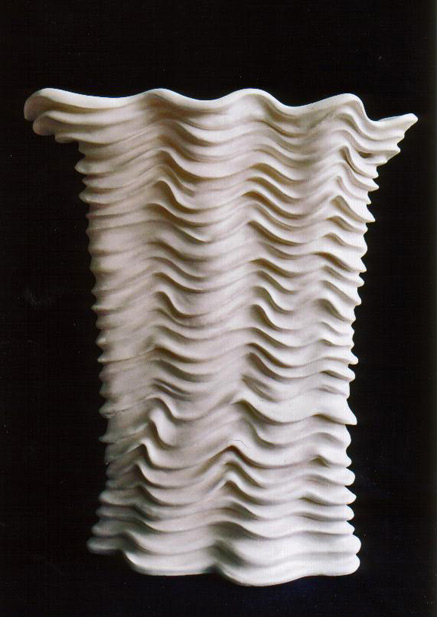 Wavy vessel – Sally Hook
The following pieces were from Sally's exhibition of figurative sculpture – 'The Women of Vallauris' at the Aqui Siam Ben Gallery, Vallauris in 2005 during her residency at AIR Vaullaris
'Passage—Couloir de Femme' by Sally Hook
53 cm tall
'Life is Joy Life is Not'  – Sally Hook
'Reign de la Maison' by Sally Hook
 Observations by Sally Hook on Picasso at Vallauris
Vallauris' potters suffered a decline of their fortunes through the twentieth century, enduring two devastating wars and the rise of plastics, which made disabling incursions into their domestic ware market. During the post war period however, there were still 60 potteries surviving in Vallauris, when a random visit by an artistic genius changed it all……..
It was in the mid 20th century – 1946 – that Pablo Picasso arrived in Vallauris one July day to look at a Pottery, Flower and Perfume expo (exhibition), when he met Georges and Suzanne Ramie of the Madoura Pottery, who invited him to visit their studio. He made two small bulls and the head of a faun and the rest, as we know, is history. His return (a year later) and through the following decade of working with the Vallauris potters, changed the villages' 'traditional craft' reputation into one of exciting contemporary design. In fact, Picasso modernised ceramic art altogether.
Picasso had had fifty years of development of his own unique aesthetic, and applied this instinctively like a maestro onto ceramic surfaces. He had a diligent work ethic with his co-workers who assisted him in his explorations of what was possible, and for then, implausible new techniques in altering and combining forms, glazing, decorating and once-firing. It seemed that everything he made worked – in spite of his experimentation – and worked wonderfully. One of his co-workers and technical advisors – Jean Derval (who still creates imaginative ceramic sculpture in Vallauris today) remarked later – "It was tiresome to work besides someone who was successful at everything". Picasso remained a potter as well a painter, sculptor and printmaker, with a prodigious output, making over 4000 unique ceramic pieces until his life ended in 1973.
Sally's website here
–