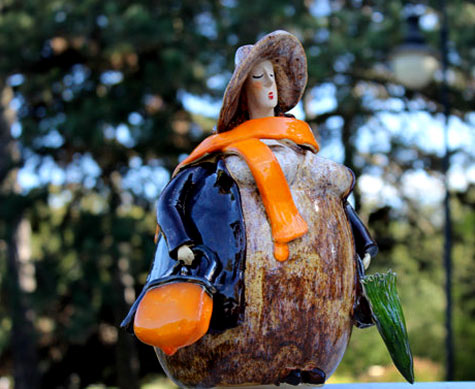 Agnieszka Beer – figurine sculpture
Japanese ceramic figural sculptural teapot
Aesthetic of whimsy and the  pleasingly distasteful
In perplexing times, the tendency to gravitate towards sources of fun and frivolity increase exponentially, which might explain the proliferation of kitchy, novelty products and amusing objects of whimsy at the moment. Vulgarity and the cheesy and tacky in life and art has existed forever and has been a regular source of humor and entertainment. The not too subtle Kitsch pieces or whimsical wares with a quirky twist, that solicit a smile or chuckle, without demanding too much mental input, have a timeless appeal. The connoisseurs of the lowbrow and the pleasingly distasteful love to admire these intentionally edgy creations or conversely, totally unintentional kitsch classics, for their creativity or lack thereof. Kitsch is synonymous with all that is spurious in these modern times, while being palatable for its simple charm.  Provocative, crude, disarming, idiosyncratic, brilliant and cute are some of the clever ploys indulged by the inventive creators to capture your curiosity. Anyway, momentarily suspend your daily concerns and revel in this selection of novelty, kitsch and whimsy objects. Needless to say, today's quirky or crass could be tomorrows object of desire for savvy collector's.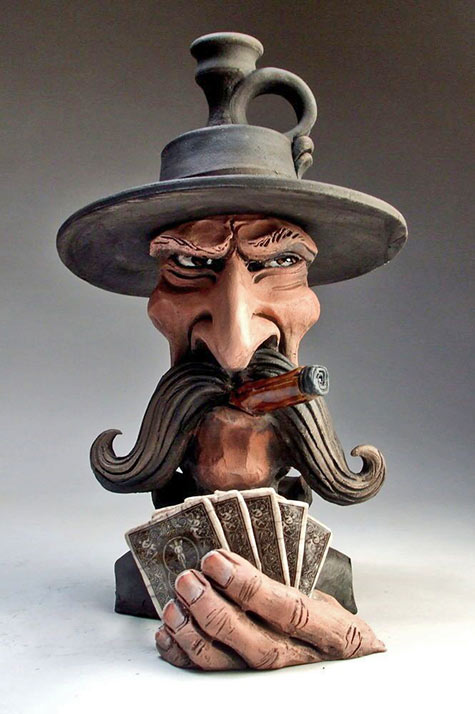 Poker Face Jug folk art Gambler with cards pottery sculpture  —  by Mitchell Grafton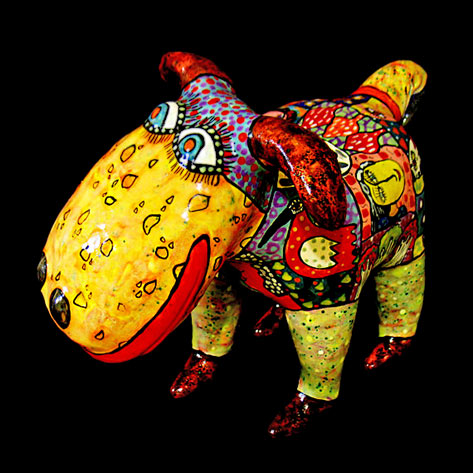 Smiling dog sculpture — Gerasimenko
 Large Serving Platter with ladies toasting —Handmade sgraffito carved ceramic stoneware
GravesCo—etsy
ZF Mosaic – – silver statue and monumental vases, China
Jacquline Hurlbert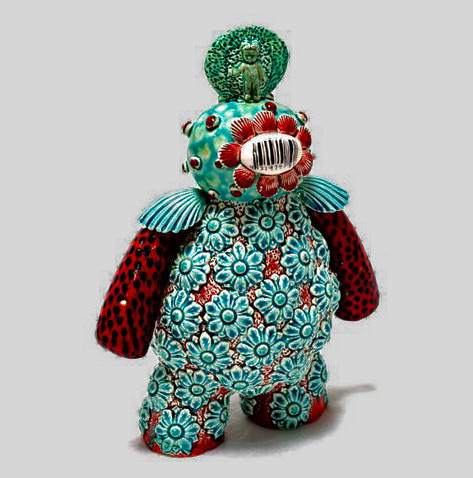 'For the Future' – Vipoo Srivilasa
Caleb Nefzen  —  'Huntress'
Proust Armchair by Alessandro Mendini for Magi
Mendini is described as the "saturnine conceptualist of Italian Postmodernism".
Rimas Visgirda
White stoneware with coarse feldspar, black underglaze, wax inlay, underglaze pencil, glaze, overglazes, lusters
Hula girl glamour pin up lamp
Jean de Lespinasse — vintage 50s -60s Vallauris, France
Tiki head planter
Pierrot wall pocket by Jérôme Massier, Valleuris
Peter Hermansson
Jean Derval Mermaid sculpture vase
circa-1950
Hedi Schoop Mid-century ceramic trinket lilly
Irina Zaytceva — 'Sagittarius Cup'
Jane Sauer Gallery
Clarice Cliff cubist Art Deco teapot with standing flapper girl handle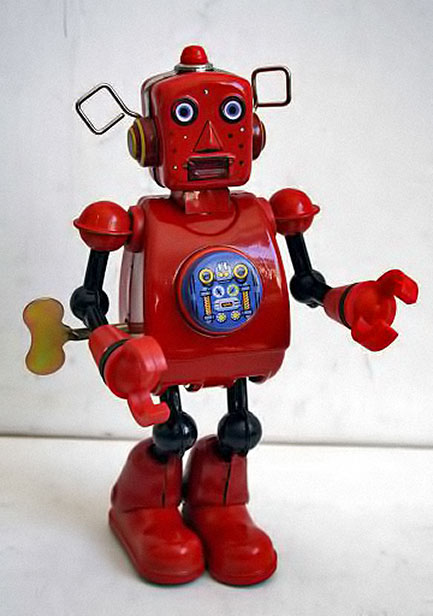 Vintage red wind-up robot
Shipibo-Ceramic vessel
Anturion Gallery
Madame Doom
Carved gourd — 'Crazy Gourd' pumpkin character
'Bride Of Frankenstein' ceramic Candy Jar
Lorna Bailey neo Art Deco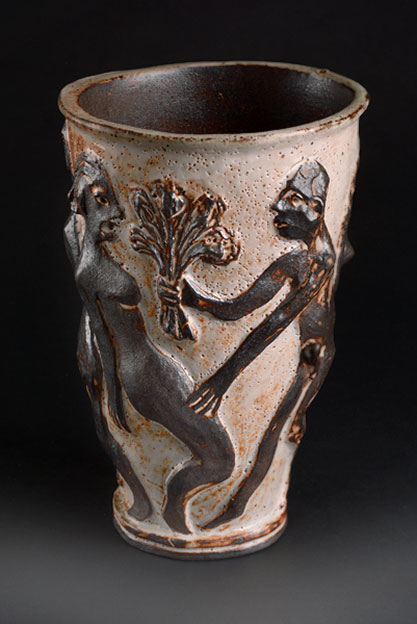 Brinsley Tyrrell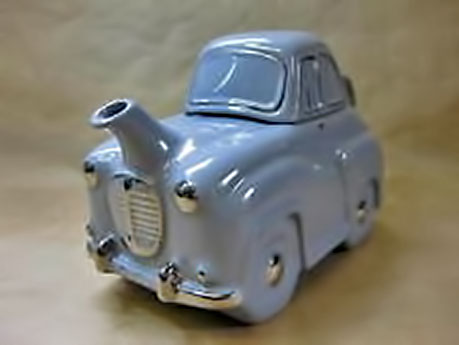 Carlton Ware Novelty Austin Motor Car Teapot
Cia Manna Ballerina–Indian Dancer
1930
Clay Creation – Firefly Art
Dahl Arts Studio, ceramic figure
Space Men
Figlio Dell'amore
Essevi — Sandro Vacchetti — Lenci
Figgjo Ceramic Covered Casserole
Female head, modeled from the Aphrodite of Cnidus
5th-4th centuries BC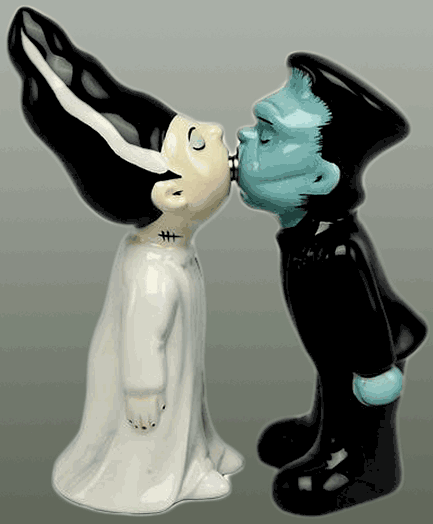 'Frankie & his bride' magnetic salt & pepper shakers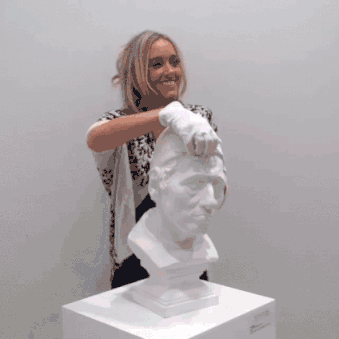 Sculpture bust head morph
Dorothy Kindell Siamese dancing figures
Grim Reaper coffee mug by Sourpuss
Young Buddha figurine meditation mudra
Inflatable toy ceramic dinosaur sculpture  –  Brett Kern
Solid Ceramic Sculptures that create the iIllusion that they are inflatable toys
Beethoven meets Planet of the Apes – Meissen figurine – Saxony
Jacqueline Thompson ceramics Suzy Wong tattoo vase
Black Cat with turquoise eyes ceramic lamp
Joe Bova — 'Biter' ceramic sculpture
Jonathan Adler – White Whale Pitcher
Vintage Josephine Baker wall sculpture
Allen Jones – sculpture 'Secretarias'
Andy Nasisse 'Black Dot Jar' ceramic bust
Sherrie Gallerie
Polynesian Belly Dancer Chalkware Lamp by TikiTiger
 1950's
Lady Boss Walking Coffee Mug  —  Santino Dipiazza
Etsy – Walking Pottery
Large vase in terracotta colour with Bird illustrations by Ingela P Arrhenius for Kitsch Kitchen
Limoges Porcelain White Poodle Dog on Brown Round Trinket Box
'Love never dies' salt & pepper shakers —  Pacific Giftware
Marjorie Pitz, ceramic sculpture bust 'Leaf Lady Holding Bird'
MCM art Tiki Mid Century wall plaque
Ceramic mermaid bookends
Ceramic teal monster mug
Art Deco Pierrette Lamp
Munktiki tiki mug
'Pot Calling the Kettle Black Funny Mug' by dirtydishes on Etsy
Pre Columbian Ecuador Reptilian Yeti sculpture
Rare Vintage Sigma by Meadow DRACULA Vampire Ceramic Teapot
10 inch tall Japan
Roberto Lugo — 'The Notorious B.I.G teapot'
Robot figural ceramic money bank.
Vintage Big Eyed Pity Puppy by Margaret Keane
60's
Sculpted Vampire Bat mug
Alexandra Koláčková ceramic sofa
Spartus sunburst clock with Mid Century decor
Sasha Baron Cohen dressed in kitsch Dictator attire displaying his prize kitsch possession of a Kim Jong Un golden vase.
Ocsars 2012
Ceramic bust by Tiziano Galli, Italy
Traffic Wardens Salt And Pepper Pots –  Novelty Kitsch
Hand-thrown vase with porcelain slip in Emeraldo Herrera glaze with gold tips and belly —  The Haas Brothers
Vintage Ceramic Arts Studio Dancers Zor & Zorina Green Wall Figurines
Peter Hermansson modernist glass vase
'Crime Doesn't Pay' eggcups – Santino Dipiazza
Etsy – Walking Pottery
Zebra ceramic teapot by Blue Sky
Ann Maree Gentile ceramic figurines
–