The peony garden at Tsurugaoka Hachiman-gū, Kamakura, Japan
Recently my two sons were on a brief trip to Tokyo and decided to go down to the coastal city of Kamakura to see the iconic 'Kotoku-in' temple Buddha. (30km south east) This monumental bronze statue was completed in 1243 having a commanding  height of 13.37 metres and situated in a picturesque location surrounded by lush hills and wooded mountains overlooking the ocean. They also did some hiking along some of the many ancient trails winding through the undulating terrain to randomly discover some of the traditional Buddhist temples and Shinto shrines of Kamakura, not really knowing much about their existence or history prior to their visit. Eventually the trails descended down the hillside into the valleys where they honed in on the famous Hasedera temple complex and its stunning gardens, halfway down the side of Mount Kamakura. Steeped in history, this location dates back to 736 AD and naturally I was thrilled and intrigued to study the images that were sent as I also had limited knowledge about this place. Hase Dera is still an active Buddhist centre and collective chanting of the monks can be heard reverberating in the hills along with the great Ogune bell.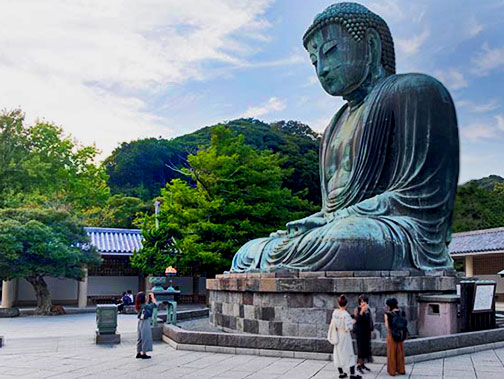 Amida Buddha at the 'Kotoku-in' Temple in Kamakura
"Namu Amida Butsu" (I take refuge in Amitabha Buddha)
Benten Kutsu rock carving
Hasa Dera, Kamakura
Zeniarai Benten Shrine entrance
Kamakura, Japan
Ankokuron ji – Kamakura Buddha
Wikimedia photo by Tarourashima
Meigetsu in Kamakura – Sand Garden with large rocks
Hase Dera temple
Hase Dera Temple garden koi pond
 Carved stone Komainu lion dog guardian, Kamakura
Zen sand garden – 'Jomyo ji ' temple
Kamakura
Meigetsu Main Hall round window
Porcelain Zen Buddhist monk figurine
late Imperial Palace Museum
Shariden (Hall of sacred relics) at Engaku ji in Kamakura
Ibontxo flickr
Butsuzo, a small Buddhist statue
Statue of Buddha at the Tokei-ji
Kita-kamakura
Benten Kutsu Cave — Bas relief of Gyūba dōji
Entrance to Kamakura Mountain cave where Nichiren hid from his persecutors
Kamakura garden Buddha statue, Tokeiji Temple
Kamakura dragon sculptures
Buddha carved into tree trunk, Hase Dera
Togeji temple monks, Kamakura, Japan
Saba Stone at Tokeji Temple
Woman with a kite. The God of good luck and wise choices Fukurokuju with a crane by Utagawa Kuniyosh
Kamakura – Benzaiten Statue
Jizo sculpture, Kamakura
'Ogune' bell at the Engaku-ji temple in Kamakura
 Bodhisattva statue
Stone fountain with Buddha's feet, Kamakura
 Jizo statue at Zuirokusan Engaku Kōshō Zenji , or Engaku-ji, one of the most important Zen Buddhist temple complexes in Japan
'Benzaiten' – Goddess of all that flows
Kamakura
'Fukurokuju' statue at Kamakura –  sage God of Wealth, Happiness, Longevity,  Fertility and Virtue. His legend originated from an old Chinese tale about a mythical Chinese Taoist hermit.
Seated Buddha with namaskara greeting mudra
Moss covered, carved Buddha monuments.
Kamakura Buddha statue
Zeniarai Benten Shrine, Hase Dera
This cave shrine has a flowing natural spring. Centre statue above is 'Benzaiten' – Goddess of all that flows (Also known in India as Saraswati)
Benten Kutsu Cave Statues
Jizo statue, Hasa Dera gardens
Hase Dera temple, Kamakura
Kamakura hydrangea flowers
Kannon (Kuan Yin) carved from camphor wood and gilded in gold. The 30ft tall statue has 11 heads, each of which represents a different phase in the search for enlightenment. According to legend, the statue is one of two images of Kannon carved by a monk named Tokudō in 721. The camphor tree was so large that he  carved two statues with it. One was enshrined in the city of Nara, Yamato Province, while the other was set adrift in the sea to find the place with which it had a karmic connection. The statue washed ashore on Nagai Beach near Kamakura in the year 734.  The statue was immediately brought to Kamakura where a temple was built to honor it.
Jufuku Zenji — the oldest Zen temple in Kamakura
Hase Kannon Kamakura temple
Meigetsu Zen Temple  'karesansui'  –  garden of raked sand, rocks and plants representing legendary Buddhist Mount Shumi
Kamakura
Hase Dera garden Jizo statue
Bamboo grove at Houkokuji temple, Kamakura
Lion dog guardian Komainu at-the Zeniarai Benzaiten Shrine
Kamakura, Japan
Japanese Meiji Period satsuma porcelain vase with multiple characters in high relief. Japanese luck god, Fukurokuju at the front
Jizo Buddha carved relief. Kamakura Tenen hiking trail marker
 Buddha statues among the bamboo forest at Hokokuji Temple, Kamakura
Photo Michael Pasquali
Koyasa Okunoin cemetery stone monuments representing the five elements of the universe
Photo Michael Pasquali
 Kamakura temple decoration
Kamakura golden Yakuyoke Amida Nyorai
Standing statue of Nichiren at the location of his Hut, Kamakura
Nichren spread the teachings of the Lotus Sutra which contained the highest truth of Buddhist teachings and represents the effective teaching for the Third Age of Buddhism. Nichiren held the belief that social and political peace are dependent on the quality of belief systems upheld in a nation. Religious practice can be reduced to the recitation of the Sutra's title — Nam myoho renge kyo which encompasses all Buddhist teachings and its recitation leads to enlightenment. He taught that the historical Gautama Buddha was a manifestation of an eternal and all-pervading Buddha-nature, the existence and manifestation of such Buddha-nature is equally accessible to all, and those who embrace the Sutra must propagate it, regardless of persecution.
Hansobo Shrine guardian, Kamakura
 Contemplation Koi, Kamakura
Tree roots on Kamakura trail
Kitsune Fox keeper of a Shinto chapel, Kamakura
Zeniarai Benten Shrine, Hase Dera
Engakuji Temple, dragon relief, wood carving
Kamakura
Porcelain sculpture of Fukurokuju—Japan
First half 20th century
Kamakura Late Autumn Buddha
Taishakuten, Lord of the Center with four guardians
Kamakura
Jizo stone statues
Bronze Prayer Wheels
Hasa Dera pond
–