Female nude on horse – Art Deco sculpture by C.Charles
Mid 20th Century
Equine Arts:
The horse is such a graceful, elegant looking animal, its hard to imagine it has the strength to be mobilized as a beast of burden. Being blessed with superb form and proportion, its been a favourite subject with artists over the ages, and next to man, the most portrayed. The evolution of man from barbarism to civilization carries the horse hoof footprint along with it. The more successful early civilizations were all accomplished horse owners and breeders that cleverly exploited them for advantage.
In the Iliad , Homer describes four in hand chariots, expert riding and skilful horsemanship being an accomplished art among the Greeks. The splendour and agility of the horse was on display in the widespread chariot races across the Roman Empire and horses played a crucial role in its expansion. Chariot racing was introduced into the Olympic games around 1450 BC. The success of Genghis Khan as a conqueror relied heavily on the strength and endurance of his horses.
As spoils of war during Napoleon's 1797 Austrian/Italian campaign, Bonaparte took the winged Lion of St. Mark and the four Corinthian horses from Venice as victory ornaments to place on top of the Arc de Triomphe du Carrousel in Paris. Fortunately they were returned in 1815 after his defeat at Waterloo. These Corinthian horses were originally acquired by Venetian Crusaders during the Siege Of Constantinople in 1204. The famous gold gilded horses from the Hippodrome were sent back to Venice to adorn the facade of St Mark's Basilica. (see below)
Venezia horses at San Marco Basilica, Italy
 (c)2006 Randy D. Bosch
Attributed to the 4th century BC Greek sculptor Lysippos. Others claim that the sculptures may have been brought from the Greek Island of Chios by Theodosious II in the 5th century,
Annie Leibovitz  photo of Natalia Vodianova
Vogue USA
Da Vinci, Manet, Degas, Jacques Louis David, Odilon Redon, Guillaume Coustou, Eugene Delacroix and Franz Marc are some of the famous artists that created art inspired by horses. In the Baroque era, the tradition of equine portraiture was established, with artists such as Peter Paul Rubens, Anthony van Dyck and Diego Velázquez portraying regal subjects atop their mounts. The horse loving German painter, Franz Marc, was less interested in depicting anatomical accuracy than in an evocation of the horses' nature; for him, animals were better than humans for expressing a sense of the divine.
Da Vinci's monumental equestrian statue was never completed in 1842 but it was replicated successfully in the late 20th century (see below). Isidore Bonheur was recognized for his French animalier sculptures and the most famous works he produced were of horses. Horse sculptures were widely represented in the Art Deco, Cubist and Orientalist arts.
Since the early cave art, there has been and will continue to be, a steady stream of artists creating art inspired by this majestic, loyal animal.
Ancient Chinese horsehead
Guimet Museum – National Museum of Asian Arts
shenqi2006 – Flickriver
Giddydown !
The first time I rode a horse, without hardly any encouragement, it took off and bolted across a field, thrusting me into a state of adrenaline rushed, white knuckle exhilaration and a fear of the unknown, because when I pulled on the reins, it wanted to go faster. Fortunately the open spaces stretched a long way in front and it eventually slowed down to a more casual pace, where I felt I had some control and I settled into admiring the balance and fluidity of its movement.
 'Raku Cave Horse Bottle' – Nita Claise, Indiana
Nita Claise site
Clown riding a horse — Stirling Circus Poster
'Phaeton Son Of The Sun' – Vladimir Romanovich Rasputin
'Riders' – Aline Bernstein
1920 – Papillon Gallery
'The Kelpies' – one of the two giant horse head sculptures standing next to the Forth and Clyde Canal in Falkirk, Scotland. Designed by Andy Scott, each installation is 30 meters high (99 feet) made from structural steel with a stainless steel cladding. It took around 7 years of development
'Leaping Horse, Misfits' – Ernst Haas – on the movie set for 'Misfits'
1960 – Getty Images
Florence Welch of 'Florence + the Machine' on a black stallion – New York, 2012 for Vogue
Sculpture by Carl Nathan Burckhardt called 'Amazon, Pferd Führend' (An Amazon leading a horse)
Basel, Switzerland
Wayne Hopkins flickr
Rudy Autio's 'Blue Mountain Horses'
'Apollo's Chariot' – Odilon Redon — WikiArt
1907
'The Siege Of Constantinople', 1204 – Eugene Delacroix
Delacroix gave the invading Venetian Crusaders a dispassionate look as opposed to the compassionate response from the horse (click to enlarge)
Gondola invasion – Napoleon and French troops entering Venice, 1797
'End of the Trail Sculpture'. Chief John Big Tree by James Earle Fraser
1915 ~ Shaler Park, Waupun, Wisconsin
Jeri Hollister horse sculpture
Charlemagne (Charles The Great) Statue
'Cut Loose' – Wayne Selge
Eisenhauer Gallery – 1stDibs
Cypriot  horse and rider sculpture
Met, NY
'Child and bird' – Dominique Pouchain
Bronze statue – Dynamic depiction of a samurai on a galloping horse, on a circular base
'Knock On Wood' driftwood sculptures by Jeffro Uitto
Embroidered Indian Needlework
Kazakh Golden Eagle hunters on horseback
'Fate Of The Animals' – Franz Marc
The horse-loving German painter Franz Marc was, with Wassily Kandinsky, a founding member of The Blue Rider − an innovative expressionist movement that privileged abstracted forms and bold colors that they believed had spiritual significance
Trevi Fountain, Rome, Italy, 2009
Photo Rob Sheridan
The 'Monument to the Bandeiras', a stone sculpture group by Victor Brecheret, located in São Paulo, Brazil
'Giddyap' – Wayne Salge
G. Harvey – 'Pullin Leather' bronze statue
Whistle Pik Galleries, 1st.Dibs
Milan, Italy and Grand Rapids, Michigan are the only two cities that have the world's largest horse sculptures (of equal size) designed by Leonardo Da Vinci. Milan has 'Il Cavallo' and the other Da Vinci horse sculpture can be found at Meijer Gardens & Sculpture Park, Grand Rapids. After designing the monumental horse sculpture, DaVinci had to wait for the bronze, so he started his painting "The Last Supper." Due to complications, namely the Second Italian War, the horse was never created.
Frederick Meijer Gardens horse sculpture
Wayne Silver —flickr
Jenny Southam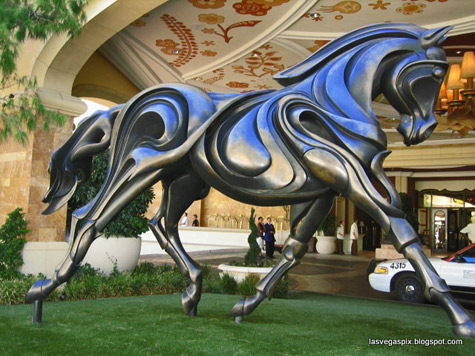 Horse sculpture outside the Wynn in Las Vegas.
Wangstone
Metal horse sculpture on wood base – C. Jere –  ARTISAN HOUSE
Rago Auctions
Bronze copper rearing horse sculpture – Jian Wei
28cm-height
Bronze Art Deco "Winged Horse" –  Study for a Monument to Walt Whitman – John Storrs
1919–1920
Manlio Trucco-(1884-1974) –  Nude female riding centaur –  ceramic charger
Albisola, Italy 1930
Girl riding a white horse – Marie Prett
Michael Kay ceramic vessel
British sculptor Nic Fiddian Green
'Acrobat on Horseback' – Jacques Lipchitz
1914
Painted faience charger with Lady Godiva – Aaron Bohrod
Wisconsin, 1950
Peter Corlett sculpture
The Australian Soldier Park, in Beersheba, Israel is dedicated to the memory of the Australian Light Horse regiments, that captured the town from the Ottoman Empire during World W1 in 1917. This also included a desperate cavalry charge of 800 men and horses across naked ground swept by artillery and machine-gun fire, to reach water wells before they were poisoned. This occurred  after they had just crossed the Sinai Desert and hadn't had water for 48 hours. This audacious and brave act for water and survival, ending with horses leaping over the trenches and riders brandishing bayonet swords, turned out to be the last cavalry charge in the history of warfare.
Polia Pillin glazed ceramic spherical vase
Primavera Ceramic Vase with a man riding a horse decorative motif
Paris 1950s
'Ride of the Valkyrie' – Stephan Sinding
Martyn Cook Antiques, Rushcutters Bay, AU 1stDibs
Sinding was a sculptor of international repute, a native of Norway whose formative years were spent in Berlin before he married a Dane and settled in Paris. The Valkyrie depicts the Wagnerian heroine Brunhilde sweeping down the mountain, speeding on her furious steed in fierce anticipation of battle below. Bröchner recounts that Sinding took a studio halfway up the Boulevard de Raspail especially so he could study horses going downhill. He spent hours in observation until one day a Normandy stallion became restive right outside his window. He seized the opportunity to sketch the bared teeth and peculiar expression that is the hallmark of this wild and wind-swept creature.
His compatriot Edgar Degas may have painted more horse races, but in Manet's frank, modern depiction of a day at the track in Paris's Bois de Boulogne he captures the rise of a new class: the leisure-loving bourgeoisie. Manet places the viewer right at the finish line, with the horses charging towards us, blurring together in a cloud of beige and brown.
Raku, 'Raven's Mane' , large horse sculpture bust by Leslie Ahrens
Sculptured mare 'Itch'  – Star Liana York
Emmanuel Kieffer
Salvador Dali's  Santiago El Grande
1957
15 foot tall canvas –  "Beaverbrook Art Gallery" in Fredericton, New Brunswick, Canada
'The abundance' – Raimundo Folch
Saatchi Art
'Man and Horse' – Sonja Katzin
height 107.5 cm
Solovaya Svetlana. 'Pippi Longstocking'
'Springare'  – Stig Lindberg
Stefi Gruenberg
The Chollima Statue in Pyongyang symbolizes the advance of Korean society at the speed of the mythical Chollima
Nicor – Wikimedia Commons
Vienna Augarten 'Capriole' Spanish Horse Riding School Figurine
circa 1965
Lady riding a horse – Tang Dynasty (618-906)
Gabriël Sterk—Bronze equine study — Fighting Stallions
'The Unicorn' – Salvador Dali
Art Science Museum, Singapore
Cavalier Sao —Chad, Africa
–