'Dugong and Wallaby Story' – Terry Platt, Australian (Kuuku Ya'u Lama Lama)-
Cape York-2002
Australian indigenous art at the Hood Museum, Dartmouth College
The art presented here is from a large collection of indigenous Australian art generously donated to the Hood Museum at Dartmouth College in Hanover, New Hampshire, by Will Owen and Harvey Wagner.
After seeing the 1988 exhibition 'Dreamings: The Art of Aboriginal Australia' in New York, Will Owen and Harvey Wagner were inspired to journey Downunder in the early 90's to witness more indigenous art. However they didn't anticipate the challenge of finding a diverse range of indigenous art in the Australian Museums at this time. This provided the impetus for their exploration of the remote Aboriginal communities in Central Australia to discover the source of the authentic Australian art,  along with travels to other Aboriginal communities at the Top End, the Kimberleys, Tiwi Islands and other communities throughout Australia. This also included visits to Papunya Tula , a mecca at the time for Indigenous artists, being the original location where their art was first expressed on canvas rather then bark or directly on the ground.
Four trips over a span of eight years gave them the background to become informed collectors and acquire more knowledge about this unique lifestyle and art. Their immersion into country and indigenous culture provided an understanding of the bond the Australian aboriginals have with the land and gave then the opportunity to witness the innately tranquil presence of the artists working in their own environment and the commitment of the indigenous culture to its art.
'Yirritja Dhuwa Gapu II '– Galuma Maymuru – Ochres on bark
2004
Aboriginal Australian art combines the use of storytelling, iconography, ceremonial mapping and impressionistic interpretation, sometimes accessed through a timeless Dreaming consciousness, to express connection to land and ancestors. The ancient knowledge is recorded through their art to ensure continuity of lineage, provide behavioral guidance, understand the rich biodiversity of their land and even provide information to finding food and water. Their aesthetic reinforces their connection to Spirit by reaffirming dreaming sites, ancestral travels and reverence to country. Land maintenance, living in harmony with themselves and the native animals and the evolution of their Universe are all entwined in the "Law" of their Dreaming . The past and future dissolve into the ever present stream of spirit in the Dreamtime and the indigenous art and its deep narrative quite often convey this.
Wayne Bright Tjangala, Australian, 20th century 'Rockhole Dreaming' 1990 Melbourne
Hood Museum of Art, Dartmouth College – Gift of Will Owen and Harvey Wagner
'Mutjalandjal' (Dolphin)  —  Rrawun Ganambarr
2004
Hood Museum of Art, Dartmouth College
Bai Bai Napamgardi, – 1995 – Marpun near Yakka Yakka, in the Great Sandy Desert
Kitty Kantilla,  Tunga 1960,s
Estelle Hogan – 'Minyma Tjuta'
1999
Charlie Tjaruru — Dreaming at Jiturru
1975
'Parayilpil Wetti Dreaming'  –  George Tjapanangka,
Rona Panangka Rubuntja- 'Honey Ant' terracotta pot
2002 – Hermannsburg
'Strong Culture' — Fiona Omeenyo
Cape York, Australia – 2003
'Warlukurlangu Bush Fire Dreaming' – 2000 – Dinny Nolan Tjampitjinpa
Papunya, NT  – Acrylic on linen
'Wave Break at Night' – Samantha Hobson
Cape York Peninsula, 2003
Peter Marralwanga, Australian -Namanjwarre  —  Ochres on stringybark
1981  Western Arnhem Land 47.25 inches
Cordula Ebatarinja Pelhtarre, Mt. Sodner
1955  Hermannsburg
'Warnampi Kutjarra Karilwarra' (Two Snake Dreaming at Karilwarra) Fred Ward Tjarurru
Tjungurrayi – 2001
Hood Museum of Art, Dartmouth College Gift of Will Owen and Harvey Wagner
Old Walter Tjampitjinpa, Australian (Pintupi) 'Possum Corroboree'
1973 Papunya, NT
Hood Museum of Art, Dartmouth College Gift of Will Owen and Harvey Wagner
Irene Namok  — 'Peaceful Times'
2011
'Ngwarle Untye Aruwe' (Corkwood Tree Honey Dreaming) — Norbett Lynch Kngwarreye
1996
Millie Skeen Nampitjin  —   'Two Nangala Sisters Tjipari Dreaming' —
Wirrimanu, 1993
Nancy (Briscoe) Nampitjinpa – 'Yam Dreaming'
Gift of the Estate of Fannie and Alan Leslie M.D.
Michael Anning, wood carving, Firestarter (Ydinji)
2000
Mignonette Jamin Nungala—Moongbalin
East Kimberley
Mereia Anning, 'Hunting For Dugongs'
2001 East Cape York
Marie Evelyn Puautjimi Ampiji Tiwi Islands, Australia
2001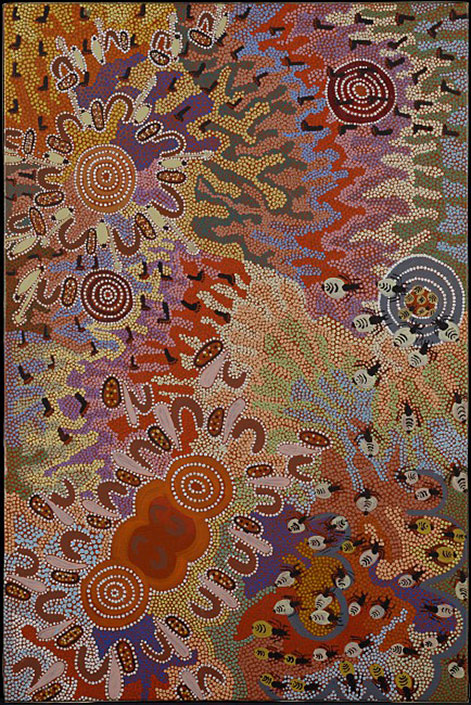 Magdalena Ungwanaka, 'Honey Ant Dreaming' — 1987 –
Gift of the Estate of Fannie and Alan Leslie M.D.,
'Lorrkon' (Hollow Log)Terry Ngamandara Wilson,
Mangingrida Western Arnhemland
'Kata Ala' – Maringka Baker
Josette Young Perrurle,2003 -Acrylic on linen
Jimmy Robertson Jampijinpa — Ngurlurlirrinya (Seed Dreaming)
1998
Jacinta Lorenzo, (Tiwi) Tunga
1997
Irene Mbitjana Entata, 'Our Country'
2002 Hermannsburg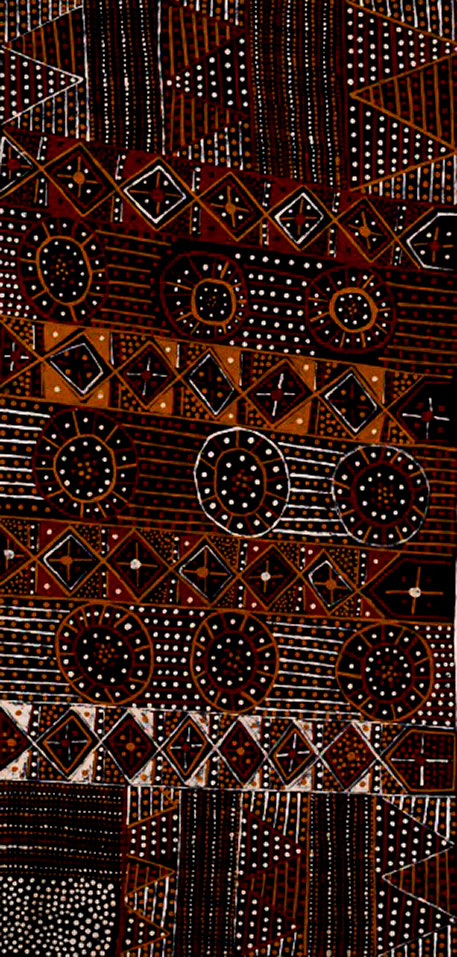 Ian Cook Mungatopi, – Tiwi Design – 1998
'Goanna, Snake, and Possum Dreamings in Mt. Singleton Country' — Michael Nelson Jagamarra
'Fire Dreaming' -Maureen Nampitjinpa Hudson,
'Finding the Lost Boy' – Silas Hobson
2002
Donald Moko
Dinny Nolan Jampitjinpa with his painting, Papunya aboriginal community, NT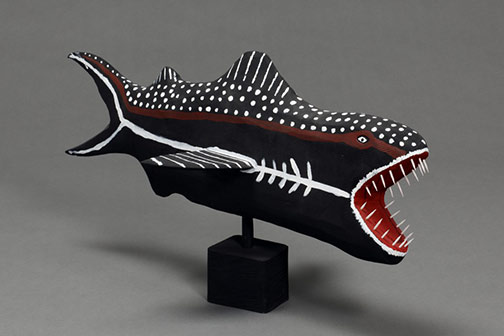 Craig Koomeeta – 'Shark'  sculpture Natural ochres and acrylic on milkwood
2003
Bob Dingle Tjapanangka—2000—Tjapangartiwarnu
'Black Gum #2',  Christian Thompson
from the series Australian Graffiti 2007
Billy Stockman Tjapaltjarri, 1974 – Untitled (Budgerigar and Possum Dreaming)-
Pupanya, Northern Territory
'Bush Turkey' – Susan Nakamarra, Australian, 20th century 2001
Alick Tipoti, Australian, (Kala Lagaw Ya), born 1975 – 'Mogei Mawa VII'
Alan Griffiths Jungala
Bali Bali Balga, 2002
Spirits at Springs — Justin Hayes Perrurle
More art from the Hood Museum
'Autumn Mascoma' —  Louise Hamlin
2008
Magdalene Odundo, burnished black pottery vessel
Kenya
Water Jar (Olla), Depicting Rainbow Arching over Crosshatched Elements
Acoma Pueblo, New Mexico
'War' — Inka Essenhigh
2004
'Megaworld'  —  Josh Simpson
Bird hanging from sky  –  Hopi ceramic bowl — Nampeyo
Alison Saar, American sculptor
Allan C Houser  — 'Peaceful Serenity'
'Allegory of Fishing' by James (Jean-Jacques) Pradier, mid 19th century, silvered bronze
Hood Museum of Art, Dartmouth College, Hanover, New Hampshire, USA.
'Composition' — Henri Laurens
1916
Cypriot, Jug, Early Bronze Age (2700-1900 BCE), Red Polished Ware
Soldiers Walking in front of the WW-II Motherland Calls Monument in Volgograd
Photo – Dmitri Baltermants
Pende people, Mbuya mask Kwago Area, Congo
'Double Fuse'  —   Wangechi Mutu,
Eric Avery  —  'Chimera'
1991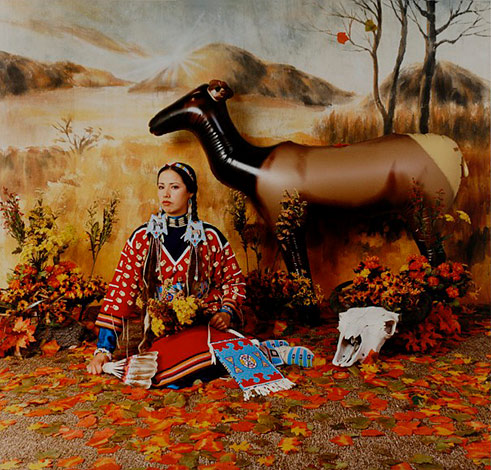 'Fall', from The Four Seasons series — Wendy Red Star, American (Apsaalooke Crow)
2014
Gama Sennin, the Toad Spirit, teaching Yoshikado and his sister Takiyasha the Arts of Magic
Utagawa Kuniyoshi woodblock print – 1845
Gregory Williams  —  'Wearing Gravity'
Helmut Newton photo 'At Karl Lagerfeld's'
Paris 1974
Hip ornament representing the head of a Benin court official-early 18th century, brass and iron
Landscape in the Classical Tradition MANUAL (Ed Hill and Suzanne Bloom)
2005-06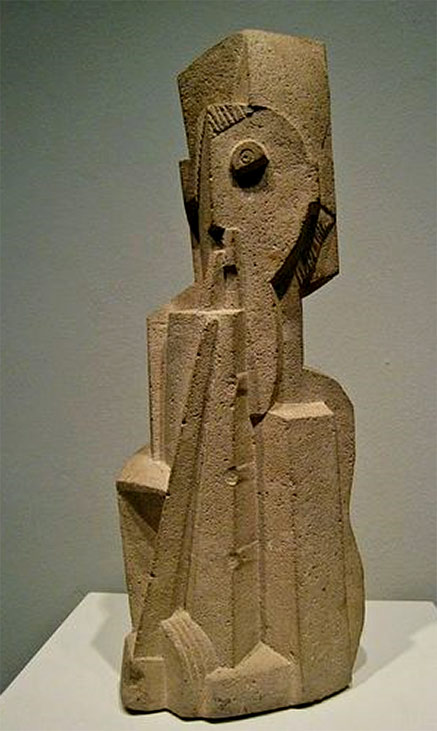 'Man with Clarinet', 1919 , Henri Laurens
'Monarch Buffalo Horn Cup'   — Kevin Pourier
2009
Oleg Tchoubakov1  – 'Couple-art-love-art'
'This Was Our Home' — Allan Houser
1993
'We Are Connected #38'  —  Charles Spurrie
'We Are All Sacred ' — Frank LaPena, American (Maidu)
2001
'Woman in Orange Cloth'  – Etiye Dimma Poulsen, Ethiopian
2006
'Writ Large' — Toyin Ojih Odutola, Nigerian 2016
–