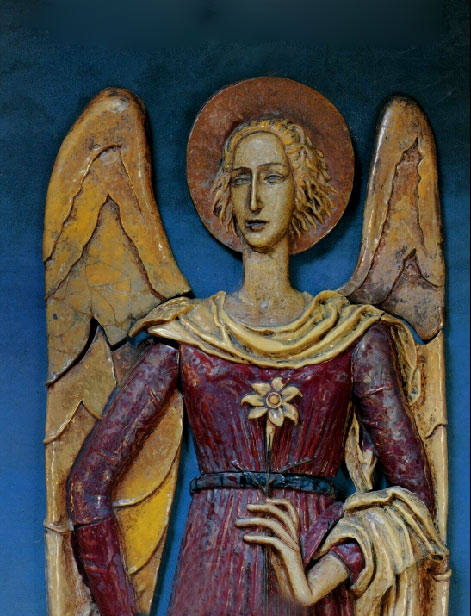 Pietro Melandri ceramica angel, Faenza
The dove has been a symbol of peace and innocence for thousands of years in many different cultures. In Ancient Greek and Roman mythology, it was a symbol of love and the renewal of life and in ancient Japan, a dove carrying a sword symbolised the end of war. Doves were regarded as sacred animals, and many depictions appeared in art where they appeared with the goddess of love and friendship, particuarly for Aphrodite and Venus.
The iconic dove stands for peace and harmony, inner tranquility, purity and spirit. Angels have been associated with similar attributes but tend to towards guidance, protection, blessings, triumph and victory.
In the past, people have turned to these images when seeking solace and calm and in these cathartic and catalytic times, their presence is uplifting and welcome.
Russian Paverpol Angel
Valentina Pisarevskaya – 2012
Anya Manya– 'Angel with an Umbrella'
Ancient archway angel – Kermanshah city, Taq e Bostanf
Persia
 'Lady and doves' Alasdair and Rish Gordon
Rene Lalique Angel Brooch
1902
Liubka Kirilova-`Nike` sculpture
Talavera Folk Art Majolica Blue Dove planter
Mexico
Nayeli Vazquez pottery Angel
'Nude Angel and Dove' serving bowl
Vallauris, 1940s
Jytte Høeg bronze sculpture
'Pataikos, slayer of snakes'
NGV
Pendulum electric mantle clock, Two Doves model
1926
"""""""""`
Pietro Melandri dove bowl
Italy
Leaving the tomb – Gustave Doré
'Angel Ochrana'  — Katy.Katy
height 16.9inches
Hornsea Pottery Muramic Peace Dove
Silk Road Gold and jade artifact
Afghanistan
André Metthey – Painted and glazed ceramic vase decorated by French painter André Derain
(French, 1871-1920)
Sculpture 'Angelic whisper' by Ginger Gilmour
The vigil under the triumphal arch — Georges Clairin
Romian Tirtoff – 'Aphrodite' with her doves
Heavenly Bodies — John Galiano
Photo–Amaarah Rahman
Sir Alfred Gilbert — Anteros, the ancient Greek symbol of Selfless Love
Alexis Silk—'Angel (Blue)' 
2013
Mattson's Fine Art
Terracotta sculpture – Raymie
Richard Stainthorp wire sculpture. UK
Romain de Tirtoff (Erté) – Art Deco Angel
Zhangmx Sculpture – 'Goddess Of Victory' statue
Saint Anne De Langlais – Art Deco Wood Engraving
 1928, France
Salvador Dali — 'Triumphant Angel'
1976
Demetre  Chiparus – bronze 'Lady with Dove'
1930's France
African garden angel statue
24.75 ins
'Angel' sculpture —- Deborah Halpern
Anya Manya– 'Angel Tolik'
Russia
Memorial to the Cathars – Caunes, Minervois
1210
Shepard Fairey mural in NY
'The Hackwood Tray', an oval two-handled inscribed and dated Furnival pottery tray painted by John Eyre with David the Psalmist
An angel on the door of the Debra Berhan (Abbey-of-Light)
Ethiopia
'Enchanted Angel' — Kevin Johnson
Edward Reginald Frampton — 'The Angel Of The Sea'
1906
Lee Man Pong — 'Peace and prosperity'
1950's
Giovanni Antonio Sogliani
Sir Edward Coley Burne Jones — 'The Guardian Angel'
A mid 19th century turquoise and ruby St Esprit brooch
circa 1850
Amphora Art Nouveau angel vase
Ovidiu Kloska – Angel of the Ancients
Watching Angel – Mikalojus Konstantinas Ciurlionis
1909
'Angel' harpist by Forest Rogers
Tree carved 'Angel' – Marvin Elliott
2006
Sculpture of 'Angel of Awakening' by Lisa Azzano
Angel of Compassion – Ginger Gilmour
Art Deco porcelain Angel – hand-painted with gold, etched with an agate tip.
1924 (conceived), 1927 (executed)
Bronze Angel sculpture — Kiet Nuij
Abstract green angel vase
Angel Wings glass sculpture – photo Ruth Bernhard
1943
Deruta plate decorated with Angel–Umbria, 16th century
Lalique Satin finished and transparent crystal doves in flight vase
Art Deco Etched Glass Dove
Turtle Doves art deco French wall plaque — EG Luneville
'Venus and Anchises' — William Blake Richmond
Artist Adelina Pedro of San Bartolo Coyotepec
Oaxaca, Mexico
Audrey Flack and her Recording Angel (clay-maquette) for Schermerhorn Symphony Center, Nashville, Tennessee
Recording Angel –  Schermerhorn Symphony Center, Nashville, Tennessee
Art Deco ceramic dove
Bronze and marble twin doves mantle clock
CCAMER Three-tier chandelier with ruffled glass drops, Italy
 1960's
John The Baptist mosaic at San Marco Basilica
Cubist Angel  —  Salvadore Dali
'Annunciation' by Fra Filippo Lippi
1448
Angel motif vase –  Della Robbia Co
Johfra Bosschart
Cream white Deco dove
Edwin Ohrstrom Orrefors vase with girl and dove
Sweden-1982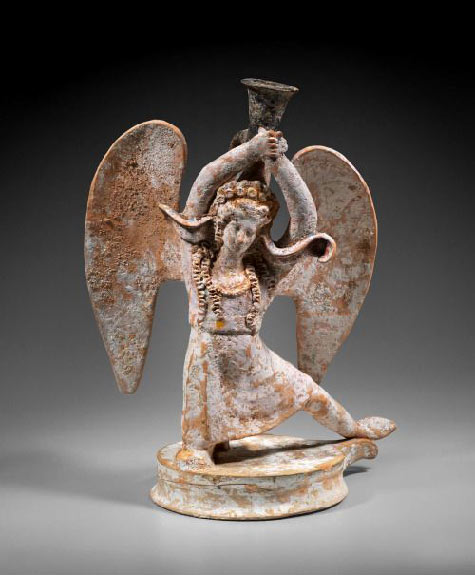 Winged Persian Dancer oil lamp
Flapper and dove painted on glass
Kloska Ovidiu Guardian Angel
Romania
Marianne Angel Victory Medal
1934, France
'Birth of the Angels' oil painting – Lacroix
Katherine Gullo – porcelain 'Earth Angel with Cat'
Alexis Silk — angel sculpture
'Dakini'    —  Sharmon Davidson
This image just seemed to appear in my mind's eye. A dakini is a spiritual being in Buddhism, similar to an angel.
Georges Braque – Purple and white peace dove stained glass window
1962
Gian Lorenzo Bernini, Angel sculpture
Georges Jules Victor Clairin —  'The Goddess Neith'
Ceramic angel sculpture Gio' Ponti & Pietro Melandri
Guy Arno 'Nude with a dove'
1967
French Art Deco Mantle Clock by Jarlaud Dijon
Iznik tile twin Doves
Juan Santiago ceramic angel figures
2011
–