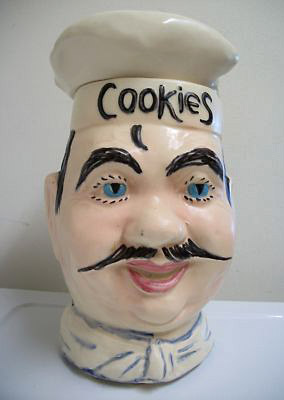 Vintage McCoy Cookie Jar
Raiding the cookie jar
McCoy, American Bisque, Brush, Abingdon, Regal China, Roseville and Shawnee — all the grand old pottery companies in the USA, made cookie jars of some type or another and they are all highly collectible brands. Likewise in Europe, some of the famous brands like Royal Dalton, Moorcroft, Wedgewood, Royal Staffordshire and Clarice Cliff all produced cookie jars or biscuit jars, as they preferred to call them.  Cookie/biscuit barrels or jars, have been used in England since the latter part of the 18th century. This coincided with the rise in popularity of the ritual of afternoon tea drinking. In the USA, cookie jars started to appear around 1929 and went into wider production during the '30s, the  Brush Pottery Company in Zanesville being recognized as the first. The golden age  for American cookie jar production covers the years from 1940 until 1970, with several manufacturers rising to prominence.
In 1988, Sotheby`s auctioned off Andy Warhol's belongings, including 175 cookie jars. The New York auction house estimated they would fetch $7,000. After the spirited bidding had reached its final conclusion, the collection had gone for $247,830. Most of the  of the interest was generated by the Warhol name but it also put cookie jars into a different dimension of respectability in the collecting sphere. A discernible lift in the interest in cookie jar collecting followed. Over the decades Cookie Jars have represented various pop culture trends and have quite often featured outlandish designs.
Even newer cookie jars are in demand. Collectors are purchasing  jars made in the `70s, `80s and '90s  if they are Limited Editions or in mint condition.
Roseville Art Pottery Jar
McCoy Indian cookie jar
Kittens with ball of yarn cookie jar
White cat with yellow bird Cookie Jar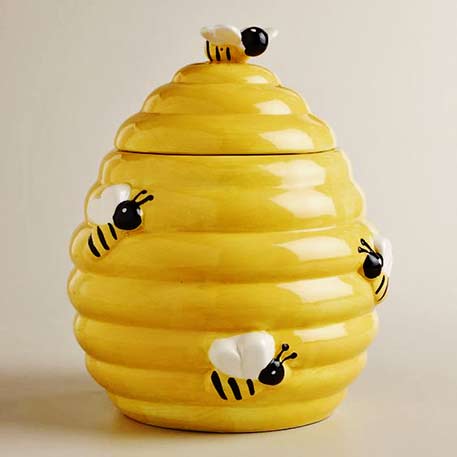 Bees and beehive cookie jar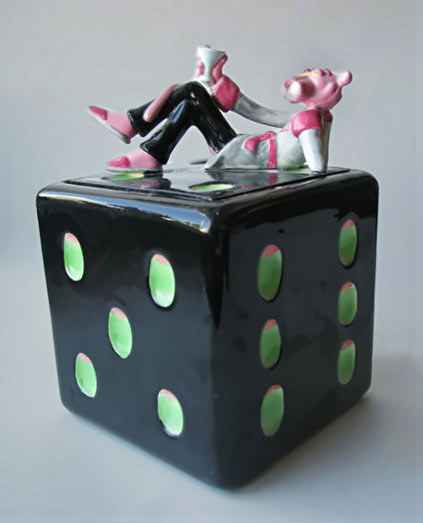 Cookie Jar Memorabilia – Pink Panther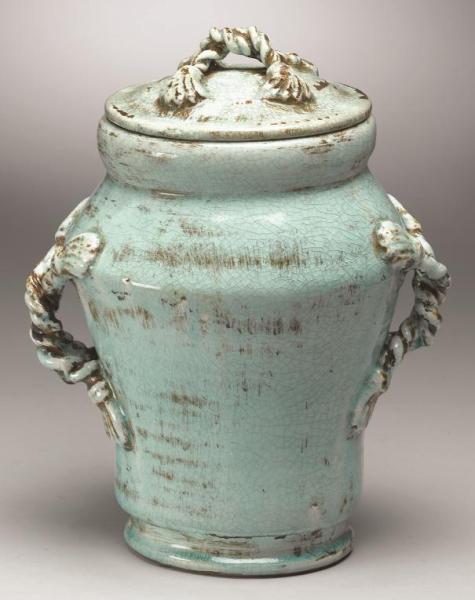 Aqua Blue Tuscan Styled Jar
 Antique Limoges Porcelain Iris Biscuit Jar –  FRANCE 1883-1919
( Megan's antiques – Etsy )
Antique Macintyre Moorcroft Cookie Jar.
Sold on Ebay for $1,455.
Glazed mixed with unglazed deep brown earthenware jar
Lidded Jar – Steve Rolf
Cavanaugh Ceramicar Blue Bunny cookie jar
Photo-  Bab Crews
Ceramic Red Orange Bird Jar – raku fired
( Davis Vachon )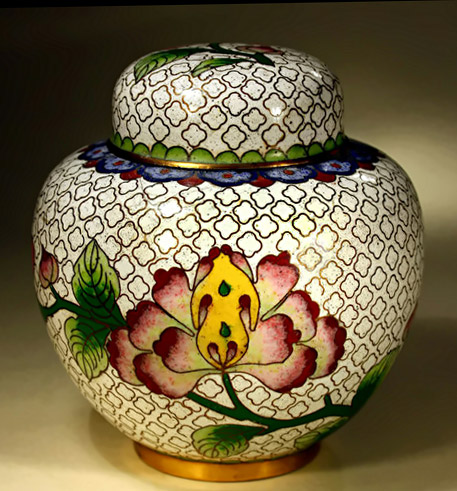 Chinese cloisonné ginger jar – they usually end up being used for cookies
Vintage McCoy Pottery,W.C.Fields Jar.
Antique handpainted porcelain biscuit jar
( TwinSpruceAntiques )
Soul Tones by Clay Art (California)
Sarah Walton Ceramic Jar
Chinese Cobalt Decorated Ceramic jar
Parrot in Tropical Jungle Jar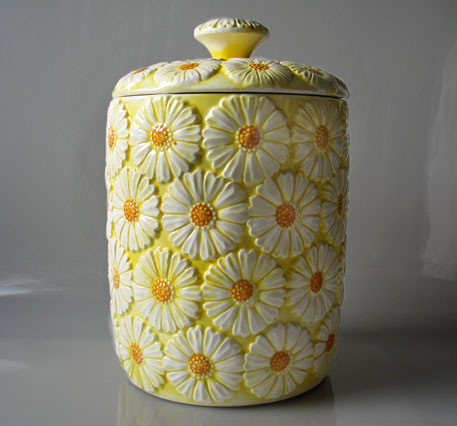 Vintage Cookie Jar Daisy Brinns 1965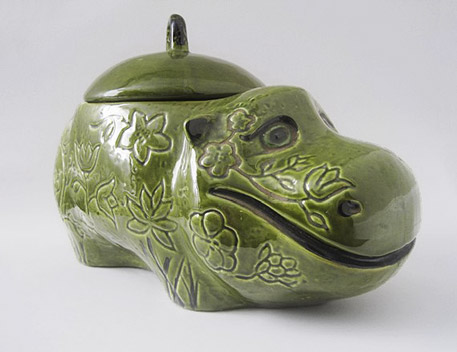 Ceramic Hippo cookie jar –  California USA Pottery.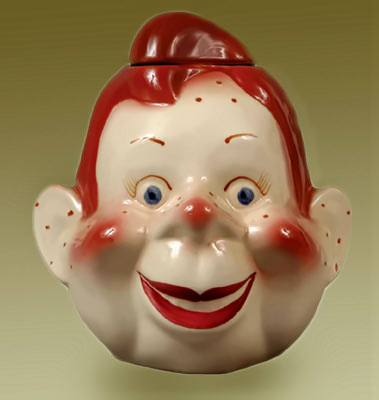 Howdy Doody cookie jar
( Purinton  )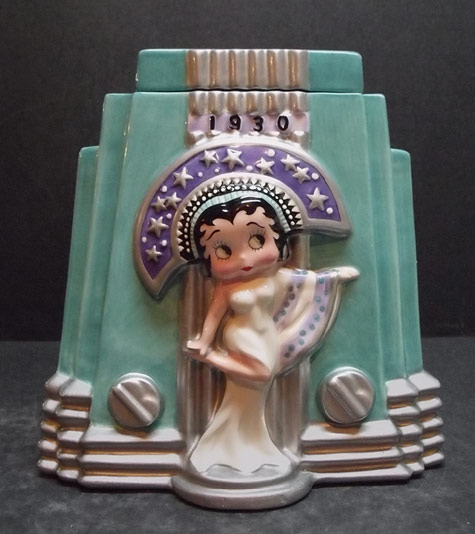 1930 Art Deco Betty Boop cookie jar
( Vandor )
Glenn Appleman Black Corvette Cookie Jar
1984
Tessa Morgan Sunflowers Cookie Jar
Covered Jar
Natural Elements Pottery
Jim Fineman
Chinese Enamel Jar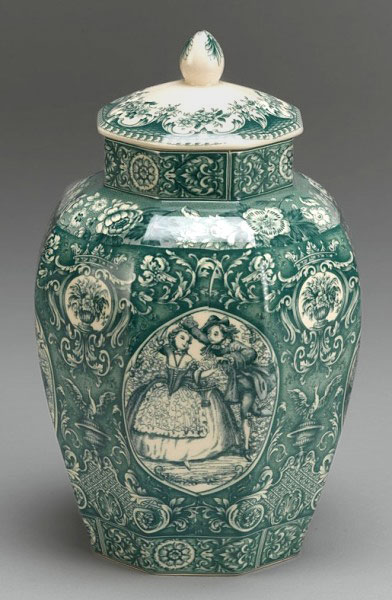 Victorian Teal Green porcelain jar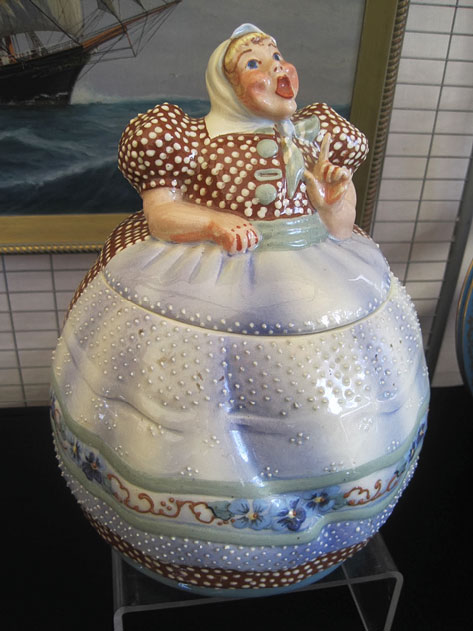 " Helen's Tat – L – Tale " – mid 1930's, designed and made by Helen Hutula, Los Angeles
 Her pointed finger and judgment-filled expression makes you think twice about indulging… and  if you give in to temptation, when you lift the top off the cookie jar her automated voice box "reminds" you about the consequences of your snacking! ( Valued at around $4000 )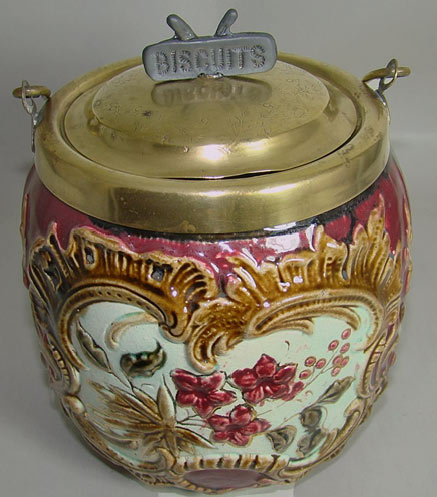 Antique English Majolica Biscuit jar 1800's
( Rubylane)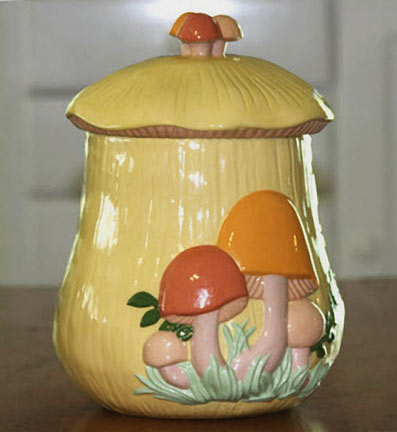 Vintage Mushroom Cookie Jar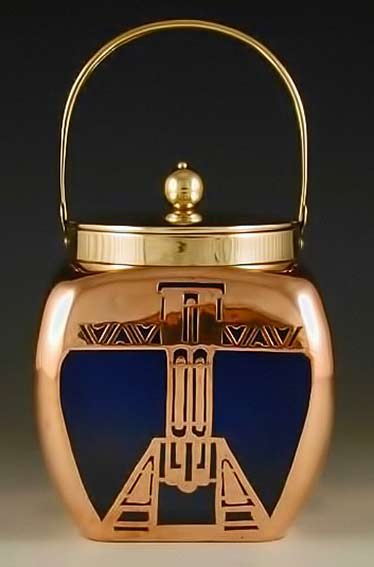 Loetz biscuit barrel with secessionist copper overlay, lid & handle
Country of Manufacture Austria c.1902
McCoy Cookie Jar – Red Aunt Jemima
Ceramic Phoenix cookie jar
Vintage McCoy Sleeping Bear with Honey Pot cookie jar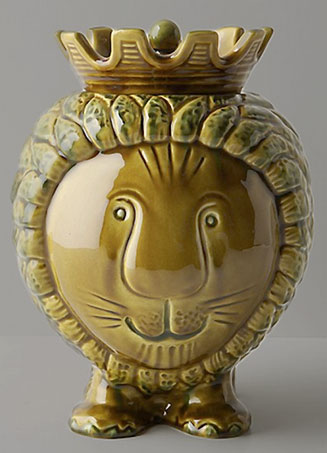 King of the Jungle Lion Cookie Jar
( OhDeeDoh )
Vintage Royal Doulton Burslem biscuit jar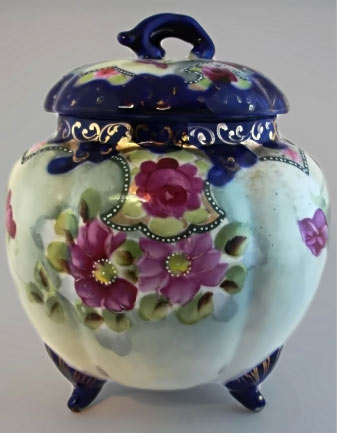 Vintage Cobalt Hand Painted Biscuit jar
McCoy 'Cow Jumped Over Moon' Cookie Jar
This is a reproduction of a classic cookie jar.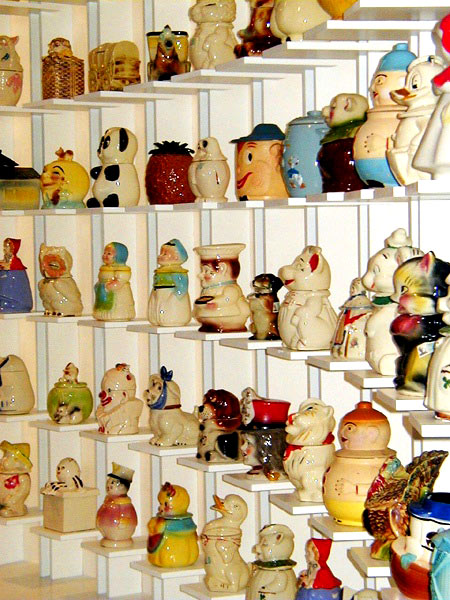 Andy Warhol cookie jar collection.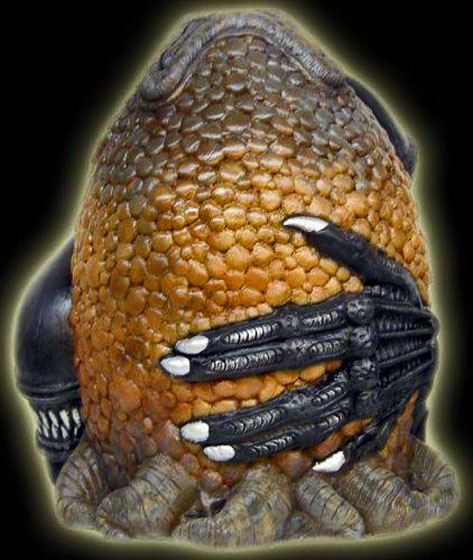 Alien incubate your cookies jar
Bass  Jazzman cookie jar
Catwoman Cookie Jar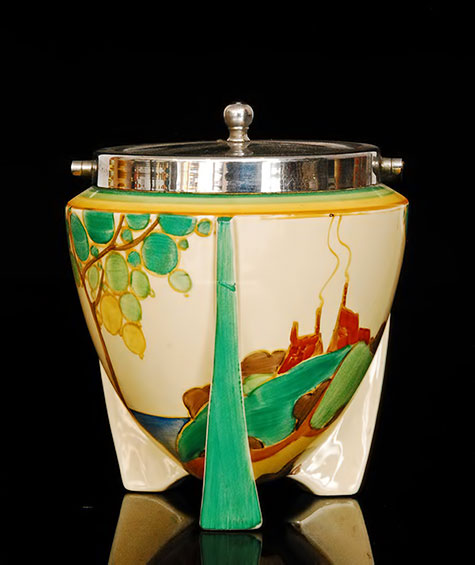 Clarice Cliff Secrets  – bomb shape biscuit barrel
Dr. Who Tardis cookie jar
Donald Duck cookie jar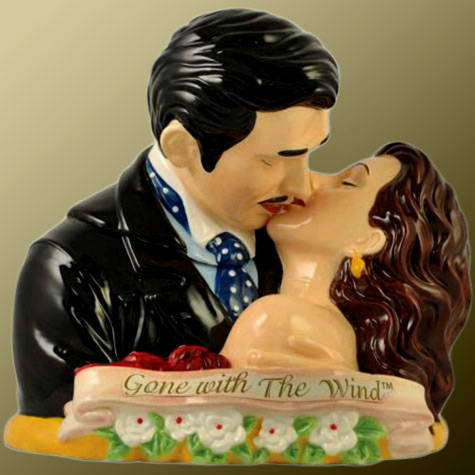 Scarlett & Rhett Ceramic Cookie Jar
Westland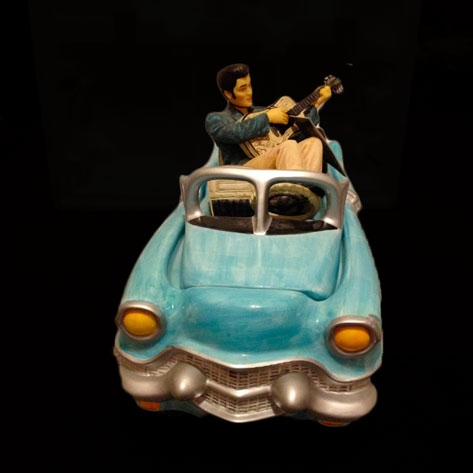 Elvis in Turquoise Cadillac cookie jar
Antique Stove Cookie Jar – McCoy
Josephine Baker cookie jar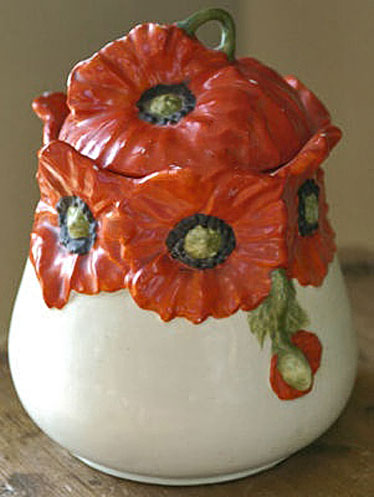 Red Poppy Biscuit Jar – Royal Bayreuth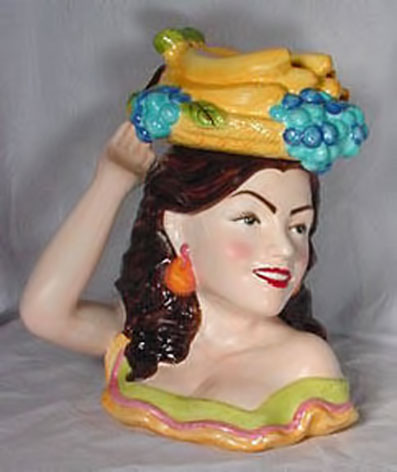 Vintage Carmen Miranda cookie jar
Popeye Cookie Jar
Two handles Lidded vessel  – Adrina Richards
Foghorn Leghorn Cookie Jar
–