Ardmore platter with four zebras
Ardmore twin handled jar with lid
A beautifully  intrinsic  balance of rich colours characterize the ceramic pottery of Ardmore.
The vibrant ceramics of Ardmore, ranging from functional domestic ware to sculptural art in the highly decorative African tradition, offer a fine insight into the subtle influences of rural potters at work in the Champagne Valley of KwaZulu Natal. These artists combine the elements of their tribal tradition with the unique  perspective of a new world. Although the nerve centre of Ardmore has moved to Lavendula in the Natal Midlands, the majority of the artists continue to work on the Ardmore farm near their family homes in the Champagne Valley.
The History Of Ardmore  :    The story of Ardmore began in 1985 when Fèe Halsted lived on the farm Ardmore, in the Champagne Valley under the shadow of the Drakensberg Mountains. Her passions for ceramic art had been honed during her five years at the University of Natal when she had studied fine art and then completed a two year advanced diploma in ceramics.
It was on the Ardmore farm – by ingenuity, by thrift and by chance – that Fèe developed the style that has made Ardmore ceramics famous. "I used to make tiles," she remembers, "when one cracked, I'd stick a rabbit or bird on the top to hide it." Then Fèe decided she needed an assistant. This was when luck played it's part. Janet Ntshalintshali who worked in the house brought her 18 year old daughter, Bonnie, to meet Fèe.
Bonnie who had polio as a child could hardly walk, but showed a natural aptitude for ceramic art. Her ability with colour, design and texture and
her diligence was everything Fèe could have desired in a student. Within five years, in 1990 Fèe and Bonnie had jointly won the Standard Bank Young Artist Award and their work was being shown in galleries internationally.
When Ardmore first opened the doors of its ceramic studio, the ceramics were produced mainly by women. Gradually, however, their male partners realized that they, too, could work with clay under the scenic backdrop of the Champagne and Cathkin mountain peaks of the Drakensberg range located in KwaZulu-Natal, South Africa. These men have transformed Ardmore's conservative functional earthenware into a more sculptural and courageous art form.
Their patience and extraordinary ability to pay attention to detail gives rise to artwork of tremendous charm and beauty. The creative talent of the artists, their learned skills and their desire to succeed, have resulted in their earning a special status amongst their friends and families and becoming known as the `Isigiwili', which describes their abundant good fortune.
The women, in turn, have responded to the new creative energy that has flowed into Ardmore and, of their own accord, have modified their style of painting. Their fine feathering, scaling and bead- and basket-like patterns now enhance the form. Ardmore has evolved into a true unique sculptural art.
All the rhythm, colour, humor and spontaneity of the Zulu artists are on display here for their imaginative ceramic artwork.
Galleries and retailers here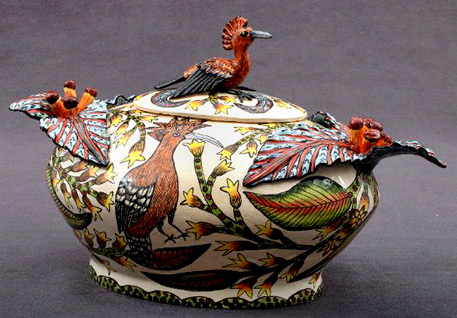 Hoopoe Tureen –  Sculptor; Somandla Ntshalintshali, Painter; Goodness Mpinga
Chamelion Tea pot –  Ceramic sculptor; Somandla Ntshalintshali Painter; Winnie Nene
Bird Vase – Sculptor; Lovemore/ Sondelani Ntshalintshali.  Painter; Winnie Nene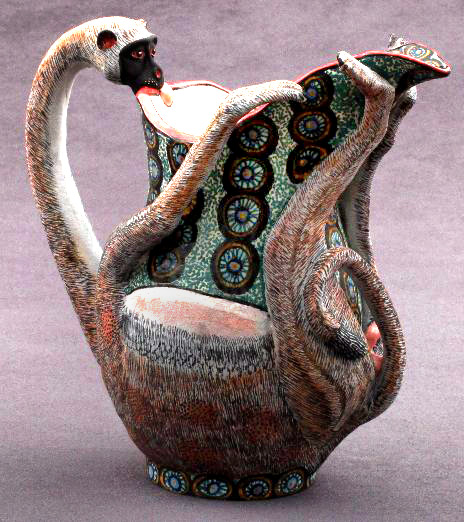 Monkey Jug – Sculptor- Sabelo/ Sfiso Mvelase  Painter; Goodness Mpinga
 Zebra Rhino Platter – Sculptor; Alex Sibanda. Painter; Octavia Buthelezi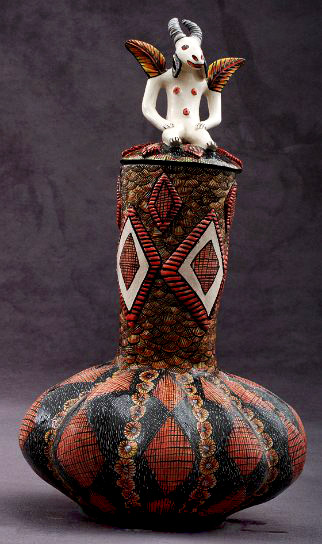 Goat basketing ceramic vessel  – Sculptor; Octavia Mazibuko Painter; Goodness Mpinga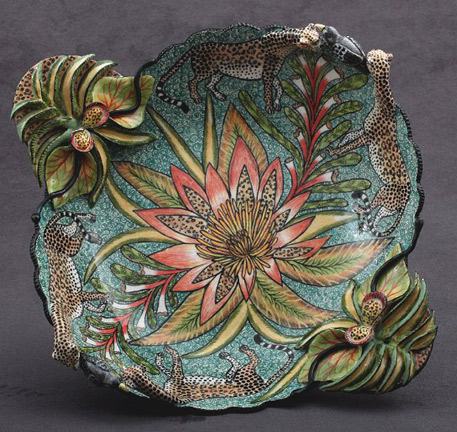 Leopard Bird Bowl – Sculptor; Somandla Ntshalintshali Painter; Rosemary Mazibuko
Hippo Vase Sculptor; Lovemore/ Alex Sibanda Painter; Jabu Nene
◊◊◊
In the beginning  at Ardmore no traditional techniques were used. Their work broke from the ceramic conventions of the time, fired terracotta clay was painted with plaka paints, boot polish and oven blackeners. Glues and putty were also used. Later American Amaco paints and transparent glazes brought an exuberant use of colour and the intricacy of painting style to the ceramics they were making.
◊◊◊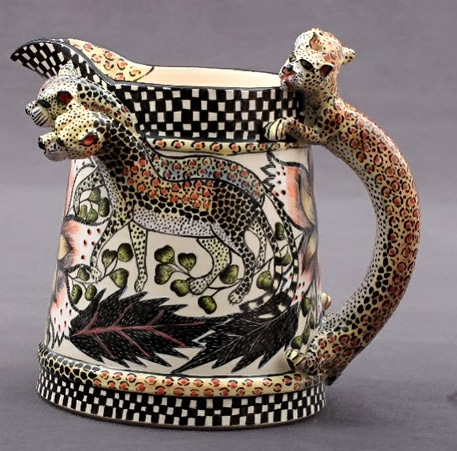 Leopard Jug – Sculptor; Lovemore/ Sondelani Ntshalintshali Painter; Milo Dlamini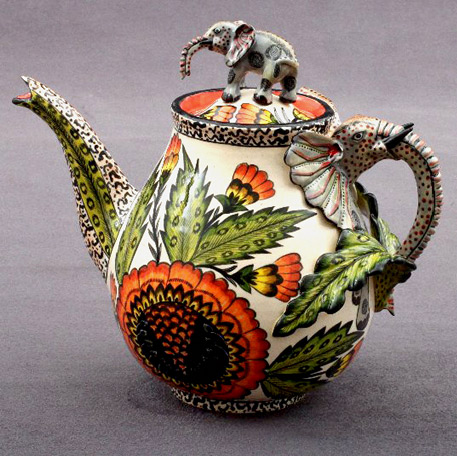 Elephant Tea Pot – Sculptor; Lovemore/ Sondelani Ntshalintshali Painter; Nondumiso Mfuphi
Guineafowl Salt & Pepper Shakers -Sculptor; Betty Ndaba Painter; Zinhle Nene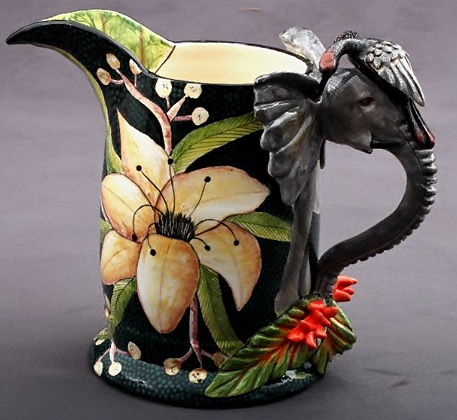 Elephant Jug – Sculptor; Sabelo/ Sondy Ntshalintshali Painter; Senzo Duma
Cheetah Platter  – Sculptor; Thabo Mbhele Painter; Senzo Duma
Hoopoe Tureen – Sculptor; Octavia Mazibuko Painter; Rosemary Mzibuko
Giraffe Tureen – Sculptor; Sabelo Khoza Painter; Sharon Tlou
Hoopoe bird on logs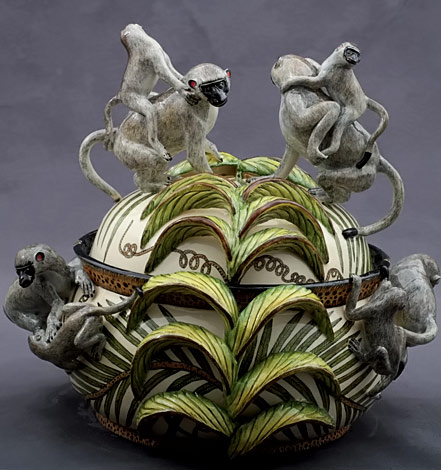 Monkey tureen – Ardmore, South Africa
Bird Egg Cup Sculptor; Lebohang Molefe Painter; Winnie Nene
Porcupine Sweet dish –  Sculptor: Victor Shabalala Painter: Zinhle Nene
◊
Some of the Ardmore artists:
Ardmore artists
Updated –
 Ardmore Giraffe Vase
Painter – Sharon Tlou & Sculptors -Sondelani Ntshalintshali, Sabelo Khoza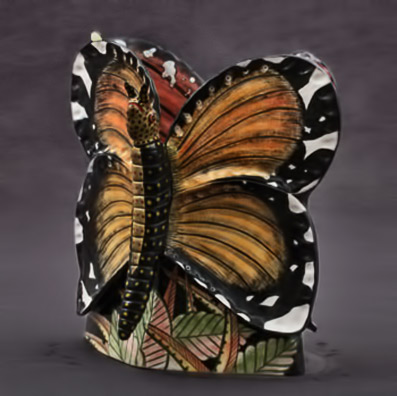 Butterfly vase – Ardmore, ZA
Sculptor – Somandla Aaron Ntshalintshali & Painter-Sthabiso Hadebe
Traditional basket shape ceramic vessel with lid – Ardmore
Ardmore giraffe platter
 Ardmore jug
Some ceramic pieces currently available :
 Ardmore Buck Jug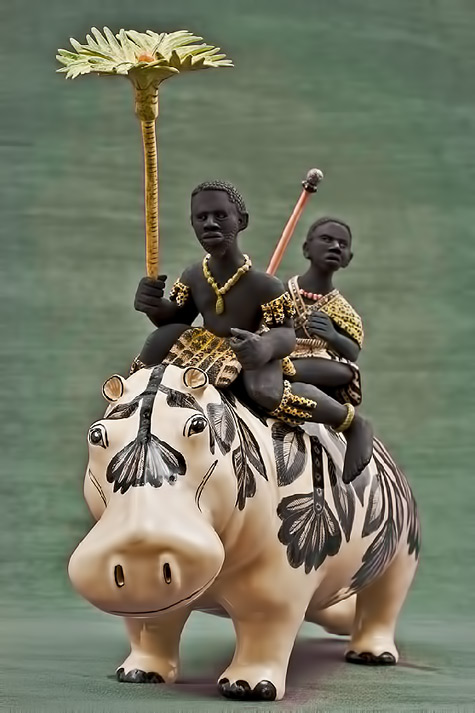 Hippo Riders – Ardmore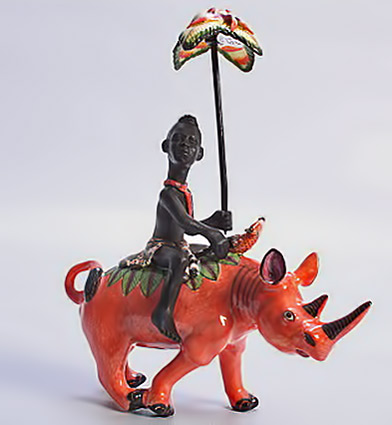 Red rhino rider – Ardmore, London
Zebra butter dish – Ardmore
Ardmore Sable Jug
Galleries and retailers here 
---