Vase with abstract bird motif by André Bioley
1950's
Harris Cies handcrafted studio abstract vase
Height -11 inches
Dan mask detour
In 1907, Picasso's fortuitous wrong turn at the Musée d'Ethnographie in Paris, led him to the sacred Dan masks of West Africa, which had a profound influence on his artistic vision. He later stated that 'Painting isn't an aesthetic operation,' 'It is a way of seizing the power by giving form to our terrors as well as our desires. Men had made these masks and other objects for a sacred purpose, a magic purpose, as a kind of mediation between themselves and the unknown hostile forces, in order to overcome their fear and horror by giving it an image. When I came to that realisation, I knew I had found my way.' This was the same year he developed the revolutionary Cubist art along with George Braques and was one of the first forms of abstract art in the West. Braque declared 'Scientific perspective is nothing but eye-fooling illusionism,' , 'a bad trick which makes it impossible for an artist to convey a full experience of space.'
Preceding this was Cezanne's abandonment of the tradition of perspective drawing and concern for the reflection of reality, which had encouraged other artists to consider the  expression of the abstract. For the early abstractionists like Paul Klee, Wassily Kandinsky, Alexander Archipenko, Juan Gris and Joan Miro, their abstract art also clearly implied an expression of abstract ideas concerning the spiritual, the subconscious, and the contentious.
Alexander Archipenko – 'Bathing Woman', 1915
Plaster on wire frame
Cubism originated in France but spread across Europe and integrated with the artistic consciousness of several countries. It was a poignant influence on Futurism in Italy, Vorticism in England, Suprematism and Constructivism in Russia, and Expressionism in Germany. The Cubists wanted to make pictures that reached beyond the rigid geometry of perspective, as an image drawn from a fixed position, that was limted by a frozen conclusion. The Cubists challenged conventional forms of visual representation with a more dynamic presentation of an omni perspective. The deconstruction of visual conventions paved the way for the emergence of a new artistic language. Cubism was the first abstract style of modern art. The manipulation of non naturalistic colors and bold brushwork by the Fauvists and in Orphism also added to the growth of abstraction at the turn of the Twentieth century.
Fernand Leger and Roland Brice abstract vase – 50's
Yoshiro Ikeda ceramic sculpture
Charles Catteau was integrating abstract concepts into his ceramic decorations as early as 1905 while Joan Miro was also applying hand painted abstract motifs to his ceramic pieces. In 1922 Kazimir Malevich and his followers actively spread the ideas of Suprematism at the State Porcelain Factory in Petrograd. As early as 1900, Gallelio Chini was approaching abstracted designs with the Italian 'Liberty' (Art Nouveau) movement. Mid century ceramicists were attracted to the freestyle groovy designs of skewed perspective and asymmetrical patterns that contributed to defining the modernist style. The abstract complexity of the 30's and 40's became more simplified in the 50's and 60's and in the process became more marketable, which fueled a huge movement of wonderfully original designs on decorative objects, many hand drawn. The aspired freedom of this era manifested in designs of spontaneity and simplified minimalist detail. A large number of artists in the Mid Century adapted to this free expression in pottery styles. Some notable proponents were Guido Gambone, Fratelli Fanciullacci, Gilbert Valentin, F. Carlton Ball, Corrado Cagli, Marcello Fantoni, Roger Capron and Nils Thorsson. Then there was Picasso's abstract ceramic work at Madoura in the 60's which attracted many Parisian ceramic artists to Vallauris who added to the proliferation of  modernist ceramic pieces.
Gorcisnitsa Ikchasnik Supermatist jar
1922
Marty Ray—  'Art Cafe'
2009
Blue Nude Tumbler. Henri Matisse inspired
Etsy StiffWristClay
Ovoid vase – Henri Matisse – 1907
Matisse wrote, "We move towards serenity through the simplification of ideas and form…….Details lessen the purity of lines, they harm the emotional intensity, and we choose to reject them. It is a question of learning – and perhaps relearning the 'handwriting' of lines. The aim of painting is not to reflect history, because this can be found in books. We have a higher conception. Through it, the artist expresses his inner vision."
Matthew Wade
Lamp policroma abstract  —  Ciavardoni
1950 Albisola, Italy
Galileo Chini, 1900
'The Tamer' – Corrado Cagli for Ceramiche Rometti, Umbria
1930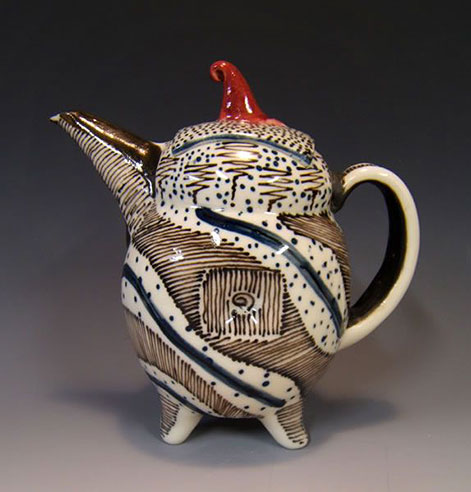 Ikeda Ester
Alexander Archipenko 'Seated Figure'
1938
Vivian Thompson, 'Kungkarangkalpa (Seven Sisters)'
Lapid Mid Century Pottery, Tel Aviv
Marc Bellaire California Pottery Muted Corals bowl  with black Balinese dancer
Italian Mid Century abstract motif vase
Charles Catteau – stylized floral decorative Jazz Age vase
1924
Modernist motif plate — Krzysztof in Walbrzych, Poland
Charles Catteau, Boch Freres, 1925
Deconamic
Abstract Jazz Age Cubist Deco vessel – Charles Catteau
30's
Charles Catteau vase
1924
F.Carlton Ball
Modernacious.com
                                                                                                                                                                     Guido Gambone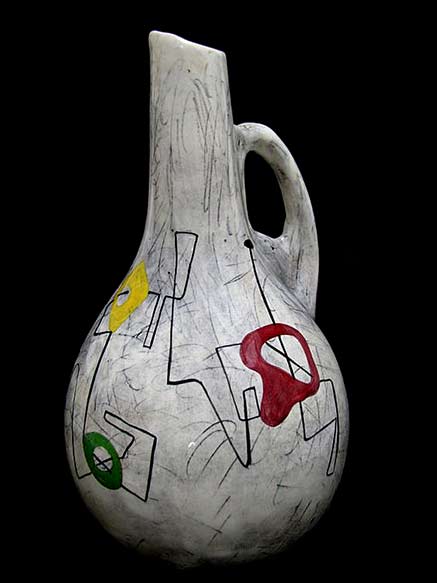 WEG pottery ceramic jug
1950's
Pablo Picasso pitcher
Marianne Starck for Michael Andersen & Son
Footed conical vessel, thrown stoneware – Anne Mortier
'White Vessel with Signs' – Gordon Baldwin
 1990
 'Cloud 2' – Gordon Baldwin
1996
Joan Miro
Joan Miro in his Barcelona studio
Photo Mark Shaw LIFE, 1955
Mid Century 16 inch plate – Tony Morris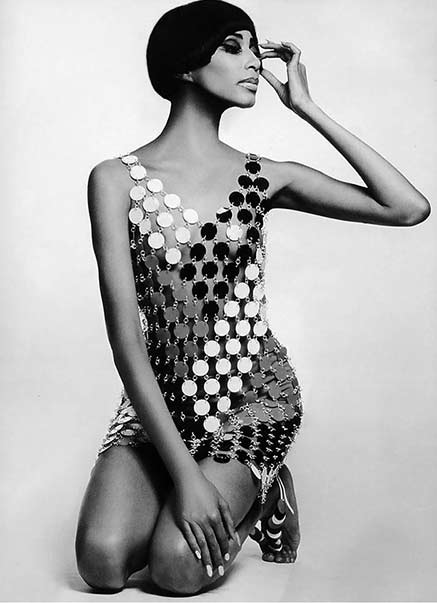 Donyale Luna in a linked disc abstract dress by Paco Rabanne. Photo: Guy Bourdin
1966.
Alison Britton
Alison Britton
'Picasso—Woman Lying on a Chaise' — Ceramic Box by Goebel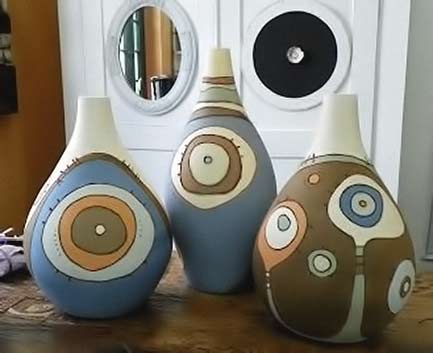 Anelise Bredow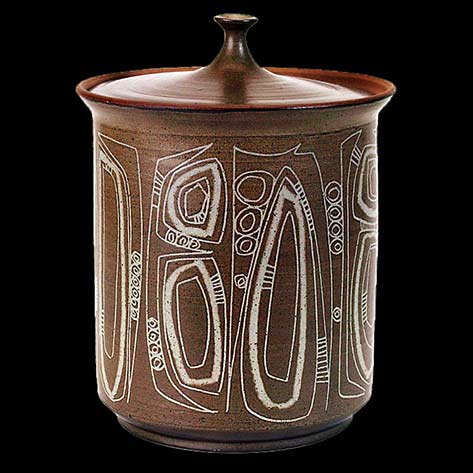 Mid Century ceramic jar  – Clyde Burt
Steve Czerniel
Sascha Brastoff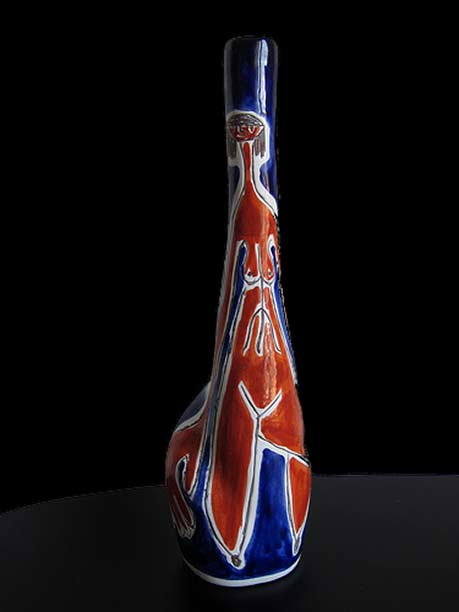 Mid Century vase, Deruta, Italy
Art Deco modernist  vase – Charles Catteau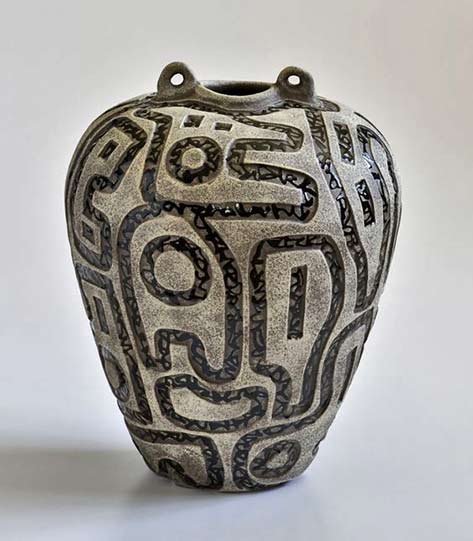 Boyan Moskov
Camilla Ward
Carolyn Genders
Carstens lava glaze Vase
'Daffodil Blossoms' – Boyan Mosko
 
'Doodle Bottle – Red and Black' –  Boyan Moskov
Tjimpuna Williams Ngayuku Walka stoneware with terrasigilatta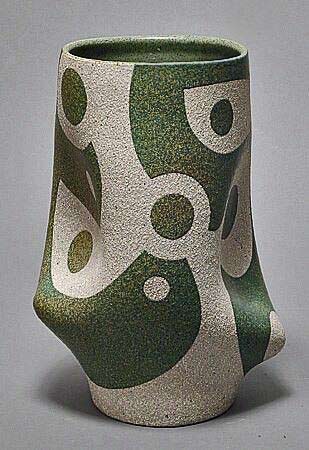 Gustavo Perez
Michael Lucero-surrealist abstract sculpture
F. Carlton Ball and Aaron Bohrod Glazed Stoneware Vessel,
c1950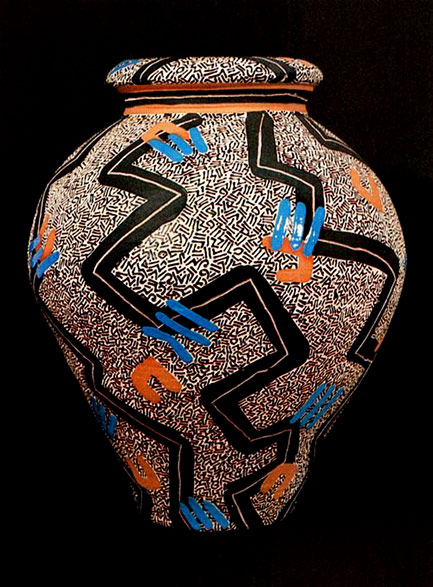 John M Donoghue
Gustavo Perez
Guido Gambone, Italy
60's
Gregg Rasmusson, St. Louis
Greg Rasmusson Ceramics
Floris Meydam  'Ruimte' vase for Gouda, Netherlands
Jaap Dommisse
1950's
Abstract cat – Natalya Sots
Miro inspired black slip sgrafitto over porcelain with clear glaze thrown and altered vase – Jim Mulfinger
2010
Penny Evans
Poole Pottery, 50's
Rob's Poole Pottery
Raine Middleton
Hartzog Pottery by Raine
Abstract motif Vallauris Ceramic Vase by Borty
Marty Ray — 'The Neighborhood'
Abstract bullseye vessel – Ryan Peters
Black & White Sculpted Portal Vase by Jean Elton
Camille Faure cubist deco vase-MODEL-PRIMEROSE-
Signed-C.Fauré Limoges
Royal Copenhagen
Fnils Thorsson, Royal Copenhagen
Sam Scott
Seymour Lipton – 'Sea King'
1955
Ultra Large Gorrogarah binjdil Morning Platter—Penny Evans
Vase by Boyan Moscov
Vivian Thompson Kungkarangkalpa (Seven Sisters) stoneware with terrasigilatta
West German incised sgraffito glaze lidded jar
Gouda Rumba Flora art pottery vase
Denise & Peter Orlando
circa 1950-60
Joan Miro
1946
Michael Wein – Picasso tribute porcelain platter
M.Wein Raku Pottery
Picasso Madoura vase, Vallauris
Italian Mid Century Ravelli Colorite vase
Pottery La Colombe pitcher
50's
Bay Bodo Mans 1950s huge floor vase
–