Fluted flower pot
David Voorhees shows: How to crease a vase 2011.
Here is a short video showing how to Crease a Pot by David Vorhees of Hand in Hand Gallery in Flat Rock. Recorded on June 8, 2011 using a Flip Video camera.
Simon Leach – fluting a bowl
http://www.powhow.com/classes/simon-leach-pottery POWHOW WEBCAM CLASSES - join us for a class in your own studio !! http://www.simonleachpottery.com JOIN US FOR A WORKSHOP !!!!!! If you appreciate these video clips and they are helping you, you might like to consider making a donation !
Green Fluted Bowl – Ian Drummond
Van Briggle fluted top mulberry and blue vase ( 1920's )
Fluted Serving Bowl -pottery by kate
Celadon Blue Vases –  Barry Singleton
Vintage-1940-Niloak-Pottery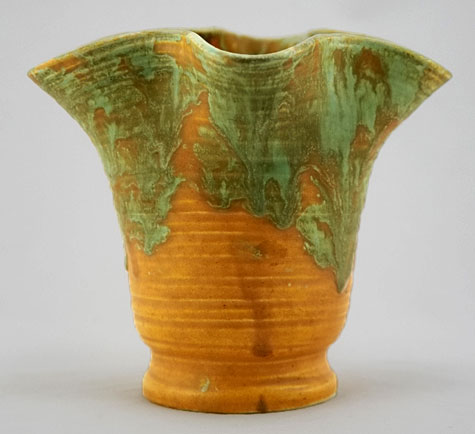 Camark ribbed and fluted vase.
ZSOLNAY.Pecs..Rare Fluted EOSIN Vase Flowing Art Deco Design
Woburn Pottery
Belgium Art Deco Vintage Vase
Evangeline-vase.
Vase 1930-40s Brush McCoy
–