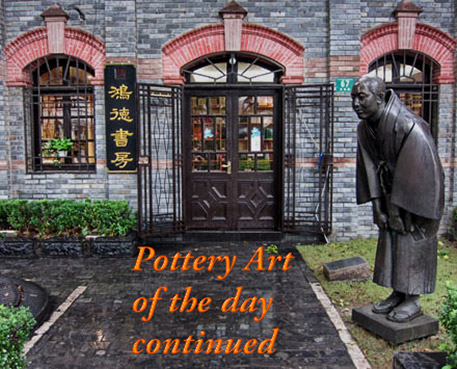 THIS POST NOW CONTINUES AT : Daily Pottery Art Feed link
All new images from the top :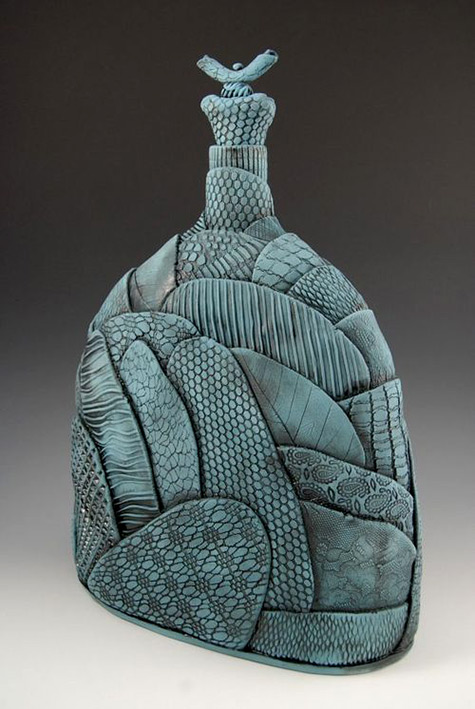 Eatting, Breathing and Dreaming of Clay ( Tumblr )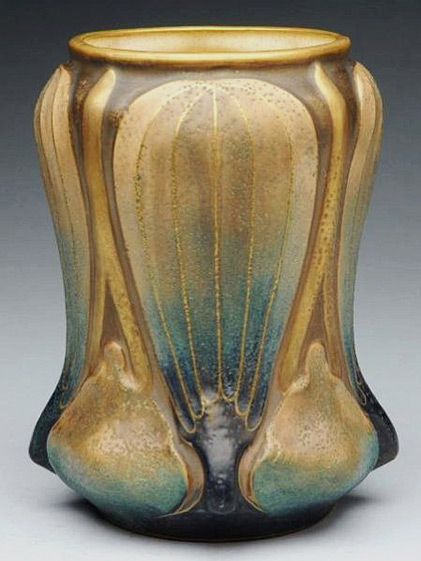 Amphora Art Nouveau Vase.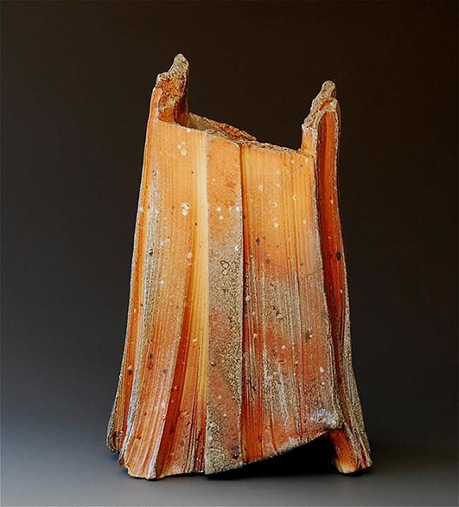 Akira Satake woodfired ceramic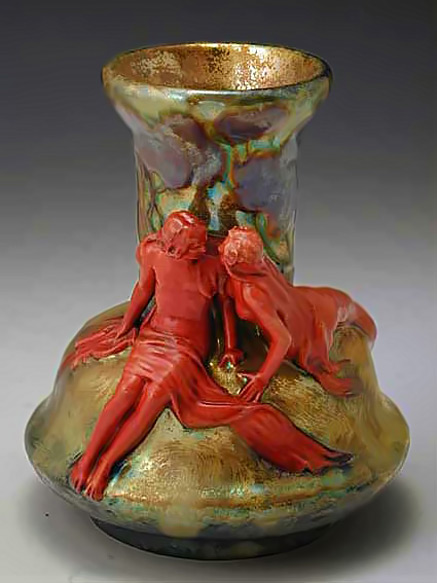 Hungarian Zsolnay mermaid vase with  iridescent glaze – 1900
( Titus Omega )
Yukiya Izumita – Aurora 6
Aurora, the mythical Goddess of Dawn,
 appears every morning and flies across the sky,
 bringing hope and renewal to a new day.
( Touching Stone Gallery  )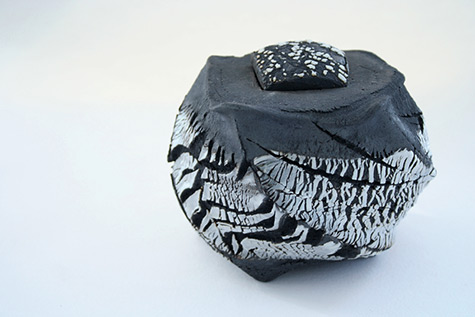 Patricia Shone raku, Scotland
Steve Irvine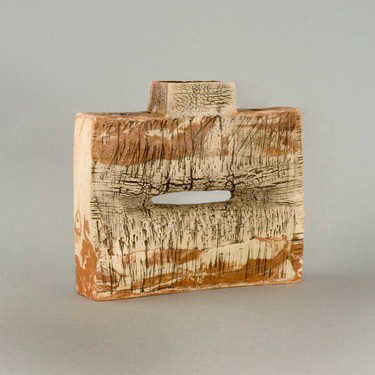 Tanja Borushko  vase – " So What 1 "
Germany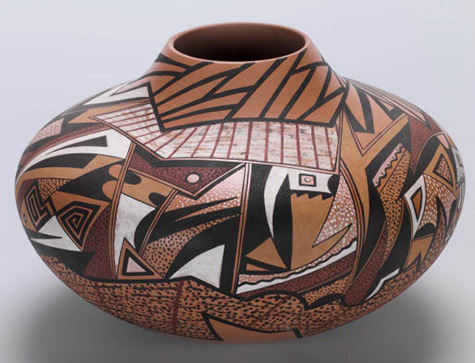 Namingha pot
Renato Bassoli  - Italy
( 20th Century Collections )
Beate Andersen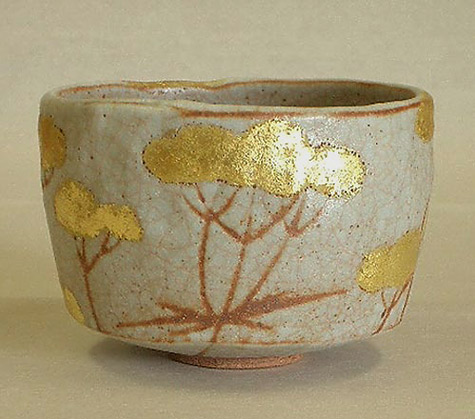 Shu Mochizuki
Mark Pharis
Mexican ceramicist Guadalupe Lanning Robinson
See more pieces by Guadalupe here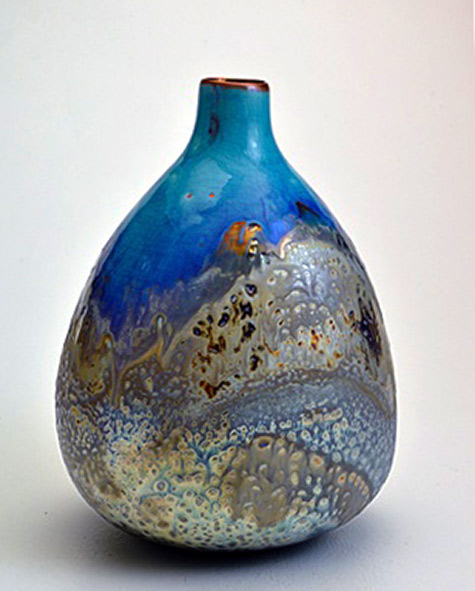 Greg Daly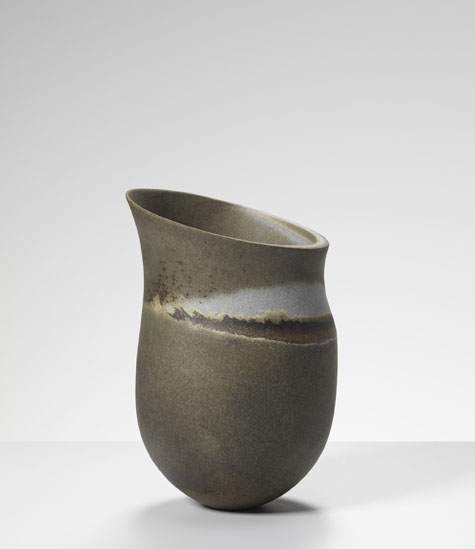 Ceramic vessel – Jennifer Lee
Bennett Bean – Dancing Lily
Melanie Ferguson vase - Three Sides Of Light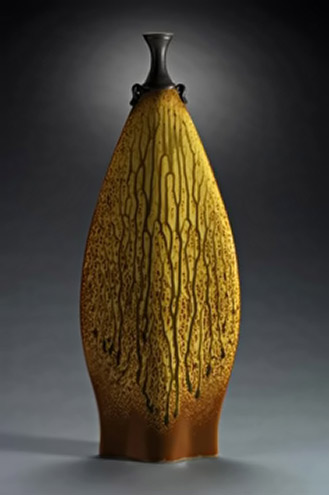 Brian Beam
Roseville Pottery  - Pine Cone Vase
Jim Craft – Basket Form
 ( Ceramics Now )
Laura Wilensky teapot
Dish with tropical decoration.  Japanese, Edo period, 1650–1660.
Navajo Polychrome Sgraffito Jar by Vera Thompson
Bela Kotai
Pitcher/vase with primitive cave-drawings by renowned French artist Andre Quiron.
Raku Plate with spiral motif – Davis Vachon ( Etsy )
Angela Vinson -Earthly Vase
Lala Studio
Caroline Genders vase
Brenda Dean   – organic inspired wrapped slab built in white earthstone.
Alan Foxley
Tea Bowl  ( Rising Sun 1969) by Arakawa Toyozo
Cheryl  Malone
Flambe Glazed Zun Vase –  China, Qing Dynasty
Alain Fichot – Purple Crystalline vase
Aldo Londi,- Italy
Robert Obsieger – c.1932
( MAK collection Vienna )
Suzanne Crane – Basket handled teapot
Akirio Maeta
Vintage Nemadji Vase
Made in the 1920′s and designed in a Native American pottery style.
( tiramisu3.blogspot )
Nautilus – Hilary Simms
Barrel Jug – Cyprus
750-600BC
Michael Bauermeister Wood Sculpture
Mid-Century modernist vessel by Edwin Scheier
Handmade ceramic poppy bowls  - Elizabeth Prince, UK
Brenda Holzke, USA
Anne James at Studio pottery.co.UK
14 Ceramic – Special Jury Prize in 2010, Claire Roger
"My job is a graphic adventure that develops from colorful land mass and whose singularity is essentially based on the simultaneous use of color, graphics and volume. This graphic has its source in the thickness of the material and finds its form in the gesture combined with the tool. It involves concepts such as stratification, crossing, overlapping, juxtaposition, repetition, modulation, etc.. I love that my work is written in time, hour by hour, day after day …"   Claire Roger
" Madras " – Lino Tagliapietra glass –    2010
Vase – Inke Lerch-Uwe Lerch and Brodersen, Bunsdorf
Germany
Stephen Bowers teapot
Richard Tuck
Rachel Rothman -Israel
Jane Wheeler – United-Kingdom
Nishimura Toshihiko – Japan
Jar-(Kayenta-Style)
Arts Connected   – Minneapolis Institute of Arts
Ramp Ceramics
Alistair Danhieux
Frederic Debon – The Pond
Bronze Art Nouveau Vase – 1900
( aguttes.com )
Heather Rosenman,- Petrichor
Endless Ribbon Version IV, 1961-62 - Max-Bill
( concrete material  )
Musée National d'Art Moderne, Centre Georges Pompidou, Paris
Tall Pod Jar – Mathew Blakely
( onlineceramics.com )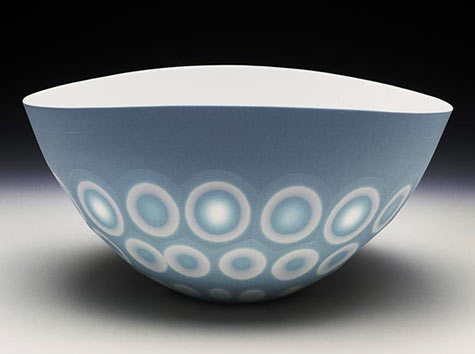 Large Space bowl by Sasha Wardell
Brent Cox  Ceramic Vase 1976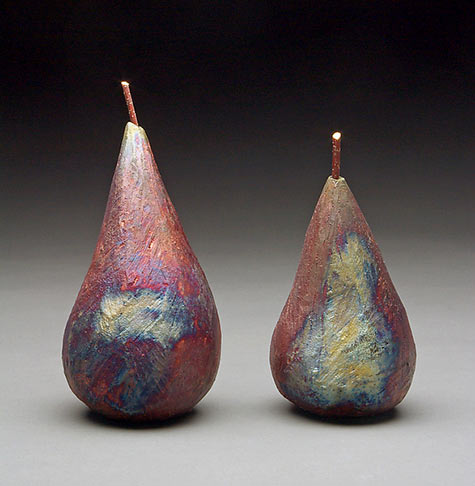 Raku Ceramic Pears Sculpture – Mary Obodzinski.
Red Object by Roland Summer
Ilaria Ghezzi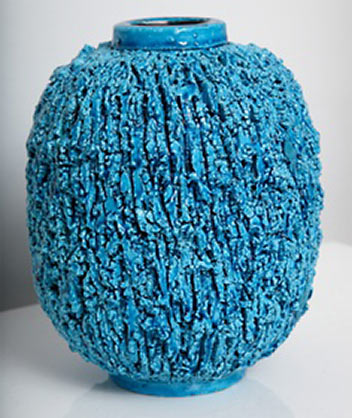 Gunnar Nylund Turquoise Vase for Rorstrand
Antique French Faïence Flask, 1730
( ROBERT HIRSCHHORN )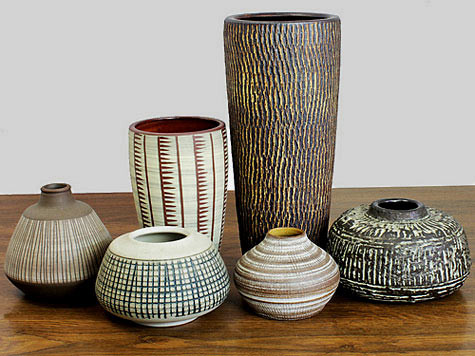 German modern mid-century ceramics with scrafitto surfaces. – 1960′s
Claude Conover   1907 – 1994
Dorothy Feibleman
Linda Gunn Russell  - Terracotta pitcher
Vase Japan,1900 – Art Gallery of NSW
Soda fired Yunomi — Cory Lum
A water jug from the Jerma peoples of Niger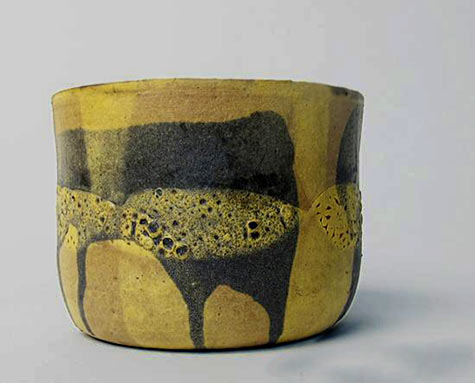 Studio ceramic bowl – Barbara Haberland.
Ruskin High Fired Pottery Vase speckled in lavender and turquoised flambe glaze.
( Tennants Auctioneers – sold )
Ceramic picture white moon
Handmade ceramic plaques – PURRFECT CERAMICS
Romas Mekiška
Large  art pottery vase by Judy Brater Rose – Knoxville, TN
Art Deco Mug – Clarice Cliff   UK
 Large 32 "ceramic bottle - Joey Sheehan, Melting Mountain Pottery
Asheville's River Arts District
Emily Schroeder Vase
Satoru Hoshino contemporary ceramic  sculpture
Gwyn Hanssen Pigott - London Contemporary ceramics exhibition at Erskine, Hall and Coe
Raku Pottery Vase by Rex Redd of Aspire Fine Arts
Ancient Bang Chiang painted pottery jar
(Northern Thailand) Neolithic Period 1000-500 B.C.
Judy Stone
"Urban Myth Centerpiece"  - Ceramic Platter –  Tatiana Hunter
Ann Linnemann drip glaze ceramic cup
Sam Scott Pottery
Henri Gandais – 1910
Thomas Spake
Copper Matte Raku Pegasus
( Crystalline horse – etsy )
Tall neck flower vase – Carter Pottery
( Tales Of A Red Clay Rambler )
Betty Blandino unique stoneware
Raku figurine " Grande Boeuf "  - Martine Cassar
Ashraf Hanna – Contemporary Vessel
Gary Dipasquale – NY potter
Susan Filley Porcelain vase
Functional handcrafted slab built teapot with fern pattern – a green glaze with unglazed pattern,spout and handle.
Mangum Pottery
Tanoue-Shinya–Japanese ceramic artist
( Keiko Gallery )
Large Sgrafitto Jar with Cream Neck by Carol Vigil
( Wrights Indian Art )
Rick Dillingham
Barbary Treasure – Clement Massier & Lucien Lévy Dhurmer
( Courtesy of Jason Jacques )
Zsolnay Eosin Art Nouveau vase – Hungry
Catalina Pottery vase
Celedon Vessels – Nicolas Morris,  USA
Lavender Chun Vase - David Morris  USA  ( 1911-1999 )
Spirits  - Crispin Gonzales
Four Seasons Jar – the seasons change with every 90 degree turn. - David Misch
(  studio potter archive blog  )
Sascha Brastoff –  Mid-Century Aztec vase
Post on Sascha Brastoff HERE
Handbuilt vase with graceful turns and folds – Ken Drolet
Ceramic artist, Ken Drolet, creates one-of-a-kind abstract sculptures in his studio in the Arizona desert. Though previously an oil and pastel artist, then later a furniture maker, working with the organic medium of clay provides a deep connection to nature Ken can no longer live without. He says that the clay talks to him. There is a feeling of harmony with the medium. It is not just Ken trying to make something out of the material, but the material adding its own spirit to what it will become.
"I am fascinated with shapes, colors, and textures. I love combining them in a work that reflects the world as I see it, with grace, beauty and the illusion of movement." 
Waylande Gregory, Jeweled Crystals Bowl, ca. 1942, stoneware with fused glass crystals.
 Collection of Martin and Judy Stogniew
Glazed earthenware vessel by Christopher Dresser
Porcelain bowl – Susan Nemeth
Roman cobalt blue glass amphora
Large Pot – Jerry McGlothlin
( The Artists Gallery )
Raku fired vase – Terry Crook
Pippin Drysdale – Australia
Gilded and enamelled glass perfume sprinkler, 1295–6, probably Syria. 
Hand-thrown Maple Leaf  Raku Vessel with Rings - Christopher-Mathie
Tina Croghan
Seth Payne teapot
Rockwood Vase
Wave vase-  China (Southern Song or Yuan Dynasty)
( The Cleveland Museum of Art )
Julius Dressler Austria Art Nouveau Organic Motif Vase (c.1900-1945).
Enno Jaekel – Keramistoe
  Green bottle with turquoise crystals -  Leigh Merrit
Rippl Ronnai – 1900
Zsolnay Art Nouveau
Another amazing Art Nouveau design from Amphora
Terri Kern - Inspired by the poetry of Richard Hague, this intimate wall piece is hand crafted from a slab of clay and is part the "Icon" series.
Clarice Cliff   Art Deco Teaapot
Carved and richly glazed vase – Denise Brown
Kristin Doner
Elizabeth Shriver
Stalagtites – Pietsch pottery
Large fruit bowl
Three legged pumpkin sugar bowl
Vlodek and Danuta Taylor – Poland
Their site is here
Guy Van Leemput - Belgium
Chris Carter
Large red stoneware vase with shino  –  Esther Griffith
Yves Lambeau
David Brown
James Lovera Crater Bowl
Toyo vase
Painted Greek vase – Attic, redfigure, 480-460 BC.-Hercules and Hydra of Lerna
( reproduction )
Sandy Simon
Hedge Apple Tea Bowl
( littlepigpottery Etsy )
Emmanuel Beranger – A Kitten's Game
French 1900′s
Sphere with Neck by Gabriele Koch,
"References to aspects of early or so-called primitive cultures are not seen as a nostalgic yearning for the past but as a reminder of certain values and qualities lost which are vital for a perspective of the future that is life-enhancing rather than life-destroying." —Gabriele Koch
Hideaki Miyamura – blue glaze bottle
Superb glaze!
Imperial Court Glass factory c.1909
Handmade Ceramic Sugar Bowl
Felix may be a bit shy, but when you breakfast with him you will discover an amusing companion who will sweeten your morning.
Felix can be used as a sugar or honey bowl. But He will be happy to hold any number of small items you wish to store. His lid has a rim to hold it securely in place.
Material: white clay, underglazes, clear glaze inside/food-safe
Limor Porat – Limors Ceramics Shop – etsy
 Mount Everest Virtual Tour – The Glaciers of the Himalayas
The easy way to climb Mount  Everest 
Haeger Midcentury Pottery Vase
Jun Kaneko
John Maltby A monumental stoneware Vessel, circa 1990
Louise Gelderblom
A Gathering – b
Jurors at the Tenth Biennial Exhibition of Northwest Ceramics, 1962.
( Photo by: Museum of Contemporary Craft Archives )
West German Mid-Century Steuler Vase
( florin1978 flickr )
Kristy Jo Beber
Polish ceramicist's Marta Kędzierska & Jacek Tratkiewicz
Rita Dunlavy
( Red Chair Gallery )
Rita discovered the ancient art of "Mosaics" when she began creating decorative pots for her specimen plant nursery in the 1990's. From there her fascination grew with traditional mosaics and later the idea of utilizing glass drew her attention. The ability to add light, movement, and a more 3 dimensional quality through the use of colored glass in mosaic was what had been missing.
Linda Syles
A Wall That Plays Music When It Rains-In Dresden, Germany
 Designed by artists Annette Paul, Christoph Roßner and André Tempel, this wall is covered with funnels and gutters and is located in Dresden's student district.
Paul Dachsel Amphora vase with hand painted female profile – 1880
Red Planet Bottle – Nicholas Bernard
Earthenware vessel, thrown and hand-built. Decorated with brushed slips and oxides.
Fulani woman with a clay pot  and remarkable earrings which were her wedding  jewells. Sevare, Mali
( National Geographic Travel Photo Contest 2011 – photo :  Maxime Alvarez de Toledo )
Hot water jug. Part of a service designed by Salvador Dali for poet, artist and patron of Surrealism, Edward James. – Royal Crown Derby, 1938
 Fez Moroccan red vase
Clay pot on top of Mount Solaro. Capri island, Bay of Naples, Italy
( Marite – 2007   flickr  )
Abstract contemporary ceramic sculpture created by British artist Matthew Chambers
Japanese Vase - Kamoda Shoji
Mosel Neu       Andrea Langhanki – Germany
 Abstract form stoneware vase – Gustav Perez
 ( see post on Gustav Perez here  )
Gustav Perez vase
Royal  Copenhagen Nils Thorsson vase
( via mypotshots )
  Zugote Blum
Edwin Scheier
Clare Conrad
Ceramic sculpture – Ken Price ( 1935 – 2012 )
Tiny Giant  – Connie Norman
What a Glorious Day!   by cbmosaics – Christine Brallier, via Flickr
Mid – century asymmetrical vase
West German Pottery Vase by Steuler Raymor – 1960′s
Vallauris / Monaco Ceramic Sealife Shell Kitsch TV Lamp 1940′s –  1950′s
(  beetle2001cybergreen -flickr )
 Melissa Antonio, Acoma Pueblo
Cup – Adam Field
Earthenware with slip and sgraffito – Mary Briggs
Sue Nazarenus throws clay on a wheel at the Boulder Pottery Lab
Etched Vase – Jim Gottuso
Stylized flowers on beige crackled background – Charles Catteau for Boch Freres 1926
see more here
Vase by Pierre D'avesn Lorrain
( student of Rene Lalique )
Northeastern Igbo; Nigeria
Spiral Roots  - Kristy Jo Beber
Natalie Blake
Ceramic vessel by French potter Alpho Alphonse Mouton
Corset series vessel – Kristen Kieffer
Two handled footed vase – Beatrice Wood
Finished in a verdigris and gold volcanic glaze – signed Beato
Newcomb College Vase  - carved by Marie de Hoa LeBlanc  with five stylized blue and white rabbits, 1902.
 Lexie the sharpei
 ( veniceclayartists mascot )
THIS POST NOW CONTINUES AT : Daily Pottery Art Feed link
More posts: