Aleluia Planter – 1950's  © HPS
Looking at the spectacle of the Madi  Gras Carnival, it's easy to see the Spanish influence and the comparisons that can be drawn with Spanish art and pottery, with its rich warm colours, vibrancy and motion. Spanish pottery evolved from a culturally diverse heritage, having been influenced by many nations and peoples throughout its history. Spanish culture has its origins in the Iberian, Celtiberian, Latin, Visigothic, Roman Catholic, and Islamic cultures.
The traditional Spanish pottery styles centred around hand painted wall dishes and large pitchers and jugs. Despite the eclectic gestation from Majolica, Islamic, Hispano Moresque, Mozarabic and other European influences, such as the Baroque and  Neoclassical, Spanish /Portuguese pottery became highly distinctive and appealing. This was further evident in the modernist phase in the 50's and 60's where the abstract styles that filtered through from France, Italy and Germany were adapted and blended into the local styles. Shape and movement were pushed even further without sacrificing any aesthetic balance. Picasso and Dali's Modernist, Cubist, Surrealist  works from Paris and beyond were also influential.  The pottery featured here is predominately modernist because I feel this reflects the pure abandon of their creativity the most.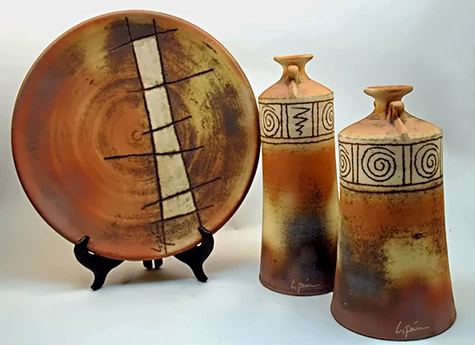 Hermanos Perez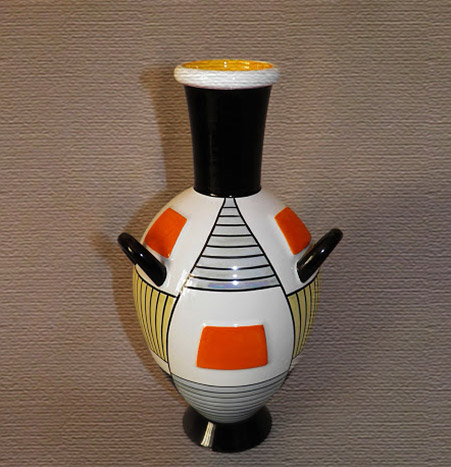 Vase with three wings – Aleluia,  Aveiro
( modernaumaoutranemtanto.blogspot )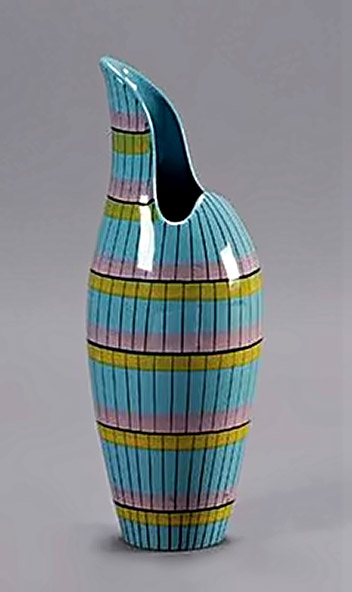 50's AleluiaVase
( MdS Auctions )
50's-Raul da Bernarda vase
Alcobaca, Portugal © CMP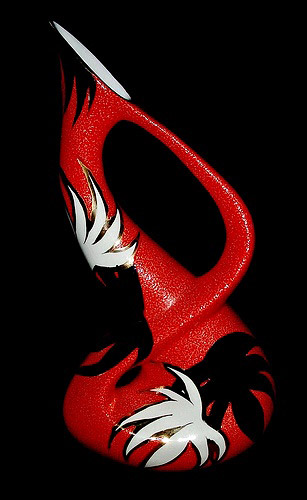 50's  Raul da Bernarda vase
( http://mfls.blogs.sapo.pt )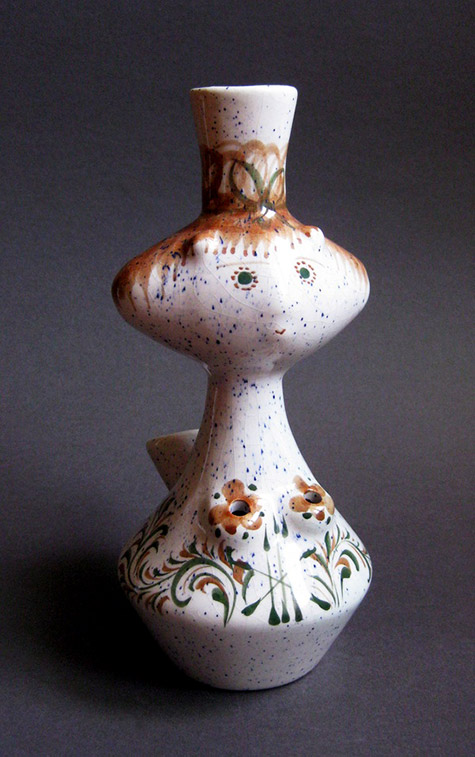 Ceramic candlestick – Pedros Ltd  © CMP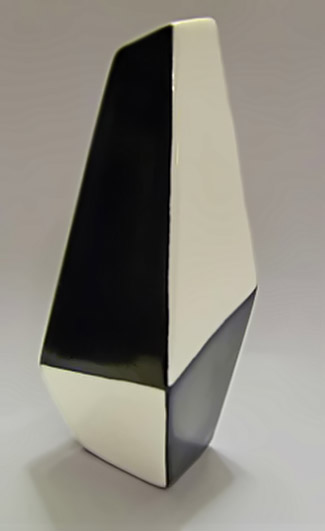 Coimbra-S.P – vase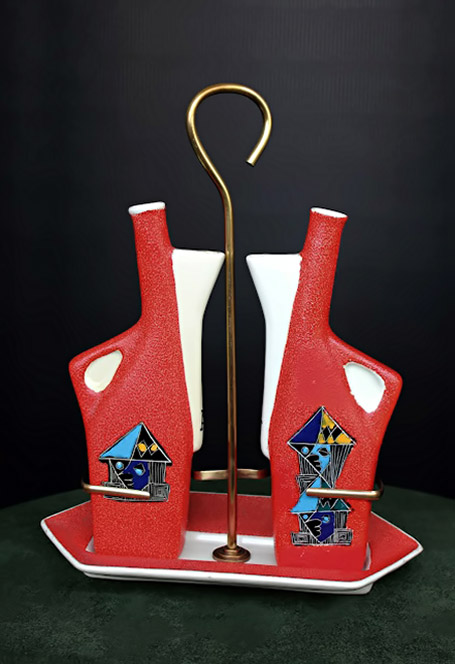 Cruet—Raul da Bernarda © JMPF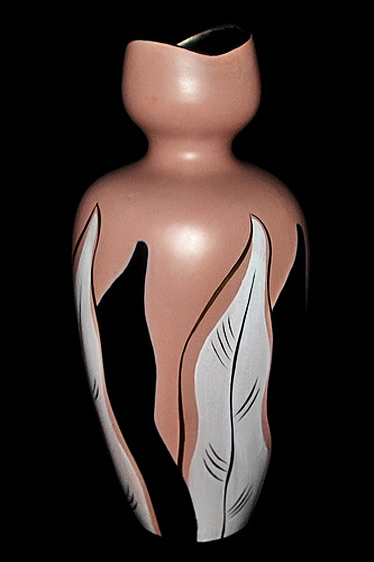 Modernist vase from the Hallelujah-factory in Aveiro, Portugal
Dish — Raul da Bernarda © CMP
 Raul da Bernarda © CMP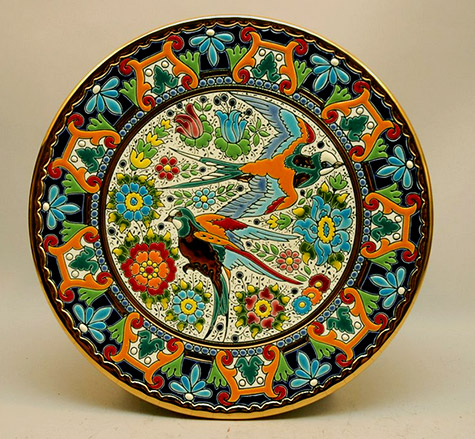 Hand decorated Spanish Ceramic dish
( imagineartisan.com )
50's Raul da Bernarda small dish © CMP
 50's Raul da Bernarda vase © CMP
Pitcher – Aleluia, Aveiro – 1955
( modernaumaoutranemtanto.blogspot )
 Pitcher 50s – Aleluia, Aveiro
( modernaumaoutranemtanto.blogspot )
16th century plate
Museo de Cerámica de Barcelona
Art Deco lidded vessel   – Caixa Escalonada-Villeroy & Boch-Wallerfangen
( modernaumaoutranemtanto.blogspot )
Maria deLourdes-Castro – 1950's  © HPS
Miro inspired set of Vases – Hermanos Perez
( imagineartisan.com )
Picasso – Fernande  1909
Pedros Ltd Vase – © CMP
Picasso bull pitcher
Pablo Picasso
Sangria Pitcher
Spanish artist Merello
"I plead for humility in painting. Painting does not need so much fanfare or intellectual pretension. It must come from a person's clean soul, from the clear and pure eye of the painter, even if only a simple apple is being painted. It is for this reason that I admire Morandi so much." © José Manuel Merello
Spanish ceramic wall plaque
Wall-clock Miró-inspired mosaic of glazed, marbled, and crackled shapes and icons in relief on a rustic vase.
Hermanos Perez
Art Deco Vase with Flowers – Lusitania – Coimbra
1930
( modernaumaoutranemtanto.blogspot )
Three Mid-Century vases – Aleluia Cerâmicas
Raimundo Folch
The Crockery Vendor _  Francisco de Goya
Museo del Prado  Madrid
Wall tile mural – Aleluia Cerâmicas
Viúva Lamego's production is characterized by a vast range of traditional glazed tiles, always hand-painted, which reproduce designs from the sixteenth, seventeenth and eighteenth centuries.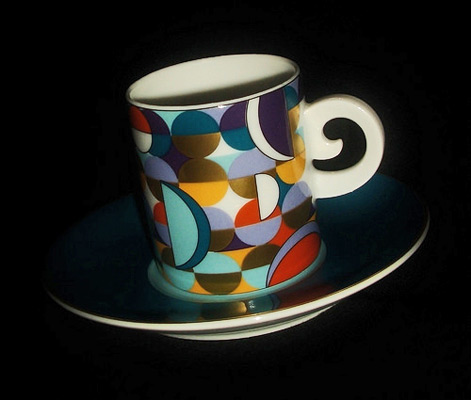 SPAL- 'Paradox' cubist cup and saucer
Tino Valduvieco
Raimundo Folch — 'The awakening'
Sources cited –
http://ceramicamodernistaemportugal.blogspot.com.au   ( © CMP )
merello.com
Jarro de faiança moldada, bojudo, cujo colo estrangulado abre num bocal em bico de onde, no lado oposto, parte a asa, ambos a castanho. O bojo é decorado por composição floral estilizada em tons de castanho sobre creme, onde, no meio de uma folhagem dinâmica, sobressaem duas grandes flores, parcialmente sobrepostas, compostas pela sucessão de formas circulares polilobadas e concêntricas.
–
---------------------------------------------------------------------More Posts