`
–
Ceramic Figurines :
Imaginative and captivating,  posted at irregular intervals .
New Posts from the top
Blown Glass Horse " Skribe "  by Shelley Muzylowski Allen
Raku figurine   '" Brimbelle " –  Martine Cassar
France
Barcelona Ceramic Kitty
Valerio Calonego ceramic figurine
Hotei   Japanese God Of  Happiness - Morikami Museum and Japanese Gardens
Delray Beach, Florida
Franz Hagenauer
Ocarina, 12th–15th-century Colombia
( Wind instrument )
Anna Popowicz
The Kiss, a statue by Rowan Gillespie, 1989, Dublin, Ireland. The statue is located opposite to the National Concert Hall.
Great girl to woman transformation
 Margit-Hohenberger -Germany
 Ceramic Art Studio Shadow Dancers 1940s Aqua Black
( Cinful Oldies Etsy )
Ruby Vase by Lindsey B
Art Deco design created in the 70′s
( Sheryl's-artdeco )
Raku Figurine Venus series – Margit-Hohenberger -Germany
Royal Doulton tray with seated terrier
( Treadway Toomey )
Rene Murray Ceramics
Raku head – Melanie Bourget, France
Hanneke van den Bergh
Hanneke van den Bergh's husband dropped this ceramic sculpture and it shattered on the sidewalk. Her 50 cm high wood-fired piece was a central work for the exhibition to be installed that day . . .
A year later Hanneke was still wondering what to do with the broken sculpture. She had reassembled and glued it together, but did not contemplate selling it. In the meantime, she had been experimenting with bronze casting on a small scale. Using this knowledge of casting, Hanneke decided to try to give new life to the damaged clay sculpture.
Ira Deineko
Verena Jordan Culatti – Switzerland
White Temple Guardian
Sascha Brastoff  - White Aztec Horse
Close – Mark Yale Harris
Mid-century modernist women with vase – Janos Torok for Zsolnay 1960
Vally Wieselthier Sculpture
( Vienna Museum of Fine Arts )
Moai kavakava carving – Richard Morgan Howell
Jenny Southam
Raku ceramic sculpture —  Margit Hohenberger
Rudy Autio  - Salt Creek Games
Deniz Onur Erman
Modernist Mid-Century Geisha Figurines
( Ruby Lane )
Three figures no.4 – Betty Feves
German Art Deco vase – 1920′s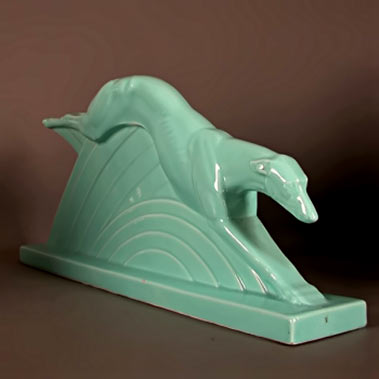 Art deco galgo windhund greyhound
Josef Lorenzl sculpture of the Butterfly Dancer for Goldscheider
(  fabulous figurine, wonderful movement )
Hollohaza—Girl with Vase
Girl with Absinth - Stefan Bedrich
1924
The lady, or Dama of Baza, an ancient Celtiberian sculpture
Annie Peaker – African series
Cat tower with church tower  - Annie Peaker
( veroniquekaiser – Flickr )
Art Deco figurine  - Paris 1926
Manan - Louise Bourgeois
Guggenheim Museum Bilbao – Spain
1920′s Wiener Werksttte studio pottery terracotta elephant sculpture
Barbara Cichoka
Dissolving Figurative Sculptures by Unmask
lola serkland
( http://flagstaffartistsgallery.com )
White Princess – Rekha Goyal
Inspired by Indian Minature Art
Mahogany Scotty Dog – Echo Of  Deco
Fred Weisner
Joey Chiarello Prayer to Reunite Stoneware, Undergalzes, Glazes, Shell
Dancers – Buonaiuto Pottery
Martine  Bossuyt
Elya Yalonetski
(  Lovin' the bokeh in this photo )
Birdy for tea – Cathy Broski
This hand crafted tea pot is made from stoneware clay, by a combination of wheel thrown and hand building techniques. The head is removable.
 Shiwan Ceramic Figure. Artist: Lin Naihe
(  It was a pure coincidence that the first 3 images I used happened to have birds in them  )
Sonja Stoeckli -Piedmont Craftsmen
Deborah G Rogers
Female figurines – Cycladic period
National Archaeological Museum of Athens
Pelicano – Meissen
Elizabeth Anne Kendall - Piedmont Craftsmen
" I explore these different directions through my ceramic work. On the one hand I make vessels that are a response to memories of time spent in my grandmother's sewing studio. My fabric, clay, allows me to translate the behavior and techniques of the sewing room into new forms. I can also create forms that are both bricks and windows. They can obscure or reveal. The forms can meander along the wall and my eye can explore space both within and around. These components frame a story or are a story in their own right."
 Schmider Tigris cat vase
designed by Anneliese Beckh 50′s – 60′s
( via Potshots )
Costa Rican warrior figure
Walters Art Museum
" Sweety " – Irinia Zakharova
Fausto Salvi  - Italy  2012
Hand painted plaster ceramic boxer dog
( found in a charity shop )
Elya Yalonetskaya
Woman on Horse – Marie Prett
Mitchell Grafton – Octopus Jug Ceramic Sculpture – grotesque ware
This beautiful bronze sea horse, originally a door-knocker, suggests the sophistication that the Italian aristocracy featured in the decorative details of  their palaces.
Art Nouveau figural porcelain vase – Amphora Porcelain Works
Czech Republic
Annie Peaker
Carved Stone Kwan Yin
Russian Ceramicist Elya Yalonetski
Large street sculpture – Nice, France
( Is it finished or did the sculptor quit halfway ? )
The composition of this photo is worthy of a figurine.
Xiao Wen Ju photographed by Tim Walker for Vogue, September 2012.
Lisa Larson ceramic tile - Gustavsberg Sweden
Lisa Larson Buffalo Buffel Jura Jyra Series - Gustavsberg Sweden
 Doctor Zachary Smith
Sand Sculpture – " husband and wife "
Shawnee Salt n Pepper Shakers
Italian Clay Sculpture
Women of struggle – Patricia Boyd
Figurative gourd sculpture
North African Woman figurine
Clay Horse – Minneapolis Institute of Art
Chinese figurine – Court Official Kuan Chung
Yoruba bronze head
Kekeno, Ben Foster  2011 Aluminium, epoxy
More posts: