The mug would have to be the most utilised item of functional ceramic wares.  In an age of  hi-tech and tough composite materials, it is remarkable that  ceramic materials are still favoured for mugs, even though they are breakable and on the bulky side. Whether it is earthenware, bone china, porcelain or stoneware, it's hard to beat the organic earthiness of a ceramic mug. With the caffeine connoisseurs,  some people do over 30 cups a day, so I'd imagine a certain amount of bonding would be going on with their trusty ol' coffee mug. The vehicle of the morning lifeline to get the day started and the companion of  the evening hot chocolate to help close it down. The hot chocolate of the 17th century was an extravagant brew infused with citrus peel, jasmine, vanilla, musk and ambegris.
Newcomb College art pottery mug
 Newcomb College Art Pottery Mug, c. 1900, decorated by Gertrude Roberts Smith with pitcher plants, high glaze with blue and green underglaze and base marked with Newcomb cipher
An early neolithic mug found in a tumulus at Fischbeker Heide, Neugraben-Fischbek, Hamburg, Germany.
( Wikipedia )
Switzerland coffee set by Friedrich Haas from Schaan 1950's
Slab built, stamped greenware
( Myrtle and Lucy – fickr )
Laurentian modernist mug  – Mid Century
Art deco sugar bowl
( antique auctions now )
Red Ram Ceramic Mug – Art Studio MiroI Stani
All of the ceramic pieces are twice fired for strength and durability, with the second firing reaching over 1100 C degrees in an electric kiln.
( Etsy )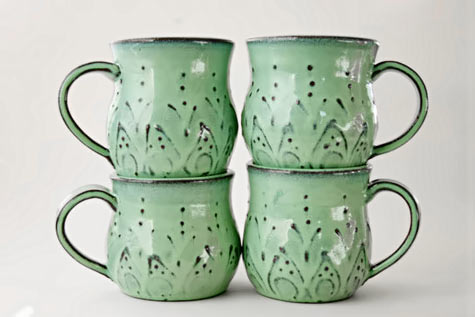 Back Bay Pottery
Bonnie Seeman
Bray ceramics –  " I apply and layer a variety of colored clay slips and glazes to achieve the surface on my pots, I use sgraffito and slip trailing techniques to add lines, circles, and squares onto the forms. "
( etsy )
Pueblo ceramic mug ( 900 – 1300 AD )
Charity Davis Woodard
Charles Rennie Mackintosh
Dameon Lynn – mug with saucer
Textured Slab Mug
( Clay Blog )
Denby Chevron mugs
( A LA Modern )
Dick Lehman
Dragonfly Coffee mug
( One Clay Bead Etsy )
Edinburgh Pottery Tankard/mug
Gillian Parke
Vintage French Advertising Poster Print CAFFE ESPRESSO Servizio Istantaneo –
 V. Ceccanti – 1920
Hand Built Ceramic Coffee Mug – Laura B. Cooper Ceramics
Herringbone Slab Built Stoneware Mug
JD Wolfe Pottery
Jennifer Falter Sgraffito mug
Jim Koudelka ceramic mug
John Roberts
( Mudfire Gallery 2011 )
Julie Covington
( Mudfire Gallery 2012 )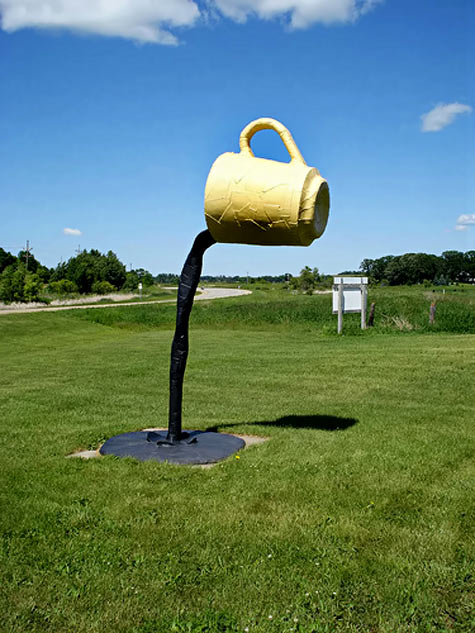 Ken Nyberg Sculpture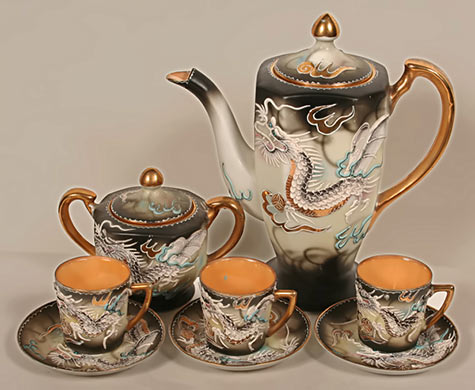 Dragon  coffee/tea set
Danish coffee pot, creamer, sugar bowl and mugs.
Lauren Bausch Original
Skull Mug – Little Art Monsterr
Mangum pottery
Mid Century Vintage Tiki mug
Turkish tankard/mug
Hand-built lace texture mug  – Rachel Miller
( Windfall Arts Etsy )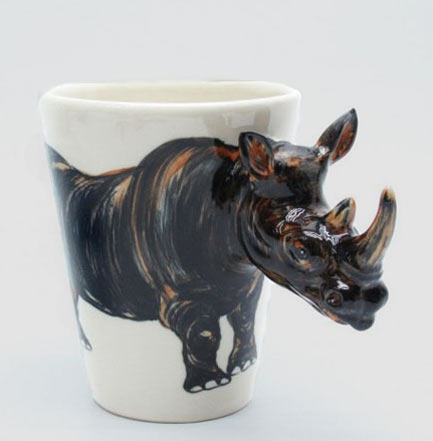 Ceramic rhinoceros mug
( Artfire Shop )
Ronan Kyle Peterson
Royal Copenhagen Fajance Langalinie Mug
Sandcastle Clay Works Pottery mug
Shadow May – ceramic mug
( MudFire )
Slab Mugs  – Waconia Senior High Arts
Stacey Esslinger textured mug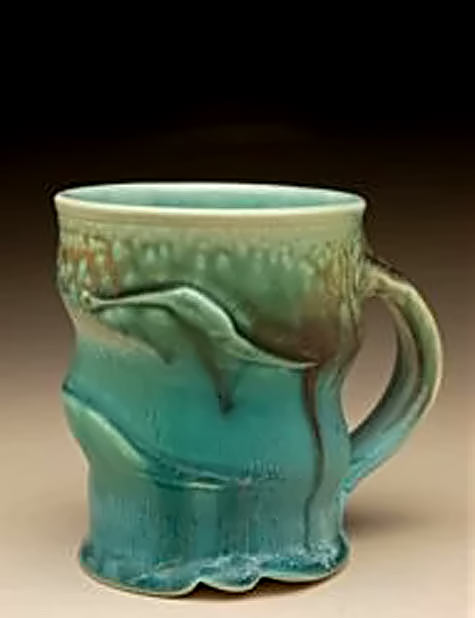 Steven Hill Pottery mug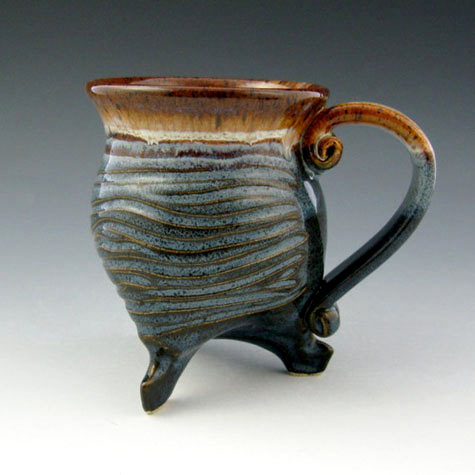 Tripod Mug by TwistedRiverClay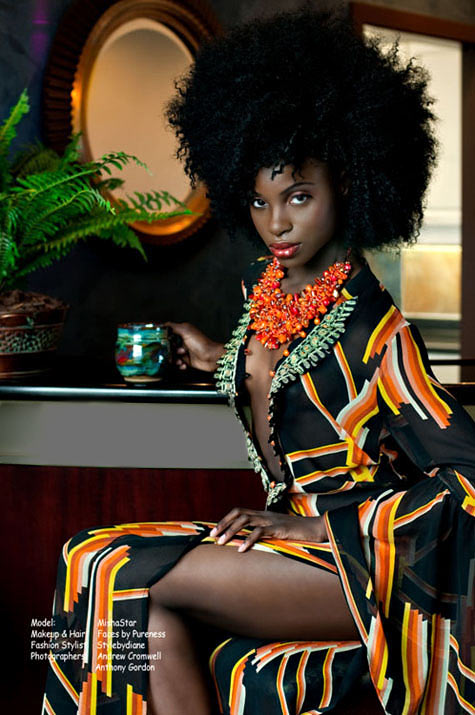 Mira Star with a morning cuppa.
Vintage Art Deco Cup-1930's
Vintage Star Wars R2D2 mug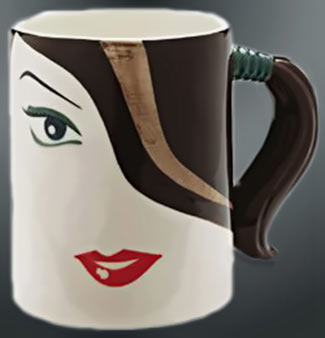 Zugatrons coffee mug
White rabbit mug
1950s Pastel Polkadots Coffee Pot, Creamer and Sugar bowl by Seltmann Bavaria
Abstract Mug  – Adam Posnak  – Craft Alliance
Solian ware Art Deco coffee set – 1930's
( The Swelle Life )
Jutta Sika & Kolomon Moser —  3pc  — pot, creamer, sugar bowl
Updated Sept 7 2013 :
Coffee mug from Caractacus Pots – etsy
Sèvres porcelain coffee pot
( duesseldorfer-auktionshaus )
Mayan decorative cups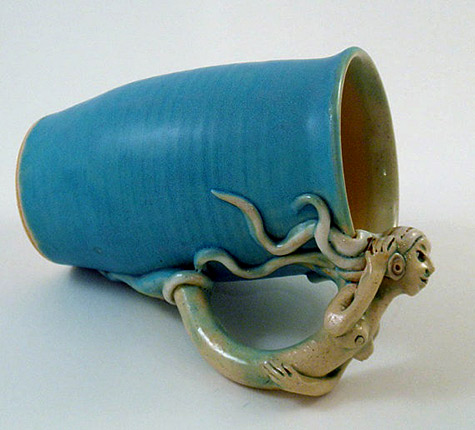 Mermaid handle mug
Arita Imari coffee pot late 17th Century.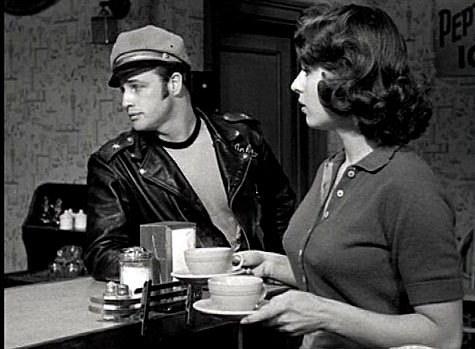 Coffee at the diner
Catherine White coffee cup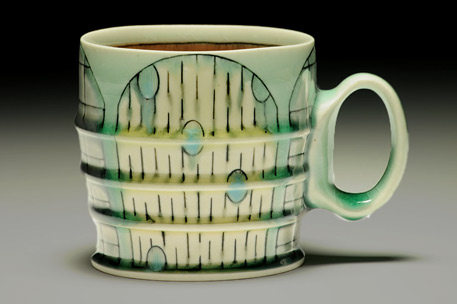 Doug Peltzman — Charlie Cummings gallery
Translucent porcelain, wheel thrown, inlaid underglazes and glaze,
John Gill – coffee mug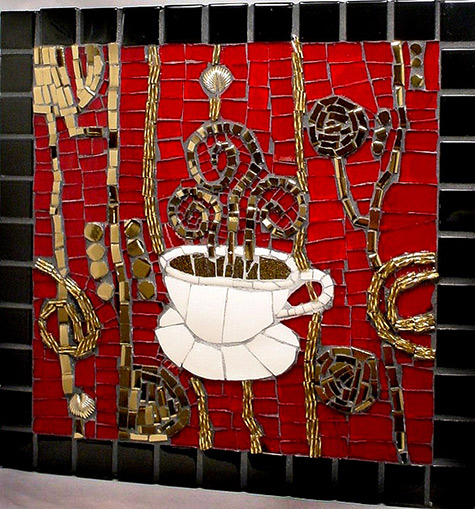 Coffee with Gustav by Jenny Bowman
Lenore Lampi
Ceramic Handmade Heart Mug
( Jewelpottery – etsy )
Estelle Michelle mug
Mug with horses painted
Morris Pottery mug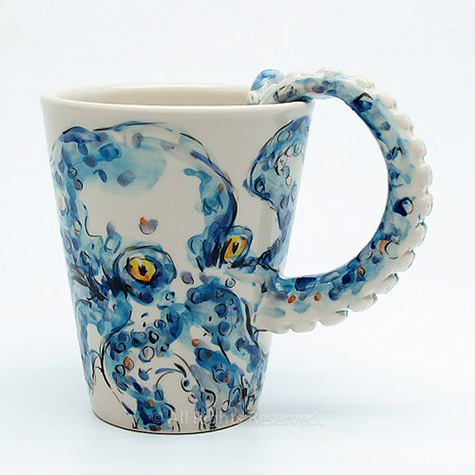 Octopus mug
Oleksandr Miroshnychenko coffee pot
Pavel Janák, deco cup and saucer
Pavel Janák Coffeepot
Sea dream, blue green frog mug
Staffordshire England coffee pot
Chaplain coffee break
Twisted Sister Tea Cup
Rebecca A. Grant Ceramic Sgraffito Owl Mug
Alex Clark Mini Car mug
Coffee break
Penzo Pottery leopard mug, Zimbabwe
Madmud mug,  Etsy
Crop Circle Clay turquoise mug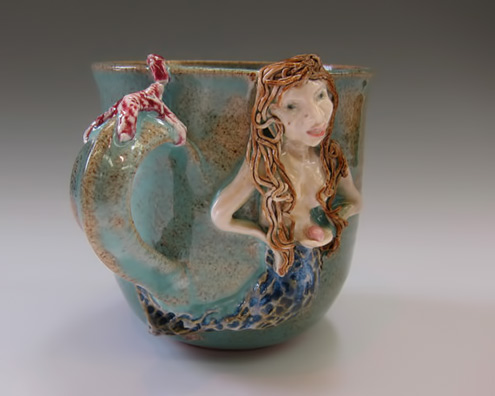 Mermaid cup
Madmud – etsy
Disney villians mug – Mad Hatter Artwork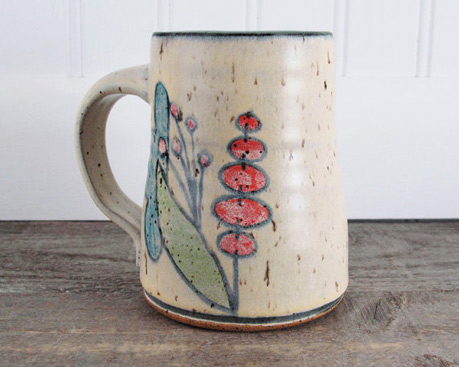 Hand painted mug
LaPella Pottery – etsy
Romantic Cup – Chaleur Masters
Sylvac Pottery squirrel mug
The pumpkin patch halloween coffee mug by Inkydream
 Pottery mug by Richard Murray, Australia
Update 17/12/2014
Coffee mug by Rechika
Adam Field – porcelain cup with carved pattern and celadon glazes, soda fired to cone 11 reduction, 2010
ceramicartsdaily.com
Old Salt character toby mug with a mermaid handle – Royal Dalton
Bunch Auctions
Coffee Rocks
Forrest Lesch Middelton Mug
MudFire Gallery
Adam Whatley
Coffee cup – Astrid Nordness
Russian covered cup and saucer made for Empress Elizabeth Petrovna
c. 1760 (Metropolitan Museum of Art)
Wood Fired Mug with Vintage Wallpaper Design – Kyle Houser
Mark Smalley carved faceted oribe glaze yunomi
Stoneware Mug with Mex Mara Faces
Caterpillar mug – Carol Long
Trucker mug – Chandra DeBuse
Ψ
More posts: