Passionate art lovers will sometimes go to extraordinary lengths to see or acquire a piece of art. Franck Goddio spent 13 years uncovering the sunken ancient Egyptian city of Thonis in the Mediterranean Sea (see below) to reveal exquisite treasures such as a grand temple of the god Amun. Whether it's finding sunken artifacts or the chance discovery of a rare antique object at a bric-a-bac stall, there is a definite allure to searching for art and being rewarded with a find. The dedication of collectors who harbor a desire to to own a piece of art is also noteworthy. They can spend decades patiently waiting for a piece to become available and with luck manage to be triumphant at an auction. Enduring day long journeys in heat and dust to see rare statues or visit a temple is also where the dedication of the art aficionados is on display. Rising before sunrise on the weekend to get to an antique market to snare a bargain is also the modus operandi for some. Even a visit to the Paris Louvre requires a certain dedication with the long queues. Fortunately they are handsomely rewarded for their efforts. The painstaking work of archaeologists to discover and unearth mysteries from the past is admirable for their commitment.
This post presents a collection of links ranging from travel destinations for art, museums, art and antique exhibitions, pottery fairs and other guides for finding and exploring art.
Art exploration –  ancient and contemporary:
Salad Days 2017 
Saturday, July 8 from 11:00 am-3:00 pm!
On the second Saturday of July each year, hundreds of people come to the Watershed campus for a memorable picnic-and carry home handcrafted ceramic plates as a souvenir of this special day. The plates are created by a dedicated artist-in-residence who spends the summer at Watershed making more than 500 plates for the Salad Days festival.
ICFF — May 21-24, 2017 Javits Center, NYC
ICFF features what's best and what's next in contemporary design, luxury interiors and high end furniture. Extraordinary styles by top international furniture brands and emerging new talent highlight unique furnishings, seating, wall covering, carpeting, accessories, lighting, kitchen, bath, outdoor furniture and more. The North American platform for International design, ICFF takes over the Jacob K.
NGV –  Van Gogh and the Seasons
28 APR 17 – 9 JUL 17
'The parsonage garden in the snow' – Van Gogh
January 1885 Nuenen
'Wheatfield' June 1888 Arles – Vincent Van Gogh
Buy tickets NGV Members: Buy tickets Ticket prices Extended opening hours: Weekdays until 7 Jul Mon 26 – Fri 30 Jun, 9am-5pm Mon 3 – Wed 5 Jul, 9am-5pm Thu 6 Jul, 9am-10pm Fri 7 Jul, 9am-5pm Weekends until 8 Jul Sat & Sun, 8am-5pm 24-hour opening Sat 8 Jul, 10pm – Sun 9 Jul, 10pm Mon 10, Tue 11 & Wed 12 Jul 8am-11pm daily Visitors to Van Gogh and the Seasons are encouraged to be mindful of other visitors when taking photographs in the exhibition to enable an enjoyable experience for all.
Small Great Italian Museums
Articoli della rubrica Piccoli Grandi Musei Italiani.
Art in Clay Hatfield 
18th 19th 20th August 2017 
Pottery & Ceramics Festival
Hatfield House
Hertfordshire
Art in Clay offers exhibitors the chance to showcase their greatest pieces as well providing a platform for visitors to see and purchase beautiful handmade 'Art in Clay'
Photos 1440 – 2016 exhibition
Deccember 3, 2016 – January 29, 2017
Photographers are the eyes of the newsroom. Since the late 1800s Sydney Morning Herald photographers have been capturing events, stories and moments that enrich our understanding of the world.
Scvlptvre
 November 18, 19, 20  2016
Palais des congrès de Montréal.
Terry lazaroff
Salon de la sculpture, Scvlptvre, exposition de sculptures, Palais des Congrès de Montréal 18,19, 20 Novembre 2016.
Revolt Of The Sage
24th Nov – 21st Jan 2017
Blain Southern (4 Hanover Square), London
Horst Ademeit, Lynn Chadwick, Hanne Darboven, Haris Epaminonda, Geoffrey Farmer, Jannis Kounellis, Mark Lewis, Goshka Macuga, Christian Marclay, Simon Moretti, David Noonan, Sigmar Polke, Erin Shirreff, Michael Simpson, John Stezaker and Paloma Varga Weisz. Curated by Simon Moretti and Craig Burnett Revolt of the Sage is an exhibition that takes its title from one of Giorgio de Chirico's 'metaphysical interiors', painted in 1916.
Sculpture by the Sea, Bondi
Sydney, Australia
20th October – 6th November, 2016
See more sculptures here – Sculpture by the Sea – 20th Anniversary
Bondi, 21st annual exhibition | 19 October – 5 November 2017 Cottesloe, 14th annual exhibition | 2 – 19 March 2018 Join us for the largest free to the public sculpture exhibitions in the world! Home page image credits
Biennale Interieur 2016
25th Silver Edition
14-23 October   Kortrijk, Belgium
To celebrate their 50th anniversary, Belgian classic Durlet has infused their collection with new additions. Durlet – who haven't missed a single edition of Biennale Interieur – and young designer Sylvain Willenz join forces on this new, airy sofa. Yale is a comfortable, cosy seating unit that will make you feel as if you're floating on air.
Berlin Art Week
13 – 18 September, 2016
Berlin Art Week
photo Amin Akhtar
No Description
Plaza Art Fair
Friday, September 23, 2016 – Sunday, September 25, 2016
Country Club Plaza: An exceptional blend of major fashion houses and local favorites, along with dozens of fine restaurants.
Degas – A New Vision – NGV – (National Gallery Victoria)
Currently running till 18th September 2016
'The Woman In Movement' – Edgar Degas
Edgar Degas is one of the most celebrated artists associated with French Impressionism. The art he made over more than fifty years of constant creativity and renewal embraces painting, drawing, printmaking, monotypes, sculpture and photography, and has had an immense impact on modern and contemporary art. Modern life as he experienced it in nineteenth-century Paris provided Degas with a repertoire of motifs he explored with endless variation and innovation; from scenes of work and industry to ballet and the theatre, racecourses and boudoirs. This sweeping exhibition brings together more than 200 works by Degas from dozens of collections worldwide, offering a fresh and dynamic reappraisal of this legendary artist's genius.
Marriage of Degas's parents, Laurent-Pierre-Augustin-Hyacinthe (Auguste) De Gas, banker, aged twenty-four, of Paris, formerly of Naples, and Marie Célestine Musson, of Paris. The artist Hilaire-Germain-Edgar Degas is born at 8 rue Saint-Georges, Paris. The artist's brother Achille De Gas is born at 21 rue de la Victoire, Paris.
Le Don du Fel – 9th European Ceramic Sculpture Festival, 2016
Mo Jupp, Jean-Marie Borgeaud, Emma Rodgers, Michael Flynn, Michel Wohlfahrt
from the 26th of June to the 11th of August, 2016
Jean Marie Borgeaud
Pas besoin d'un George Orwell pour pointer les similitudes dérangeantes entre les animaux et nous-mêmes et dire comment ils portent la dignité de leur condition avec ce naturel confondant. Nos rapports avec eux oscillent entre la peur et une admiration béate, entre la critique d'une cruauté inévitable et l'identification d'un modèle comportemental, entre un ressentiment de nuisance et la fourniture d'un plat principal.
MAISON

&

OBJET
September 2- 6, 2016
September 3-10, 2016 – Paris Design Week
The multi-multicultural crossroads of contemporary living.
MAISON&OBJET is the major event for professionals working in the art of living in all its rich and varied expressions. The lifestyle show brings together a 360°product offering. Decoration, design, furniture, accessories, textiles, fragrances, the world of children, tableware.
PARIS DESIGN WEEK is an itinerary uniting 300 participants that all proudly promote first-rate design in Paris, sprinkled with exhibits and festive parties organized each night of the week, aimed at design lovers and the French and international trade who will be in Paris for the MAISON&OBJET show.
Futura festival, 2016
25 to 27 August
20 concerts, 1 Nuit Blanche (from midnight to 8 am),
100 speakers, for concerts in total sound immersion
1 large screen for video projections
6 performers on acousmonium: Eric Broitmann , Guillaume Contré ,Tomonari Higaki , Olivier Lamarche , Jonathan Prager and Nathanaëlle Raboisson
musique acousmatique, art radiophonique, installation, vidéo
Sublime Symmetry,  2016
A touring exhibition showcasing the work of celebrated Victorian Arts and Crafts designer, William De Morgan.
1st june to 4th September 2016  –  free entry
Cannon Hall Museum, Park and Gardens, Bark House Lane, Cawthorne, Barnsley South Yorkshire S75 4AT
Set in 70 acres of parkland, this country house museum is home to an impressive collection including ceramics, glass, furniture and Old Master paintings.  
William De Morgan, Two Handled Vase with Persian Floral Decoration, 1882-1888
From his mystical beasts that wrap themselves round the contours of his vases, to his playful tiles that imitate a garden trellises, William De Morgan's ceramic designs have fascinated thousands in the last hundred years or so since he started producing them in earnest.
Yorkshire Sculpture Park
21 May 2016 to 21 Jan 2017 – Free Entry
Non Vital –
The artist's first major retrospective in the UK brings together the work he has created in locales across the world.
'Heads' – Non Vital – 2014
Photo Eric Gregory Powell
The historically designed landscape of YSP remains home to a series of monumental and imposing sculptures by KAWS
Monumental Kaws sculpture
Yorkshire Sculpture Park is the UK's leading open-air gallery
Sydney Vivid 2016 – Light, Music, Ideas
27 May to 18 June
The official Vivid Sydney website. Vivid Sydney is where art, technology and commerce intersect. Vivid Sydney 2017 will be held from 26th May – 17th Jun 2017.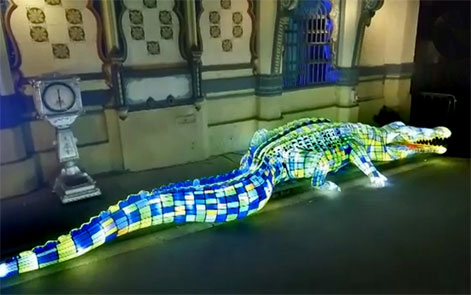 Heiva, Tahiti
Thursday 02 to Saturday, June 4 at Place To'ata.
The annual Heiva, started in 1881, is an iconic event for Polynesian culture. Dance competitions, which are some of the most important events in Heiva, are prepared for months in advance by dancers.
'The Hand-dance of Aparima' – Heiva, Tahiti
photo -Mark Sisson
Pour cette 22ème édition du Heiva des écoles de danse, de percussions et de 'ukulele , 35 établissements présentent le fruit de leur travail. Ils vous donnent rendez-vous du mercredi 25 au samedi 28 mai au Grand Théâtre et du jeudi 02 au samedi 04 juin sur la Place To'ata.
Mount Hagen Cultural Show 2016 – New Guinea
20th – 21st August
Tribes from all over the Western Highlands Province of Papua New Guinea and other neighbouring tribes from the Highlands region will gather in the township of Mt. Hagen to put on exciting cultural performances.
The 2017 Hagen Show is set for August 19th to 20th. Held in the Western Highlands township of Mt. Hagen, the cultural show is expected to be a rousing event.
Venice Art Crawl – July 21, 2016
VENICE ART CRAWL • FRESH AIR • FRESH ART
The Venice Art Crawl's mission is to foster and reinvigorate the creativity that has historically and currently makes Venice such a vibrant and dynamic community.
VAC light sculpture – Shana Koenig
Thursday, July 21st, 2016 6:00 – 8:00 pm Volunteers needed! Contact Laura Alice at (310) 482-0422 or lauraalice@mac.com
5th International Biennial of Contemporary Ceramics of Sevres
from 12 to 29 May 2016 – 47 Grande Rue, Sevres, France
Ceramic Biennale (5th edition )

Now unavoidable, this international biennial welcomes the guests of honor Valérie Hermans and Jean-Paul Azaïs along with 42 other ceramic artists.
They share a love of nature and the earth. On clean shapes, box, nest, they drove passionate research. John Paul reveals the poetry of clay with natural glazes. Valerie works with high temperature glazes and especially celadon. Both, alchemists, playing with fire.
10 London highlights
A visitor walks through an exhibition room at the Sir John Soane's Museum in London, UK. Photo: Bloomberg
Ticked off the Tower of London? Ridden the Millennium Eye? Perused the Palace? Well, there's plenty more to see in London, much of which is cruelly ignored by all but the most intrepid visitor – such as… Ridiculously and unashamedly grisly, the Old Operating Theatre delves into the world of 18th and 19th century surgery.
Visiting Masterpieces: Pairing Picasso
February 13, 2016 – June 26, 2016
Picasso cubist sculpture
This dossier exhibition centers on pairing and juxtaposing works by Pablo Picasso (1881-1973). A loan of four major works from the Fondation Beyeler in Basel, Switzerland, and loans from private collections will complement the MFA's holdings of painting and sculpture by the artist, looking at different stages of his career and his exploration of form.
London Gallery – Erskine, Hall and Coe
Nine Potters Anniversary Edition
30th March – 23 April, 2016
An exhibition featuring the works of Michael Cardew, Claudi Casanovas, Hans Coper, Elizabeth Fritsch, Ewen Henderson, Bernard Leach, Katherine Pleydell-Bouverie, Elizabeth Raeburn and Lucie Rie.

Ceramic and modern art gallery in Mayfair, London.
Annual Michigan Regional Exhibition
May 12 – August 3
Bettye Clark-Cannon Gallery Pictures of the Best Kind celebrates the permanent collection of the Muskegon Museum of Art, highlighting over 100 years of art acquisition. Returning guests will find familiar favorites and forgotten treasures, while first time visitors will experience the surprise of a modest but international quality collection.
Long Beach Antique Market, USA
Long Beach Veterans Stadium – Antiques, Collectibles, Vintage items
Third Sunday of every month, next event on Sunday July 17
No Description
Art Nouveau and architecture
Art Nouveau, or "the new art," hit its peak at the turn of the 20th Century and today looks more vintage than modern. Also known as Jugendstil and Stile Liberty, and a close kin to Arts and Crafts and Modernism, the movement was filled with fluidity and the organic, natural form and stretched across the European continent, Britain, North America, and beyond.
 
Discovery of sunken Egyptian city
Known as Thonis to the ancient Egyptians and Heracleion to the ancient Greeks the city was rediscovered in 2000 by French underwater archaeologist Dr. Franck Goddio and a team from the European Institute for Underwater Archeology (IEASM) after a four-year geophysical survey. On the sunken Island of Antirhodos, the ruins of the lost city the size of Paris was found 30 feet under the surface of the Mediterranean Sea in Aboukir Bay, near Alexandria. This city, shrouded in myth, was swallowed by the Mediterranean Sea and buried in sand and mud for more than 1,200 years.  Archeologists are now unearthing the mysteries of Heracleion, and uncovering amazingly well-preserved artifacts telling the story of a vibrant classical-era port.
Egyptian statue buried underwater
Portrait of a pharaoh, Quartzite, 25th dynasty (712-661 BC) with characteristic traits of the statuary of the 25th so-called Ethiopian Dynasty (8th century BC).
Lifting an Egyptian statue from the submerged city – Monumental statue of red granite (5.4 m) representing Hapy, god of the Nile flood and symbol of abundance and fertility.
Head of a colossal red granite statue of a pharaoh is raised to the surface.
Discovery of an ancient inscribed Egyptian tablet- The stele of Thonis-Heracleion (1.90 m), ordered by Pharaoh Nectanebo I (378-362 BC), is almost identical to the stele of Naukratis in the Egyptian Museum of Cairo.
Franck Goddio and his team watch the rise to the surface of a colossal statue of red granite (5.4 m) representing the god Hapy, symbol of abundance and fertility and god of the Nile flood which stood in front of the temple of Heracleion. Never before has the statue of a god of this size been discovered in Egypt, which indicates Hapy's importance for the Canopic branch, the largest and most important of the Nile branches at that time. Hapy looks happy to be rediscovered.
 One of the finest finds in Abukir Bay is the remarkable dark stone statue of a 3rd century Ptolemaic queen, very probably Cleopatra II or Cleopatra III
Recovery of monumental Egyptian sculpture – archaeologists Franck Goddio and his team inspect the colossal red granite statue of a pharaoh of over 5 metres height, weighing 5.5 tons
The statue of an Isis priest holding an Osiris-jar found on the sunken Island of Antirhodos in the great harbour of Alexandria
Above view of the colossal triad of 5-metre high red granite statues of a pharaoh, his queen and the god Hapy, dating from the 4th century BC, which stood in front of the great temple of Heracleion. They are lying on a pontoon barge together with the 17 fragments of an over 5-metre high 2nd century BC red granite stele in reassembly.
 Egyptian potter ?
A diver eye-to-eye with a sphinx made out of black granite. The face of the sphinx is believed to represent Ptolemy XII, father of the famous Cleopatra VII.
Majestic lion statue
Ceramic bowl that dates from the 1st century BC – 1st century AD. Its shape suggests that it may have been used for divination rituals.
Sunken Cities – Egypt's lost worlds
19 May – 27 November 2016, British Museum
London's must-see summer exhibition – Submerged under the sea for over a thousand years, two lost cities of ancient Egypt were recently rediscovered. Their story is told for the first time at the British Museum.
More Franck Goddio finds
Porcelain dishes in blue and white appear after the sediment has been removed from the wreck of the Lena Shoal junk.
Rediscovering Shi Cheng, a Chinese Lion City which was flooded half a century ago
All photos ©Franck Goddio/Hilti Foundation, photo: Christoph Gerigk
franckgoddio.org
Easter Island Moai have bodies too
Excavated Easter Island Moai reveals the hidden body, which got buried through mud slides.
[divider type="plain" width="thirdwidth" align="aligncenter"]
Art of  Santa Fe
List of Sante Fe galleries – follow link
Although it's considered one of the top art centers of the Western world, Santa Fe has its drawbacks. Like the lack of sidewalks on much of well-known Canyon Road, home to more than 100 galleries. I thought about this when a Pepsi truck driver honked and sternly yelled "Watch out, lady" as I sidestepped a muddy puddle on the cobblestone street.
Lucio Lopez-Rey
JCompton Gallery
LAPADA Art & Antiques Association
Click the link below for the 2016 calendar of 20 Art and Antique events
Mayfair Art Weekend is joined by the Royal Academy of Arts, over 60 art galleries, artists and auction houses to celebrate Mayfair as a vibrant hub of talent, creativity, craftsmanship and production.
Olympia art and antique fair, UK
Potfest in the Park 2016 – July 29th – 31st
Fri, Sat & Sun 10am – 5pm daily
Over 100 exhibitors from all over Europe and beyond. All with very distinctive individual styles, all passionate about working with clay.
Potfest Pottery Events & Ceramic Shows UK. Come Along & Meet Potters in Penrith, Hutton-Roof in Cumbria & Scone Palace Scotland
 
 "Monks Cave' by Daniel Boyle
Potfest in the Park
'They came from the East, bearing gifts'  by Ralph Jandrell
Photos Christine Cox
Rodin Museum
A monographic museum, the Musée Rodin contains the largest collection of the sculptor's works at two sites, in Paris, at the Hôtel Biron, and in Meudon, site of his former home, atelier, and reserve collection. Created in 1916, thanks to Auguste Rodin's donation of his works and his collections to the French State, it opened in 1919.
Camille Claudel
Burghers of Calais – Auguste Rodin
 Musée Rodin
Potters Market Seillans, France
August 15, 2016
Marché Potier de Seillans, Var – 40 potiers céramistes vous proposent leurs créations lors du marché potier du 15 août
Seillans pottery market
The Madrid Art and Ceramics Fair
From 19/11/2016 to 27/11/2016. From 12:00 to 21:00.
Arte y restauracion, feria de antigüedades y coleccionismo Feriarte. Este evento supone el centro del mercado de las artes antiguas, decorativas y la pintura – Feriarte Colecciona
 
Madrid Art and Ceramics Fair
Art Deco cities
The coastal town of Napier, New Zealand, is in the throes of its annual Tremains Art Deco Weekend, "celebrating the hope and optimism of the '20s and '30s." The Art Deco design style ushered in a modern era of experimentation-all sharp angles and geometric precision, ornate embellishments and golden accents-that left many beautiful landmarks around the world, most notably in cities like New York, Chicago, and Miami.
Napier Art Deco
Keramisto 2016!  Netherlands
17 and 18 September
Keramisto biedt al meer dan 25 jaar een schitterend aanbod aan keramiek in al zijn verschijningsvormen. Kortom, een manifestatie met internationale allure!
Keramisto
London free art
Looking at great art needn't cost the same as buying great art. With a shed-load of free art exhibitions in London, wandering through sculptures, being blinded by neon or admiring some of the best photography in London needn't cost a penny. Here's our pick of the best free art exhibitions this week and beyond.
Photograph by Richard Avedon
European Art Nouveau
Art nouveau was the curvilinear, nature-inspired style that dominated everything from jewellery to architecture at the start of the 20th century. As it spread throughout Europe and across the Atlantic it followed two main strands: the curvy, whiplash decoration that flowed out of Paris-Brussels and the more linear, geometric style seen in Vienna and Glasgow.
Art Nouveau Museum, Riga
Toronto Potters Exhibition
October 14 – November 6, 2016
No Description
'Kaleidoscope Landscape Bowl'  – Renee Kleiman
Toronto Potters 2014
Art Basel Modern and contemporary art, Miami
December 1 – 4, 2016
Art Basel in America at Miami Beach ranks as the premier art show of the Americas offering a premier platform for renowned artists and galleries.
Guaratiba – Roberto Burle Marx, 1989
Paris by the beach
Every summer the city creates "fake" beaches with huge plots of sand around the Seine and the Bassin de la Villette. Dubbed "Paris Plages", this year it begins on 20 July and is open every day, free of charge, from 9am to midnight.
Musée Carnavalet. Photograph- R Ian Lloyd
Masterfile/Corbis
Museums and galleries of Paris
Centre Georges Pompidou The Pompidou was groundbreaking when it opened in 1977, both for Renzo Piano and Richard Rogers's colourful, hi-tech architecture and its multidisciplinary approach and I still find it one of the city's most exciting buildings.
Musée d'Art moderne de la Ville de Paris
Budget Venice
Stylish, urbane and impeccably kept, a great find for the budget-conscious traveller. Ten rooms in the main part of the hotel cluster around a delightful courtyard with ancient columns and a lovely antique well head. The look is classic Venetian with a contemporary twist; the feel is laid-back and very friendly.
Gothic relief in Venice, sculpted around 1430, showing Madonna and Child sided by Mark the Evangelist and John the Baptist,  Campo San Zaccaria
Photo by Giovanni Dall'Orto – Wikimedia Commons
Paris Louvre
The Louvre's collection covers Western art from the medieval period to 1848, formative works from the civilisations of the ancient world, and works of Islamic art. See the collections with the link.
Nymph and Triton surrounded by two geniuses – Jean Goujon
Go to content Go to navigation Go to search Change language
If you want to avoid the queues then try using the entrance at the Porte des Lions just east of the Pont Royal; at number 99 the Rue du Rivoli; at the Arc du Carousel or directly from the Metro station Palais Royal-Musée du Louvre (platform on line 1).
You can escape the queues completely by purchasing your ticket in advance at FNAC or other department stores
It doesn't look that flash: if anything, it resembles a large black crayon. Not what you would imagine a magic wand to look like. Nonetheless, that is precisely what visitors to Manhattan's Cooper-Hewitt, Smithsonian Design Museum are getting when they are issued with a Pen. The Pen is a go-anywhere, do-anything tool for visitors.
Eli & Edythe Broad Art Museum, Lansing, USA
13 art trips
One of our favorite things to do on a trip is to visit a top-notch museum, whether we see a blockbuster exhibit by an internationally known artist or we stumble upon a little-known institution with an exciting collection.
Crystal Bridges Museum of American Art
A line of yellow penguins and a group of giant, faceless crawling babies marks the site of Museum Kampa, a modern art gallery on Prague's leafy Kampa Island. The giant babies – by Czech sculptor David Černý – and the surreal penguins,which glow brightly at night, are a popular photo opportunity.
Centrale Montemartini, Rome
Photograph–Massimo Listri, Corbis
Last updated on March 6, 2017 in France As the capital city of France, Paris has endured as an important city for more than 2,000 years. Often called by nicknames like the "city of love" and "city of lights," Paris is today one of the world's leading centers for business, fashion, entertainment, art and culture.
Argilla Argentona. International Ceramics Fair
1st, 2nd and 3rd July 2016
INTERNATIONAL CERAMICS FAIR The international Ceramic and Pottery Fair is the most important market fair of Catalonia and Spain in its specialty because of the great quantity and quality of artisans which participate. About 65.000 people are expected, being visitors, dealers and other professionals.
Argentona street market
Free Paris
City of love, fashion capital, literary paradise… Paris has many different guises. And while museum entry can be steep and fine dining comes at a premium, the French capital can also be a cheap date.
Italian cultural holidays
These are two of the most under-appreciated art cities in Italy and Martin Randall combines them into a fascinating tour. Down on the coast, Ravenna is home to some of the greatest buildings of late antiquity with among the finest surviving Byzantine mosaics.
San Vitale mosaic, Ravenna
Leaning tower, Pisa
Paris off the beaten track
There are good reasons why the Louvre and the Eiffel Tower are respectively the most visited museum and monument in the world. However, we thought we'd go slightly off the beaten tracks and reveal some of Parisians' favourite cultural hotspots.
Venice highlights
1 SEE THE GRAND CANAL It's likely the almost four-kilometre Grand Canal, Venice's monumental palazzo-lined watery main street, will be a prominent feature of your visit. Even when viewed from a crowded vaporetto, or waterbus (see below), the Grand Canal is magnificent, but it's best experienced by boat late at night when it's at its most serene and blissfully free of the water traffic that dominates it by day.
Mid Century ceramic vessel – San Polo, Venice
San Giorgio Maggiore Church, Venice
The Baroque church rises on homonymous island; visible from San Marco Square
Art tours – Florence & Tuscany
Defining the landscape of the city are the great churches of the Franciscans and Dominicans, treasure troves that remind us that these communities shaped the cultural development of Europe. They sit alongside the palaces of the Medici and their peers whose artistic patronage helped change the course of art history.
A relief panel on the East Doors of the Baptistry in Florence, Italy.
The Ian Potter Centre: NGV Australia
Federation Square, Melbourne
The home of Australian art, presenting Indigenous and non-Indigenous art from the colonial period to the present day.
General entry is free
Open 10am–5pm
In August 1968 when the National Gallery of Victoria in St Kilda Road was opened, reviews were mixed. From the public perspective, the building, designed by the Melbourne architect Roy Grounds, was an overwhelmingly popular success. From the art and architectural professions, there was hot debate, largely over the way the building looked, and how the art inside it was displayed.
The San Francisco Fall Antiques Show
October 27-30
Patrick Mestdagh
The oldest and most prestigious international art and antiques show on the West Coast. An extraordinary range of fine and decorative arts from across time
–